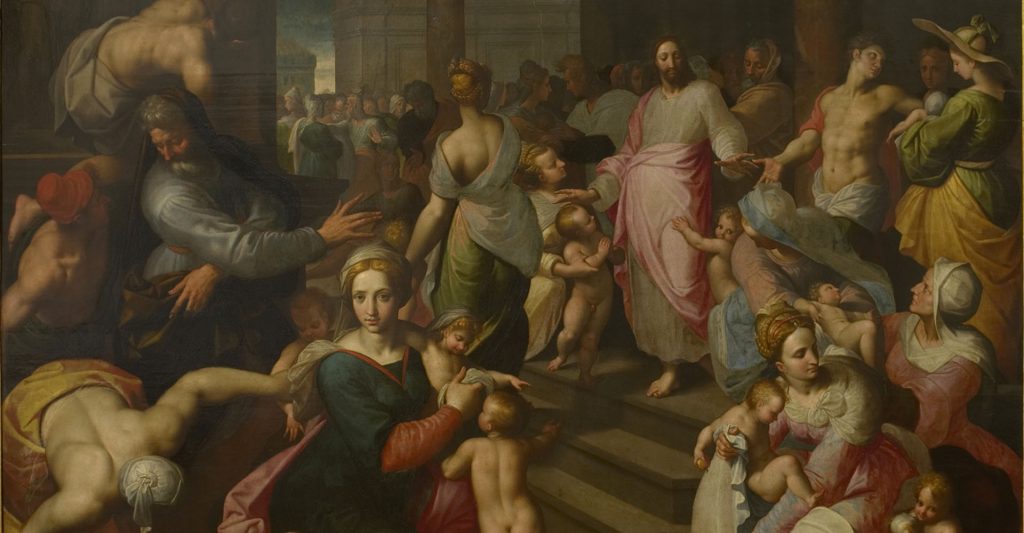 Children, with their sounds and stirrings during Mass, should not be looked at as disruptions, but as living images of the love of Christ, the blessings of the sacred vocation of marriage, and as gifts integral to a life-filled, growing parish community.
By Anna Bowman
18 March 2019
It was an early spring morning when the air smelled like blooming flowers and there was enough green on the trees to put you in a good mood. Sun streamed through the colored pains of the stained glass window in the front of church. I sat near the back with my three sons, a habit I acquired as a new mother to ensure a quick getaway should the need arise as it often did. However, this was one of those first blissful Sundays in ten years where I managed to stay throughout the entire Mass. My sons, aged 10, 8 and 4, were relatively well-behaved and quiet for once.
Right after the entrance, a young mother walked in with a little boy of around 4 at her side and a two-year-old girl in her arms. As everyone took their seat to listen to the Liturgy of the Word, this mother ushered her toddlers into a seat and began the long struggle I was so familiar with of hushing and correcting.
As Father began his homily, the little girl joined in, making noise like all young children do, much to the obvious distress of her mother who continued to patiently try to silence her daughter.
I couldn't help but smile. It was not my kid this time! It is funny how other people's children never bother us half as much as our own do. More importantly, though, I seriously empathized with this mom. She was alone with two toddlers in tow at Sunday Mass when it would have been so much easier to just stay home.
When we were just starting down the road of parenthood, my husband worked twelve-hour swing shifts at a glass factory over an hour away. With two sons under the age of 5, I was in this young mom's place. A lot. I know how easy it was to give into that temptation to stay home instead of enduring this hour of struggle.
As the sermon continued, and with it the little girl's chatter, I silently rooted for this mom to stick it out—even as saw two older ladies giving her dirty looks and shaking her heads. Finally, the homily ended and as everyone stood the mom gave up, leading her children out of church clearly flustered. In the moment right before the congregation began reciting the Creed, one of the older ladies said, in a not so quiet voice, "It would have been nice to hear the sermon!"
This struck a personal chord with me and never have I been closer to speaking up to someone than I was then. I can only imagine Jesus speaking on the mountain and Peter leaning over to John grumbling, "I wish those kids would be quiet."
If you did not "get anything" out of Mass because a noisy child made it difficult to hear, maybe you missed the entire point. When our Lord spoke to crowds of people (without a microphone, I might add) he did not inform parents of small children they were welcome to use the nearest cry room. He said quite specifically, "…"Let the little children come to me, and do not hinder them, for the kingdom of heaven belongs to such as these" (Matthew 19:14).
Never has the sound of someone else's child bothered me at Mass. Often times troublesome whispers fill my mind that this is pointless and neither I nor my children are "getting anything" out of it. But I try to ignore these lies and pray that these seeds I am forever inadequately trying to plant will fall on rich soil and bear much fruit.
In different places I have read that a quiet church is a dying church. I see this sad truth every time I visit the small parish in rural Indiana where I grew up. It could be said the silence is deafening. I wish the rest of The Church would realize this and not look at children as a nuisance. When we go out of your way to make it harder for people to feel like they have a place in God's House, they will turn elsewhere.
Therefore, we should all smile at the sound of little voices, bearing their interruption with patience and lending compassion and understanding to these parents who are there and trying. God did not look at them as an interruption and He would not want us to do so either.