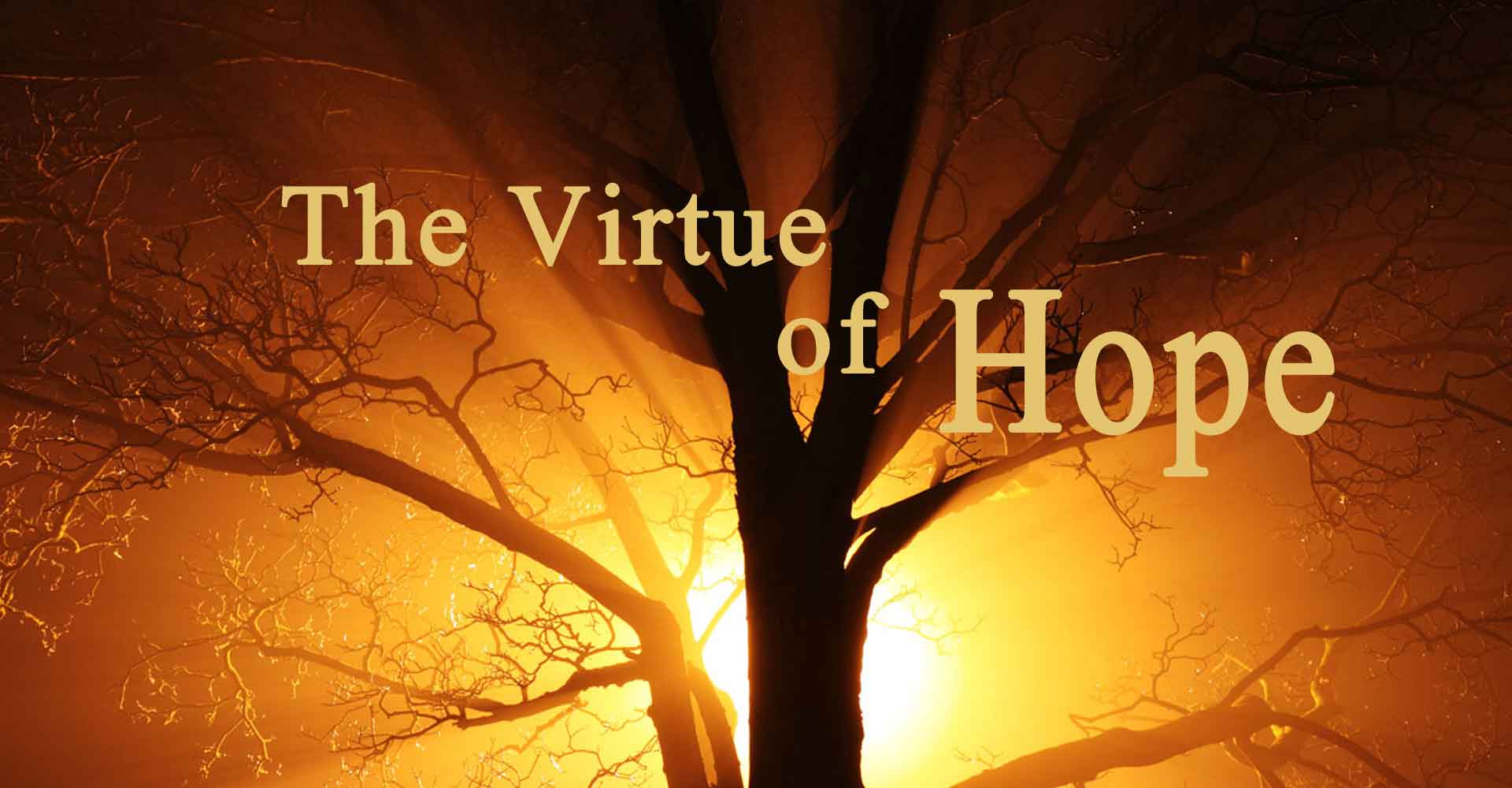 The theological virtue of hope can be thought of as a sublime, incomparable and indispensable gift given by God to help man attain perfect human happiness in heaven and live a fruitful life here on earth. Hope orders our life, and leads us onward and upward.
By Deacon Frederick Bartels
17 December 2015
Faith, hope, and charity are master gifts whose aim is not simply to dispose one to live a life of natural, virtuous happiness, but more accurately to live as a member of the divine family, in right relationship to God and neighbor, and thereby attain to the fullness of life God offers (cf. CCC 1812, 1813). These virtues are, then, ordered toward allowing us to partake of the divine life of God and to share in his own supernatural life. They are thus incomparable, precious treasures, freely infused into the human person in virtue of the sacrament of Baptism by the God of love, that direct us not only in right living here and now, but are ordered toward our total fulfillment in God throughout life everlasting.
His divine power has granted to us all things that pertain to life and godliness, through the knowledge of him who called us to his own glory and excellence, by which he has granted to us his precious and very great promises, that through these you may escape from the corruption that is in the world because of passion, and become partakers of the divine nature. (2 Peter 1:3-4)
We are now, of course, immersed in the season of Advent. This sacred season is a time of hope in which we look forward to the celebration of Christmas and strive to prepare our mind, heart and will in order to receive the Christ who came into the world not to condemn it but that it might be saved through him (Jn 3:17). It is a time in which we look to the certain and sure promises of Christ in virtue of hope, and raise our eyes to the indescribable, heavenly dwelling place of God that has been prepared for those who love him (see 1 Cor. 2:9).
We know from the belief of the Church that God has infused the theological virtue of hope into our heart and soul in order to direct us to himself as the supreme object of our love. But what is this virtue of hope, and what, exactly, does it do for us and to us?
Hope is the theological virtue by which we desire the kingdom of heaven and eternal life as our happiness, placing our trust in Christ's promises and relying not on our own strength, but on the help of the grace of the Holy Spirit. (Catechism of the Catholic Church, No. 1817)
Hope is the God-given gift that instills in us the desire for heaven and eternal life as our final state of perfect happiness. It disposes us to trust in the promises of Christ in order to arrive at such an end, not relying on our own efforts, but embracing the aid of the Spirit of God whose grace strengthens us spiritually and gives us the ability to live in heaven. Hope serves to focus our gaze in the right direction and toward the ultimate goal. This is especially important when facing the trials of life which might tempt us to fall into despair or feel as if there is nothing left for which to live.
William Mattison III, in his book Moral Theology: True Happiness and the Virtues, observes that the human person is a wayfarer in this earthly life, always seeking to arrive at some new goal or do some new thing (Chap. 13, Kindle edition). He points out that even when we think we are resting, we are in fact still seeking, perhaps to eat, or learn something, or enjoy some new and good pleasure. Whatever it is, we are constantly striving to arrive somewhere and enjoy some-thing, however insignificant or significant it may be, and thus striving to rest in some state of satisfaction. This driving urge we experience is no accident. Yet there is always this question: What, really, is the goal?
Hope helps us to understand why we continue to seek a more satisfying or full life even though we have arrived at some preset goal that was previously viewed as potentially satisfying. Hope moves us to seek what is truly worth seeking; to open our hearts to the Promise above all promises; to act on the understanding that we were made for something not simply great but divine because we are destined to eternal and glorious communion with God. Hope sets our gaze on the purpose for which we were made: a love-filled life with God and others. Heaven and the fullness of life is the goal. Hope moves us to see it and reach for it.
Further, a fruitful, virtuous and happy life is the goal for now, in the here and now. The theological virtue of hope helps us to both understand that and put it into its proper perspective.
Hope reminds us that things (creatures) of this world will not and cannot bring perfect happiness. In this way, the virtue of hope helps to properly order the moral virtue of temperance, which refers to the proper and ordered use of created things. Nevertheless, hope points us to the true path that leads to the fulfillment of all our desires: Jesus Christ. This has a stabilizing effect on the way we live life temporally, shaping the choices we make and the directions we take. Also, the virtue of hope has the characteristic of moving us to respond to the desire for happiness placed in our heart by the Creator; it takes up earthly hopes that inspire our activities here, elevating and purifying them, "so as to order them to the kingdom of heaven" (CCC, No. 1818). Hope gives purpose to our actions, helps to prevent discouragement, and sustains us in times of trial, suffering, and abandonment, that our hearts may be opened to eternal beatitude (Ibid.).
It is clear that the theological virtue of hope is far different from worldly hope or the hope we have in everyday things. For instance, we might hope our car will be repaired in a timely manner and with reasonable, affordable expense; we might hope that a trip to the dentist will go well; that a dinner engagement will be pleasurable; and that the stock market will rise. The theological virtue of hope is, however, something radically different; for it is not something worldly or natural but supernatural, infused into the soul by God in order to direct our gaze toward heaven and life with Christ.
The Catechism teaches that the theological virtue of hope inspires our earthly activities, elevating and purifying them, "so as to order them to the kingdom of heaven" (No. 1818). Here is one way we can better understand how this works: a young man might hope to find a beautiful bride one day and marry. The virtue of hope helps to properly order this good desire as he seeks out his spouse and, upon finding her, they plan their marriage and future together with God and eternal life in mind. They will look not merely to the present but to eternity and everlasting life with Christ. After joining in the sacrament of marriage, hope moves the spouses to fully live out marriage as a sacred vocation, in a way that has heaven as the goal. Husband and wife will recall the promises of Christ and integrate them into their marriage. They will further participate in God's plan of salvation by helping to instill knowledge of the faith and the virtue of hope in their children, if God is pleased to so bless them. Additionally, the virtue of hope provides strength to them in times of trial, which every marriage encounters at some point, because of the big-picture knowledge the couple has. Hope, then, is a definite advantage to the couple in living out their self-giving marital commitment. Strengthened by the virtue of hope, their lives are illuminated by trust in the promises of Christ and eternal beatitude. Their marriage is thus shaped, ordered, and elevated by the virtue of hope throughout its days.
If natural, earthly hope sees the rosebud, the virtue of hope imagines the rose in full bloom and trusts that it will one day arrive at that state.
It is not hard to understand that a life devoid of the virtue of hope is deprived of something immeasurably great. Many today walk through life, looking and seeking, but without a clear understanding of the goals of human nature, without knowing what the promises of Christ really mean or what they really are. Their trust in God is uncertain, perhaps nonexistent; their hope in eternal life is bleak, if it is there at all. This type of life is stressful, chaotic, and directionless; it lacks real purpose and fulfillment. Further, a life devoid of the virtue of hope is often focused exclusively on the present and creaturely gratification—something that is a dead-end road. Possessing hope or not is the difference between walking in darkness, prone to frustration, misdirection, and despair, and walking purposefully forward, guided by a heavenly light of clarity that points to the horizon of promise: Christ.
The virtue of hope is crucial to living a fruitful, happy life in the here and now, and directing our lives toward attaining the fullness of life with Christ after we pass through the veil of death.
Words cannot express how grand, important and beautiful is the God-given gift of the virtue of hope. This Advent, cultivate this divinely-infused gift through prayer, penance, and opening your heart in ever-greater ways to Christ.
Christ's peace.
*****
Click the link below to view a PDF of an essay on the theological virtues.
The Theological Virtues of Faith, Hope and Charity as Master Gifts from God
Please help maintain this site with a donation.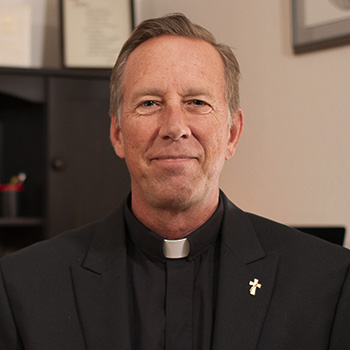 Deacon Frederick Bartels is a member of the Catholic clergy who serves the Church in the diocese of Pueblo. He holds an MA in Theology and Educational Ministry and is a Catholic educator, public speaker, and evangelist who strives to infuse culture with the saving principles of the gospel. For more, visit YouTube, iTunes and Google Play.