REJOICE! It's the 3
rd

Sunday of Advent, Gaudete Sunday. We are called to reflect on rejoicing in the Lord so we can share his joy with others.

By Lauren Heaton
18 December 2017

For those of you who are having a hard time this Advent getting into the Christmas Spirit or finding joy in your daily life, I understand. I tenaciously pursue God's joy but feel like a treasure hunter searching for treasure in North America while using a map of Asia.

Suffice to say, it's not working out for me.

My "aha-moment" came last night: joy, like love, is not primarily a feeling.

When we view love primarily as an act of the will and less as a feeling, that is when we have an unshakeable love. We love others no matter what; we desire the good of others, and ultimately recognize God is love. If we seek to love as Christ loves us, our foundation of love is stronger, less fickle, and able to surpass basic human understandings of love.

I propose we start to look at joy in a similar way. The joy that Christ calls us to is more than a feeling. It is deeply rooted in trusting God's love for us.

Joy cannot be a forced outcome of doing things that make us momentarily happy. Joy cannot be a feeling that comes and goes, but a will of the heart. A trust in God to provide and a belief that he has already overcome all the evil and suffering this world throws at us. (See John 16:33)

"As the earth brings forth its plants, and a garden makes its growth spring up, so will the Lord God make justice and praise spring up before all the nations"( Isaiah 61:11).

God is a good Father and a great gardener. Instead of continuing to plant our joy in earthly things, ask him to help you trust him more and plant your joy in him, so in rain or shine you can "rejoice with an indescribable and glorious joy, as you attain the goal of your faith, the salvation of souls" (1 Peter 1:9).

Give the gift of Christ's unconditional joy this 3rd week of Advent!

*****

Sharing is caring! Please support Joy In Truth by sharing on social media.

Photo Credit: Lauren Heaton. Produced for Joy In Truth. All rights reserved. Used with permission.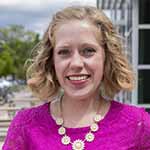 Lauren is a young Catholic professional working in the marketing industry. She loves working with high schoolers and leads a high school youth group. She is also passionate about leading a young women's bible study, is on the leadership team for West Denver 2:42 a young adult ministry and sings at her church. Lauren is a modest fashion enthusiast, pancake connoisseur, promoter of faith and fitness, and lover of all things family oriented.