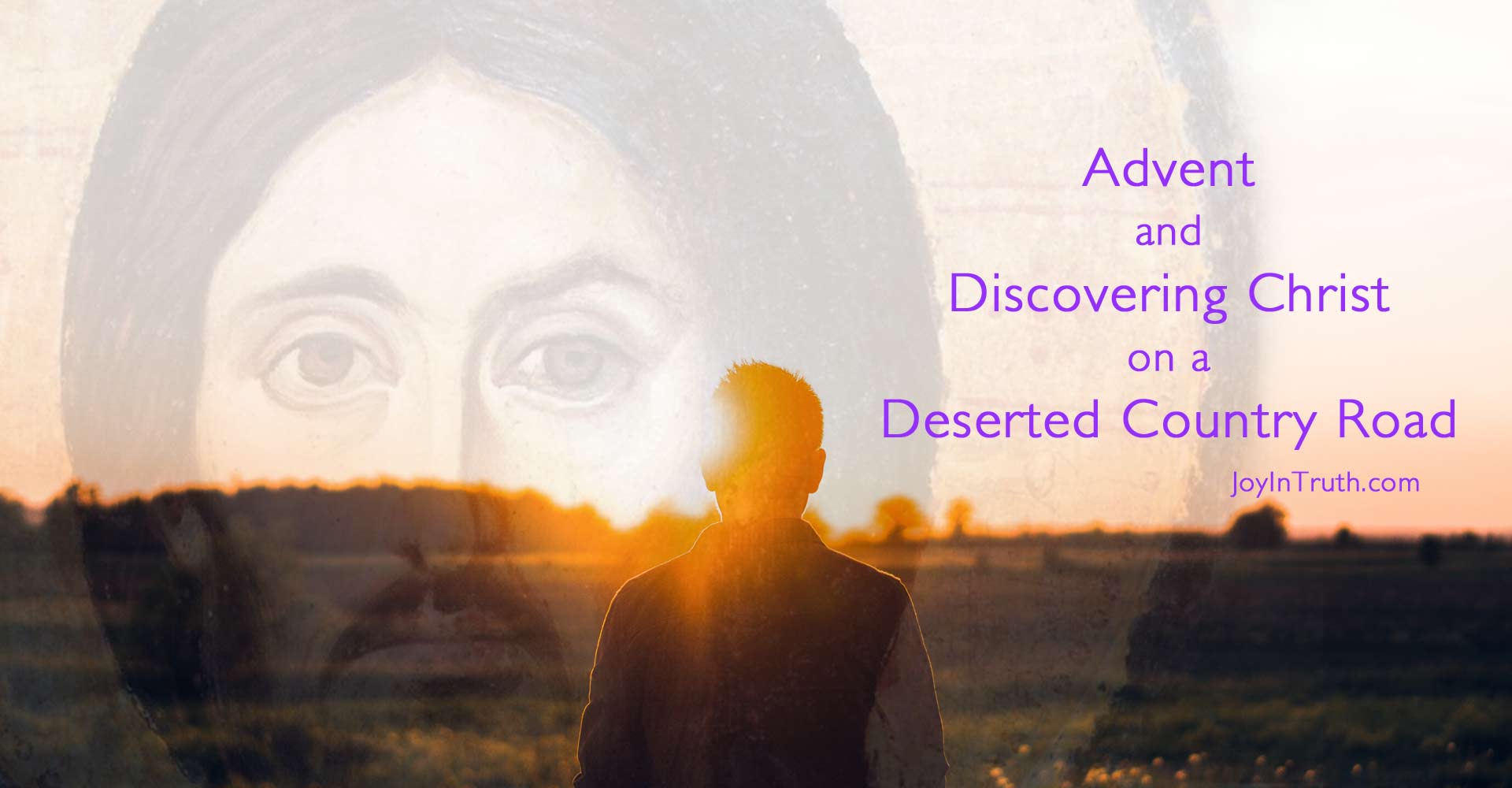 Discovering Christ: The Lord Jesus Christ wants to meet you right here, in the present. Whether you are sitting on the side of a deserted country road, enjoying a fine dinner in downtown Manhattan, or kicking ant piles, Jesus offers a new kind of life with new purpose and meaning.
By Deacon Frederick Bartels
3 December 2017
I was raised with my two younger sisters and, for the most part as a child and later as a teenager, my family lived in rural areas. I got used to entertaining myself with things like insects, playing with my dog or practicing guitar. As a result, I lived somewhat of a life of solitude. At school, I often kept to myself and cultivated not many friendships but two or three close ones.
Since my family did not live in a neighborhood, my friends were all located several miles distant. It was rather rare to have them over. On those infrequent occasions when one of them planned to arrive at my house for the weekend, I excitedly looked forward to the experiences we would have hiking, throwing stones, or exploring an old barn filled with rusted junk at the northern end of my parent's property. At that time, it was enough simply to be with my friend. We didn't have to do anything special. Not at all. It wasn't movies or video-gaming or the mall or parties; it was sitting on the side of a deserted country road talking, shooting BB guns or kicking at ant piles.
I always felt a sense of loss as the weekend came to a close. It was over—at least for another month or two. Back to solitude.
I didn't mind it, not really. The solitude. I've always been somewhat of an introvert. I'm not much for parties and noise and busy-bodying around. I've never felt the need to saturate my life with activities. I was used to being alone. You might say it was one of my friends—aloneness. It seemed to me, at the time, that the emptiness I felt inside was normal—it was just the way things were and would always be. Yet, looking back, it's clear to me now that there was something else I longed for in my life as a boy. Something I couldn't put my finger on. Something my inner being craved but had no point of contact with and no knowledge of—it was a complete mystery.
It was like experiencing hunger without having any knowledge of food.
Thinking back to when I was fifteen, I remember one August summer's eve quite clearly. My family had recently moved to a new home two hours away, and I would be entering high-school in a few weeks. I had no idea what to expect. New school, classes, teachers. Unknown strangers. Anxiety.
My best friend had come to visit for about a week. We were enjoying an unusually still evening, sitting on the side of a deserted country road, looking off at the sunset and not saying much. We were comfortable just sitting there. At that moment, a strange feeling of peace suddenly washed over me, as water gently glides up and over the slope of a beach. It was subtle, surprising, inexplicable. I felt deeply connected to creation, to the sunset and the sky and the blades of grass in the field beyond and even the sandy edge of the deserted road we sat alongside. Suddenly, everything took on a new tone, nothing was quite the same as before. It seemed, in an instant, I had encountered something wondrous yet beyond my understanding—it was mystery.
I said nothing about it to my friend. And, just as suddenly as it had begun, that mysterious feeling of consolation, peace, and warmth evaporated.
As a teenage boy, there on the side of a deserted country road, I did not have the experience to understand that that peace I felt was actually an encounter with the mysterious presence of God. I was too accustomed to throwing stones and kicking ant piles to notice the magnitude of what had happened. Although I never forgot it, the experience was subtle enough for me to attribute it to my own emotions.
I did not understand that Christ sometimes unexpectedly breaks through in the moment to capture our attention in order to draw us to himself. He often does this in a subtle, delicate, unobtrusive way. On the other hand, according to God's divine pleasure, the experience can be powerful, unforgettable and totally life-changing.
I think the aloneness I often experienced as a child helped to prepare me for developing a love for God. It was a kind of training-ground for an intimate relationship with Jesus. It taught me that silence and emptiness—these things we modern-day Americans work so hard to avoid at all costs as if they were death itself—are actually means of attaining fulfillment because it is only in leaving the noise of the world behind that we can hear the delicate whisper of God. One must learn to be alone with the mysterious Other. And it can hurt at first. It's a process of purification, pruning away the parts of our life that sap spiritual energy. But it must be done. One must learn to love boredom and silence. If you want to experience God's divine presence and consolation, it must be done.
God desires to draw everyone into sublime union with himself. If you wish to say "yes" to this divine call, you must enter into the school of prayer and silence. You must be willing to sit alongside a deserted country road and direct your heart and mind to Christ. Pope St. John Paul II reminds us of this wondrous plan of God, the commitment and purification the journey requires, and its sublime end:
The great mystical tradition of the Church of both East and West has much to say in this regard. It shows how prayer can progress, as a genuine dialogue of love, to the point of rendering the person wholly possessed by the divine Beloved, vibrating at the Spirit's touch, resting filially within the Father's heart. This is the lived experience of Christ's promise: "He who loves me will be loved by my Father, and I will love him and manifest myself to him" (Jn 14:21). It is a journey totally sustained by grace, which nonetheless demands an intense spiritual commitment and is no stranger to painful purifications (the "dark night"). But it leads, in various possible ways, to the ineffable joy experienced by the mystics as "nuptial union". (Novo Millennio Inuente 33)
What took me years and years to realize is that, even as a boy, I unknowingly craved the company and friendship of Jesus. Of course, I knew lots of things about him. But I didn't really know him. I didn't know enough to understand how much I needed him and the magnitude of joy and fulfillment involved in an intimate relationship with him. I thirsted for his divine spring that wells up to eternal life. I hungered for the consoling, transformative and mysterious presence of God. As the Divine and Human Healer, Jesus was precisely who I needed in my life to give it wholeness, meaning, and purpose. He alone heals the human heart. His medicine is the singularly-unique divine light of God, which is unlike any other light, unlike anything else in the world.
But at that time in my life, I simply had no idea.
Do you mysteriously thirst for the mysterious Other who alone satisfies? Does your heart long to be filled with what the world cannot offer, to taste the pure holiness, love and sublime consolation of the mysterious Other who has made you and who sustains your existence by his unrestricted power and love?
Do you desire the perfect companion? One who never betrays, abandons, disappoints, ignores, or injures? Jesus is that companion, one who is unlike any other. When he is accepted into your heart as your closest, most intimate friend, life takes on new meaning, tone, purpose, and clarity. And his friendship is permanent—he's always available. He never has to go back to his house after the weekend is over. As Master, God, Savior and Redeemer, he always walks beside you. Even when you're kicking at ant piles. And, more than that, he lives within you through the gift of his Spirit.
But none of that can be had cheaply. God is not reduced-rate love. The instant gratification the worldly chase after will find no satisfaction here. What is required? You must give your life to Christ—and that is not something purchased with mere words or noble sentiments alone.
Advent is meant to be a sacred, life-changing season of preparation for the reception of Jesus Christ into your heart, mind, and life. It's meant to be transformative, restorative, recreative. It's characterized by hope in the Lord's glorious arrival and entails entering into the drama and mystery of his own life.
Read: a man who loved Christ to tears.
No one can change their past. However, you can, with God's grace, change the present. Advent is a season for that kind of change. Christ wants to meet you right here, in the present, right now. Whether you are sitting on the side of a deserted country road, enjoying a fine dinner in downtown Manhattan, or kicking ant piles, Jesus offers a new kind of life where, although some emptiness and aloneness will remain until you are seated at the eternal banquet in heaven, everything takes on new tone and light. He offers you fulfillment beyond the world: a peace the world cannot offer and can never give. If you desire it, you must prepare for it with commitment, diligence and in living in fidelity to the loving plan and commandments of God.
Be patient. Be courageous. Be strong. Be a person of prayer. Christ is coming.
"See, I am coming soon; my reward is with me, to repay according to everyone's work. I am the Alpha and the Omega, the first and the last, the beginning and the end" (Rev. 22:12-13).
Photo Credit: by Warren Wong on Unsplash. Original photo modified.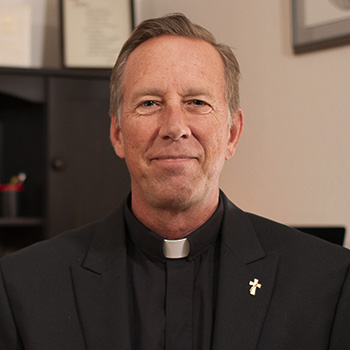 Deacon Frederick Bartels is a member of the Catholic clergy who serves the Church in the diocese of Pueblo. He holds an MA in Theology and Educational Ministry and is a Catholic educator, public speaker, and evangelist who strives to infuse culture with the saving principles of the gospel. For more, visit YouTube, iTunes and Google Play.