The strongest proof of God is the existence of miracles, both in the past as well as the present.
10 September 2009
by F. K. Bartels
St. Thomas Aquinas treated miracles as an important proof of God. In fact, the Christian faith is based on miracles: the Incarnation, Christ's healing miracles, the Transfiguration, the Resurrection, the Ascension, etc. We have faith in Christ precisely due to the miracles he worked. If he had not raised the dead, gave sight to the blind and hearing to the deaf, men would not believe he was the Son of God.
Miracles provide irrefutable proof of the existence of an omnipotent Being whose power is capable of breaking and surpassing the laws of nature. This Being who is capable of accomplishing whatever he wills, who is unconstrained by the physical laws of the universe, who speaks reality into existence, is God.  It's safe to say that in the absence of miracles men wouldn't believe in God.
Atheists normally dismiss miracles. It is not that they're around and they haven't seen one; it's that they're not around. They don't exist nor have they ever occurred. Although the Gospels have been proven as historical documents by Christian and non-Christian historical scholars alike, which means they are authentic, entire, and trustworthy, atheists reject what is written within their pages. That's understandable, I suppose. If one lacks faith in Christ it's rather a leap to believe a fantastic story of a poor Man who claimed that before anything material existed he did, when he said of himself: "I AM". Thus atheists routinely view the miracles recorded in the gospels as fairytales. So, while some think it quite appropriate to dismiss those miraculous events beyond nature that the Son of the Living God worked, what if there were miracles one could witness at present?
Some are of the mind that it's rather easy to dismiss events beyond nature that happened two-thousand years ago. But miracles that happen at present – or those documented to have happened in the recent past – are something different. Those who want to get at the truth of miracles will not be so quick to reject recent events which are beyond nature.
There are many, of course. If anyone takes the time to investigate, he will find there are places in the world where he can go and see for himself: there are the incorrupt bodies of the saints; the reflections in the eyes of Our Lady of Guadalupe imprinted on the Tilma; the cures at Lourdes, France; and the liquefaction of the blood of St. Januarius, to name only a few. Well documented miracles in the recent past include the dancing sun at Fatima, Portugal, in 1917 (recorded in newspapers), in which 70,000 witnesses experienced a life-changing event beyond nature. These miracles, like all others, remain unexplained by science, as miracles must.
Yet those who refuse to believe in miracles often refuse, also, to seek them. They pronounce their judgement against the possibility of miracles as infallible within the constraints of their own minds.
In the end, how is one's heart opened to the light of miracles? How does one begin to see what was before unseen?
That requires a change of attitude. Obstinate pride must be replaced with tender humility. Just as one must desire to find God before he will find him, so too must one desire to explore miracles with an unprejudiced mind before he will encounter them. It is not unlike gaining knowledge on any other subject: if we desire to know something, we have to do the research; we have to seek, study, learn—we have to walk the path.
Yet we don't have to go hunting miracles to know the King. Sincere, heartfelt, down-on-the-knees prayer will open the world of faith before our eyes. Christ has said, to those who knock, the door shall be opened (Matt. 7:7). In our nothingness, let us come to Christ; let us open our hearts to him. Let us seek the Holy Trinity: the Father, the Son, and the Holy Spirit. In submission to the Trinity we will be granted wisdom. Slowly, in time, we will begin to see what was before unseen, hear what was before unheard, and know the previously unknown.
Want to live in a new world, a place filled with unheard-of wonders? God will take you there. But you'll have to prove you want to go. It isn't easy. The path to the heights is precipitous, difficult, and strewn with hardship. Yet if you want to climb, God will give you the means to do so. However, do not overlook the fact that one needs a guide: no one scales Mt. Everest alone. Seek the Catholic Church God willed should exist. Listen to the Bride of Christ for which Jesus gave of himself; learn her, obey her and begin the journey.
Christ's peace.
*****
Please help us maintain this site. Even small tips help!
Photo credit: Deacon Frederick Bartels. All rights reserved.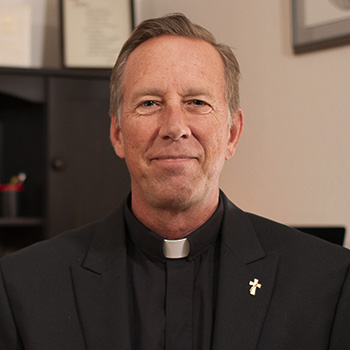 Deacon Frederick Bartels is a member of the Catholic clergy who serves the Church in the diocese of Pueblo. He holds an MA in Theology and Educational Ministry and is a Catholic educator, public speaker, and evangelist who strives to infuse culture with the saving principles of the gospel. For more, visit YouTube, iTunes and Google Play.