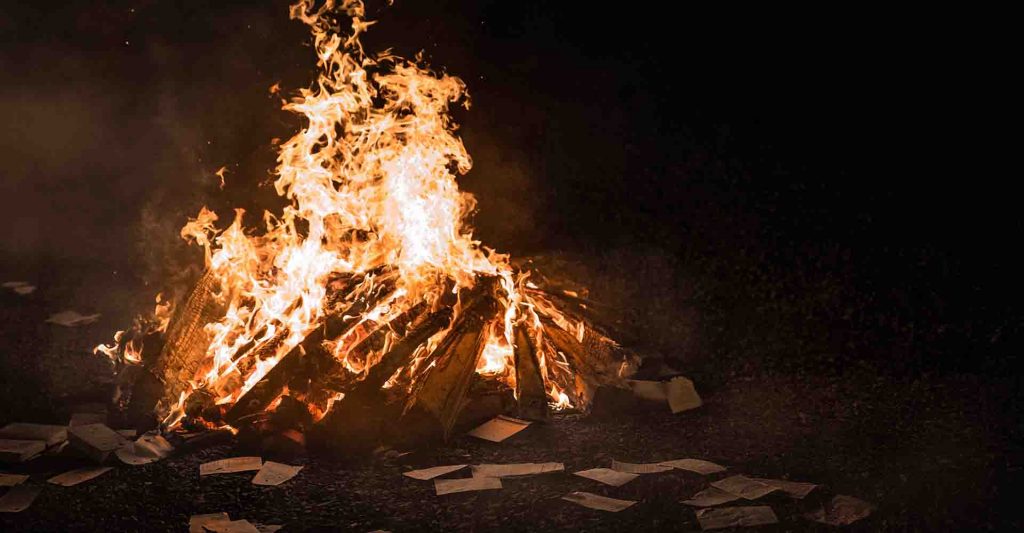 Is a bishops' mandatum for internet sites ultimately beneficial or detrimental? To begin, could it be misconstrued as religious censorship – a figurative religious "book burning" exercise? Is something like this ultimately a good or bad thing to do? And who is ultimately responsible for censoring what people read?
by Barbara Case Speers
19 February 2020
Recently, Bishop Barron, the Auxiliary Bishop of the Diocese of Los Angeles, a social media guru, who has almost as many followers as Pope Francis, stated something that raised eyebrows:
I would recommend that we bishops exercise some authority over those who claim to teach for the Church in the social media space. There are, to be blunt, a disconcerting number of such people on social media who are trading in hateful, divisive speech, often deeply at odds with the theology of the Church and who are, sadly, having a powerful impact on the people of God. I do think that the shepherds of the Church, those entrusted with supervising the teaching office, can and should point out when people on social media are harming the body of Christ.

I wonder if it's time to introduce something like a mandatum for those who claim to teach the Catholic faith online, whereby a bishop affirms that the person is teaching within the full communion of the Church.
Reading the above quote, would Catholic writers or speakers who post on social media be required to have a Bishop's or Bishops' validation, a blurb stating that what they wrote or said is approved content? Of course, it goes without saying that faithful Catholics both strive to read and write quality content in line with official Church teaching. No one wants to see propagandized, biased, harmful, scandalous content. Why? Because it poses a danger to souls. And we can all acknowledge that there's a lot of bad information found in today's often wild, dark, and loose Internet world—that's no secret. Nevertheless, there are lots of potential problems with the idea of a "mandatum" and even more questions.
Is it even possible to implement such a plan? And what would it cost the laity? If you think your diocesan ministry fund is high now, just wait. Bishops will need to employ hundreds of theological experts to peruse millions of pages of content. And that's only the start of logistical concerns. Let's face it, it will be extremely difficult for the average Catholic evangelizing on the Internet to get in touch with his local bishop let alone receive approval in a timely manner for his content—even if it is totally solid stuff.
Then there's the question of justice in terms of who receives approval. Would it be only large sites with lots of traffic that have historically never called the bishops to task? In other words, "Don't bite the hand that feeds you" might become the operative methodology. There are questions about how a mandatum might be correctly used in the right hands or used as a corruptive power tool in the wrong hands. Given the extreme scandal of late, Catholic laity have lost their confidence in the bishops and are highly skeptical of their ability to shepherd the flock. Do they have the virtues necessary to oversee the blogosphere in a prudent, just manner?
And what about those sites that call the bishops to task and report what they would rather keep secret? It's a given that good, holy Catholics do not want to create scandal; however, events of late have led many Catholics to the conclusion that drastic times call for drastic measures, like forceful language and aggressive reporting. Many of us are familiar with sites like LifeSiteNews, Church Militant, and OnePeterFive. It doesn't seem likely that these kinds of sites would receive a mandatum. The question is—and must be—do these sites serve a good, beneficial purpose, even if their reporting poses difficult questions for the bishops—even if their approach might be viewed as "blunt" or "shocking"? One might ask, is it ever charitable to use firm, to-the-point language in admonishment? I would argue that there can be times when charity might even demand it.
Another question is whether the bishops will police certain priests spreading error? Fr. James Martin immediately comes to mind, with his obvious bent on promoting the LGBT (add your own letters here) movement as if it is a thing to be applauded, while conveniently remaining silent about such topics as the natural moral law, Divine Law, and the Church's moral teaching on the matter.
Given all these questions, let's explore some of the ramifications of a mandatum. To begin, could it be misconstrued as religious censorship – a figurative religious "book burning" exercise? Is something like this ultimately a good or bad thing to do? And who is ultimately responsible for censoring what people read?
Is censorship, "book burning" new?
In 213 BC, once in power, Chinese Emperor Shih Huang Ti ignited a huge bonfire fueled by poetry, philosophy, and history books. His objective: everything was to be under government control.
The emperor also didn't want his subjects to compare him to the previous emperors, especially if they were virtuous. One man's pride erased the antiquity of those living and the roots of future generations to come. As it is said, pride is the root of all evil. It leads to all kinds of other sins, like jealousy, envy, greed …
The Library of Alexandria
During periods of political unrest, the exemplary Library of Alexandria was set on fire. In 48 AD, this extraordinary edifice was targeted by Julius Caesar.
Historians claim, when Julius rode into town he may have accidentally started the fiery malady, destroying this iconic institution of academic notoriety. The mystery still stands today – did Julius light the match or perhaps trip over a lampstand?
The Nazi Regime
The vilest book burning recorded was on May 10, 1933 by the Nazi regime. Prominent Jewish authors were denied having their scholarly work read. The pages of their diligent expertise illuminated the night skies of thirty-four cities as the succumbed parchment turned into ash destroying the cultural, political, and religious ideology of the Jewish people.
New Testament book burning?
Luke wrote in Acts chapter 19:13-20:
Then some itinerant Jewish exorcists tried to invoke the name of the Lord Jesus over those with evil spirits, saying, "I adjure you by the Jesus whom Paul preaches." When the seven sons of Sceva, a Jewish high priest, tried to do this, the evil spirit said to them in reply, "Jesus I recognize, Paul I know, but who are you?" The person with the evil spirit then sprang at them and subdued them all. He so overpowered them that they fled naked and wounded from that house. When this became known to all the Jews and Greeks who lived in Ephesus, fear fell upon them all, and the name of the Lord Jesus was held in great esteem.

Many of those who had become believers came forward and openly acknowledged their former practices. Moreover, a large number of those who had practiced magic collected their books and burned them in public. They calculated their value and found it to be fifty thousand silver pieces. Thus did the word of the Lord continue to spread with influence."
The Apostle Paul resided in Ephesus for two years teaching the Jews and Greeks about the kingdom of God. Paul's focus was preaching Jesus both in the synagogues and when the Jews became obstinate, Paul taught boldly in the lecture hall of Tyrannus. Paul performed many miracles. Evidently, the Apostle did exorcisms. That is why the evil spirit said – I know Paul but I don't know you. The evil spirit made their point given the description of what took place following the botched exorcism. Reading the biblical text, when word got out about this incident, fear fell on all those who lived in Ephesus, Jews and Greeks alike.
Holy fear led to Holy action!
What did the believers do – those who gave their lives over to Jesus? They burned their pagan-satanic books. These were costly books, they didn't have printing presses, and Luke makes a point by tallying-up the dollar figure of these black magic manuscripts. These new Christians once dabbled in paganism, divination, fortune telling, and evil spirits were lurking all around them. Giving their lives to Jesus, being filled with the Holy Spirit, they denounced their evil former lifestyles by stepping up to the plate and cleaning up their act.
Reading the account given, they did the book burning by using their own free will. I didn't read where the Apostle Paul gave a homily on what books should be on their bookshelves.
By Paul's miracles, reading scriptures from the Old Testament, and daily teachings about Jesus, these believers were convicted to the heart by the Holy Spirit. They were not forced to do a book burning; they freely tossed the handwritten pages into the fire.
The Apostle Paul didn't get a committee together to censor their individual libraries. The Holy Spirit convicts the heart producing Holy Spirit Censorship!
By the same token, when we read and study God's word, we use our free will, assisted by grace, and make the necessary changes in our daily lives to reflect holiness. Holiness is not forced on us by the parish priest, the diocesan bishop, or the USCCB.
Our problem today – information overload. Unfortunately, the information we hear or read cannot be assumed to be correct or truthful.
That is why there are watchdogs like Factcheck and Snopes. Curiously, who validates their truthfulness? The same problems exist in Catholic social media. Who would monitor the melting pot of incessant words/thoughts/opinions? Bishop Barron would like the Bishops' to oversee this digital universe. Quick observation: there aren't enough Bishops to intercept each post pinged into cyberspace.
Here is a huge conundrum…could a Bishop's agenda play a role in their censorship?
Let's face it, we are all human. What if a bishop or bishops have their own opinion on certain matters and a writer or speaker does not agree?
What if a bishop promotes weak Catholic teaching? For instance – "Hell doesn't exist" and a writer or speaker quotes Jesus who tells his followers the angels will throw the wicked into a fiery furnace where there will be wailing and grinding of teeth (Matthew 13:50). Who will decide the outcome?
The nest concern, Social Media is Freedom of Speech. Will Bishops attempt to deny Catholic citizens their right to the First Amendment via a selective mandatum? As I said above, it seems such an idea unleashes a host of problems and concerns.
Stay tuned as we explore some of those problems and concerns in further detail in future posts.
Photo by Jonny Caspari on Unsplash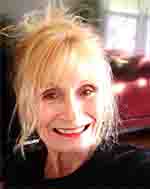 As a writer, I paint a black and white canvas using words, presenting spiritual points to ponder, even if it is just for me! My goal is to bring us closer to the Will of God in our lives, encourage an intimate relationship with Jesus, Mary, and all the saints.