Our greatest enemies have been defeated by the Anointed One of God. By virtue of his supernatural power and his guiding Spirit, the Church will pass from these dark days with new purity, light, vigor, and strength.
By Deacon Frederick Bartels
8 September 2018
Given what's going on in the Church with the clergy sexual abuse crisis, Cardinal McCarrick, and the mounting evidence of its calculated and ongoing coverup by top Vatican officials, including Pope Francis, it's easy to be more than simply disappointed. Many Catholics are downright discouraged and depressed. While it's true most of the clergy—bishops, priests, and deacons—live good and holy lives, laboring day by day to build up the kingdom of Christ according to their ordained ministry, it's also true that the rot in the Church runs deep. It's deplorable. It's inexcusable. Consequently, many non-Catholic Christians are once again protesting against the Church. "See," they say, "The Catholic Church cannot be Christ's true Church. It's just one more corrupt human institution."
Some wonder what to do or where to go. Others are asking, "What's next?" We feel as if, in union with the people Israel, our hearts are once again weeping as we sit by the river Babylon in exile, remembering the days of Zion (Psalm 137:1).
Our hearts long for healing, recreation, and renewal. We thirst for the truth, its implementation, its love and its perpetuation. We await justice, which ultimately belongs to and comes from God who is perfectly just and good. And we, too, must work for these things in righteousness by exposing the rot at its core and rooting it from the body of the Church. Only then can healing occur.
Healing, restoration, and renewal. The people Israel longed for these as well. They longed for a Messiah, an Anointed One of God who would free them from oppression and enslavement. Misunderstanding the foretold mission of the coming Messiah, Israel longed for an Anointed One who would liberate her from its pagan enemies, such as the Babylonians, the Assyrians, and, of late, the Romans. For many centuries Israel awaited this liberation. It's hard to imagine, given their level of suffering and alienation, just how eager and desperate these people were as they sat helplessly before their powerful captors:
For there our captors asked us for songs, and our tormentors asked for mirth, saying, "Sing us one of the songs of Zion!" How could we sing the Lord's song in a foreign land? (Psalm 137: 3-4)
They couldn't sing with joy. It was no longer possible with such crushed hearts. The ability had left them, their voices choked off by cries of estrangement. They had been ripped from their homes. Their lives had become little but a long, agonizing period of suffering and desperation. If we're honest with ourselves, sometimes we feel a bit like that. Our home, the Church, has been brutally attacked and scarred by some of its perverted members. The world now points its finger at Catholics with a new, persecutive weight. We too long for the Messiah to return, for the change, justice and renewal he would bring. We wish for the Church to be liberated from her traitorous enemies that secretly lie in wait within.
In today's gospel (Mt 1:1-16, 18-23) as we celebrate the Feast of Nativity of the Blessed Virgin Mary, we hear about the realization of a long-awaited hope. The evangelist Matthew lists the genealogy of Jesus Christ, beginning with Abraham, continuing with King David, his son Solomon, and then the terrible Babylonian exile that left Israel broken. It ends, however, with the realization of the promise above all promises, with "Jacob, the father of Joseph, the husband of Mary. Of her was born Jesus who is called the Christ."
"Jesus who is called the Christ." Jesus, which means in Hebrew "God saves," who is called the Christ, the "Anointed One" or Messiah. This was the long-awaited news the people Israel had lived for centuries to hear. The promised Messiah had finally arrived in Jesus Christ!
Matthew continues with the words of the angel who appeared to Joseph in a dream:
[Mary] will bear a son and you are to name him Jesus, because he will save his people from their sins." All this took place to fulfill what the Lord had said through the prophet: Behold, the virgin shall be with child and bear a son, and they shall name him Emmanuel, which means "God is with us."
In Jesus, the people Israel had more than a man who would liberate them from pagan oppressors, they had God himself in the flesh! Through the Virgin Mary, born from her immaculate womb, God had become man and was with them! Jesus was sent not to merely liberate the people Israel from aggressive foreign nations, but from their most deadly enemies: sin, the devil and eternal death.¹ In the birth of Jesus, a new, singularly unique liberation had taken place, a new definitive freedom was already won, and a new creation had begun.
Jesus is God who saves. He has come to liberate us from the very worst oppressors, those whose power included not only harming the body but killing the soul. "Do not fear those who kill the body but cannot kill the soul; rather fear him who can destroy both soul and body in hell" (Mt 10:28).
Even in the worst of times, we have this same divine and everlasting promise: Jesus is God who saves. So long as we remain united to Jesus Christ in faith, we have nothing to fear. These troubled times will move into the past and the healing, restoration, and renewal Christ promises will take place.
Our greatest enemies have been defeated by the Anointed One of God. By virtue of his supernatural power and his guiding Spirit, the Church will pass from these dark days with new purity, light, vigor, and strength.
Let your heart not be troubled. Christ said, "I am with you always" (Mt 28:20) and the "gates of hell will not prevail" (Mt 16:18) against my Church.
Holy Mary, Mother of God, you are the most blessed among women as the Mother of the Redeemer. Pray for the members of the Church now and at the hour of our death.
*****
Please support Joy In Truth by sharing on social media.
Photo Credit: Gerard van Honthorst [Public domain or Public domain], via Wikimedia Commons.
For more on this theme, see Edward Sri's book: Mystery of the Kingdom.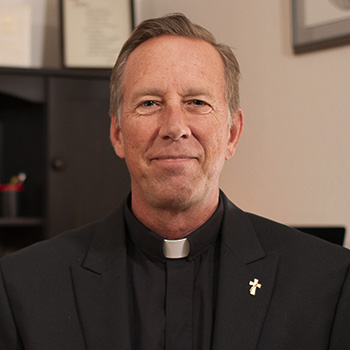 Deacon Frederick Bartels is a member of the Catholic clergy who serves the Church in the diocese of Pueblo. He holds an MA in Theology and Educational Ministry and is a Catholic educator, public speaker, and evangelist who strives to infuse culture with the saving principles of the gospel. For more, visit YouTube, iTunes and Google Play.