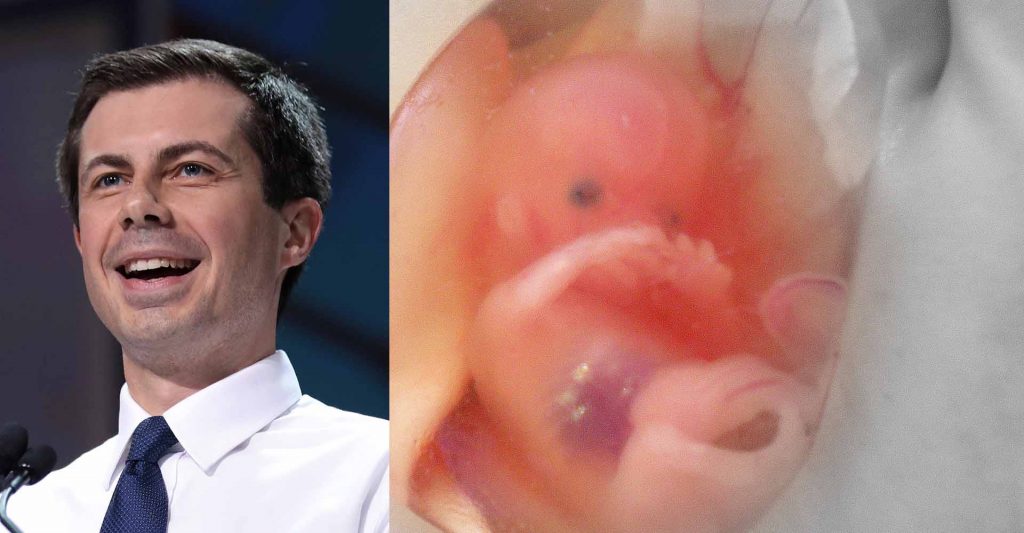 Democrat presidential candidate Pete Buttigieg, former mayor of South Bend, Indiana, appeared yesterday on the leftist talk show, The View. Buttigieg opened in response to a question from Sunny Hostin saying, "I would be the most progressive president we've had in a half-century." He then went on to speak about the economy, wage increases, and how Americans are divided as a nation.
By Deacon Frederick Bartels
7 February 2020
We all know the divisive issues of the day revolve around sexual morality, especially abortion—the moral sinkhole of our nation. Legalized abortion is THE divisive issue in America because it involves the unspeakably evil act of directly and intentionally killing innocent children by the millions. Abortion is divisive because it divides mothers and fathers from their children, destroys members of the future generation, fractures families, undermines the common good, and is the cause of untold pain and suffering. A society that aborts its children is a self-terminating society.
Buttigieg is well aware of the gravity of abortion in terms of the polarizing division found in the U.S. today, which perhaps is why he brought it up early on in his talk. In a bizarre but not surprising use of distorted logic, he thinks abortion is a way to unite Americans around a common cause, saying, "We can bring Americans together" around issues like the "right to choose."
It's true it is possible to bring many Americans together to fight for the right causes, such as the right to life and the protection of human life from conception to natural death. However, it's not possible to unite a nation around support for intrinsic evils like legalized abortion because there's no common ground between light and darkness, good and evil, truth and lies. It's impossible to unite people in darkness because the human person is created in the image and likeness of God—made for the purpose and destiny of sharing in eternal communion with divine light and love, united to the Tripersonal God. Those who adhere to evils like abortion have severely disfigured their creation in the divine likeness by holding to vicious and morally corrupt principles like abortion.
Americans can never agree to support legalized abortion because we can never call evil good. Saying we can come together around the "right to choose" is like saying we can join together in love of murdering our fellow men.
Meghan McCain, a republican, questioned Buttigieg about an earlier statement he made suggesting Christians can support abortion because "there's a lot of parts of the Bible that talk about how life begins with breath." The statement obviously suggests support for late term, partial birth abortions. McCain noted that Buttigieg's position seemed "radical."
Pete Buttigieg supports abortion and promises to be the most progressive president ever
Click To Tweet
"Well, I'm just pointing to the fact that different people will interpret their own moral lights, and for that matter, interpret Scripture differently," said Buttigieg. "But we live in a country where it is extremely important that no one person have to be subjected to some other person's interpretation of their own religion."
When McCain pressed Buttigieg to disclose his position on abortion, he said, "My point is, it shouldn't be up to a government to draw the line [about abortion], it should be up to the woman who is confronted with the choice."
That's the standard democrat political dodge when questioned about their support for abortion. It usually takes this basic format: 1) a show of false empathy for mothers who are faced with "difficult decisions" 2) government shouldn't interfere in the "private choices" of mothers, fathers, and families in dialogue with their physicians; and 3) it's wrong for one person to "impose his religious views" on another.
Of course, Buttigieg is imposing his religious views on others when he intimates that private, individualistic interpretation of the Bible is normative, when, in fact, it's not. Upholding individualistic interpretations of the Bible as valid, each in their own right, ultimately renders the Word of God devoid of meaning. It relativizes it, as if any version of a person's claim to truth is true, simply because he can find a few words in the Bible that supposedly align with his wishes. Contrary to Buttigieg's assertion, the magisterium of the Church alone possesses the right to authoritatively define the meaning of the sacred scriptures.
Moving on, Buttigieg slides into the false, worn-out dogmatic claim that abortion is strictly a religious issue as if that means it's morality is subject to private, individual interpretation as is religion and the Bible—according to his view. By categorizing abortion with religion, he easily slips into the relativist approach. For Buttigieg, there's no real truth in religion. It's all subjective. And, of course, he makes the claim that morality is subjective as is clear from his statement that "people will interpret their own moral lights … differently." That's a profession of faith in relativism, which can best be defined as the denial of absolute truths and moral norms that transcend the human person.
Relativism: the denial of absolute truths and moral norms that transcend the human person.
Legalized abortion is not primarily a religious question, although it is certainly related to it. Regardless of one's religious beliefs, all human persons are capable of recognizing by virtue of reason and the natural moral law implanted in their hearts by God that abortion is intrinsically immoral. Just as no one needs to be taught that murder is wrong, no one needs to be taught that ripping children from their mother's womb and intentionally killing them is wrong. Further, we don't need religion to know that murder is evil. Through the use of reason, we can arrive at the certain conclusion that abortion is evil and opposed to the true good because it involves the premeditated, direct and deliberate killing of innocent children. Whatever stage of development a human person might be in, whether very young or very old, intentionally and unjustly killing them in a premeditated way meets the definition of murder.
The question is, then, why do people often support legalized abortion? Why do they seem unable to recognize it's heinous nature? See its bloodiness? Understand its abhorrent, destructive end? Ultimately, the answer lies in mortal sin. Mortal sin not only destroys a person's relationship with God, it darkens the intellect, weakens the will, and blunts the conscience. It corrupts the person. Think of a plant deprived of sunlight: it eventually turns brown, withers and dies, taking on the properties of the darkness that surrounds it. Those who live in mortal sin display a love for darkness and a hate for God and the life he has created, all the while trying to sound very reasonable and compassionate about their support for killing very young, voiceless children.
St. Paul speaks about this concept of self-inflicted darkness in his Letter to the Romans. Although he is primarily focused on the problems associated with those who deny God's existence and thus give themselves over to the worship of false gods and idols, his point about how a denial of God leads to all kinds of evils applies also to people who live in a state of perpetual mortal sin, since mortal sin is by definition a rejection of God and his law:
For the wrath of God is revealed from heaven against all ungodliness and wickedness of men who by their wickedness suppress the truth. For what can be known about God is plain to them, because God has shown it to them. Ever since the creation of the world his invisible nature, namely, his eternal power and deity, has been clearly perceived in the things that have been made. So they are without excuse; for although they knew God they did not honor him as God or give thanks to him, but they became futile in their thinking and their senseless minds were darkened. Claiming to be wise, they became fools, ….

And since they did not see fit to acknowledge God, God gave them up to a base mind and to improper conduct. They were filled with all manner of wickedness, evil, covetousness, malice. Full of envy, murder, strife, deceit, malignity, they are gossips, slanderers, haters of God, insolent, haughty, boastful, inventors of evil, disobedient to parents, foolish, faithless, heartless, ruthless. Though they know God's decree that those who do such things deserve to die, they not only do them but approve those who practice them.

Rom 1:18-22, 28-32
Pete Buttigieg mentioned that the division in America is "frightening." That's true. Unfortunately, he seems incapable of recognizing that he's part of the problem rather than part of the solution. When people live as if God does not exist, it truly is frightening because their lives, attitudes, and behavior is aligned with Satan and the other fallen angels who are unceasingly and fervently working behind the scenes to promote darkness and the destruction of human life. The more success they have in waging their war against marriage, procreation, children and family, the more successful they are in depopulating the kingdom of heaven and populating hell.
With the approach of this next election, I'd like to remind Catholics and other Christians of the urgent need to pray and fast for political candidates that God may grant them the actual grace to turn away from evil and toward him in true repentance. Please also pray for all our nation's leaders and for President Trump—the most pro-life president in recent history. Thank God for his repentance and conversion (back in the 90s he publicly stated he was pro-choice). I'm sure prayer played a major role in his conversion, as did Mrs. Trump, a pro-life Catholic. Perhaps the main reason why he is in need of our prayers now more than ever is because of the stand he is taking for God and human life. In many ways, President Trump is responsible for directing our nation back toward the light of goodness and truth. Whenever someone does that, the forces of evil rise up out of hell and wield every weapon at their disposal to counter the good.
Be sober, be watchful. Your adversary the devil prowls around like a roaring lion, seeking some one to devour.

1 Peter 5:8
Photo attributions: Gage Skidmore [CC BY-SA (https://creativecommons.org/licenses/by-sa/3.0)] and drsuparna https://www.flickr.com/photos/74896762@N00/ [CC BY-SA (https://creativecommons.org/licenses/by-sa/2.0)] Photos modified.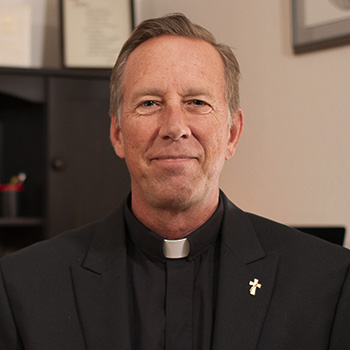 Deacon Frederick Bartels is a member of the Catholic clergy who serves the Church in the diocese of Pueblo. He holds an MA in Theology and Educational Ministry and is a Catholic educator, public speaker, and evangelist who strives to infuse culture with the saving principles of the gospel. For more, visit YouTube, iTunes and Google Play.