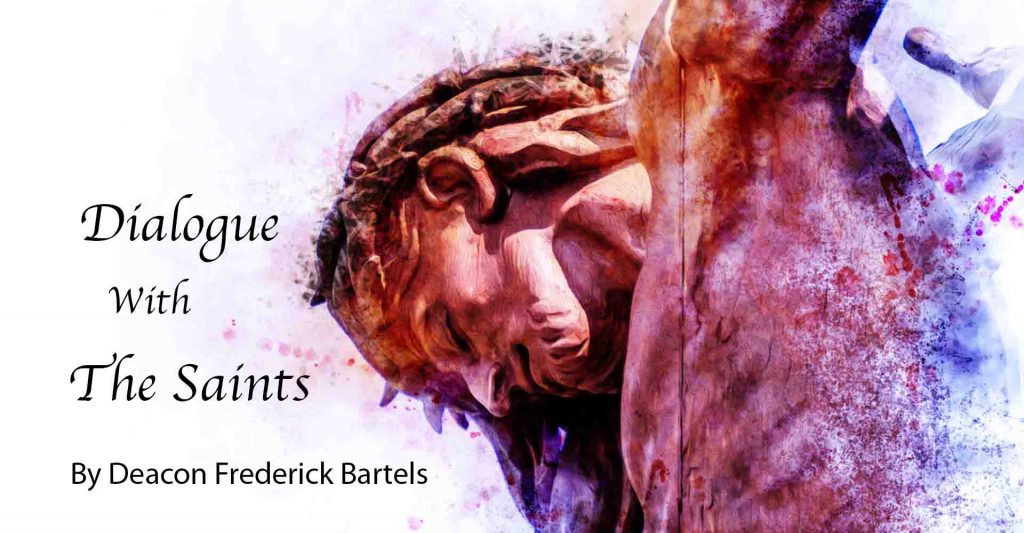 I've just released a new book titled, Dialogue With The Saints: Catholic Saint Stories to Catechize Youth, Teens, and Parents. It's written with readers from about age 12 and up in mind. More than just a storybook on the saints, Dialogue With The Saints is written as an educational and catechetical tool for Catholic teens, parents, and others. It's available on Kindle now, soon to be published in paperback with color photos and illustrations.
By Deacon Frederick Bartels
Through both imaginative and historical first-person conversations with some well-known and not so well-known saints, Dialogue With The Saints draws Catholic youth, teens, and parents into an interesting and engaging journey of learning about the divine faith and belief of the Church. With its emphasis on both story and catechesis, you'll become more acquainted with the Church's teaching on faith and morals, including moral issues like cohabitation, pornography, contraceptives, and attacks on marriage and family. You'll explore the human and theological virtues, grace and sin, heaven and hell, what it means to live heroically as a disciple of our Lord Jesus Christ and the beautiful gifts from God such a life entails, as well as many other theological topics.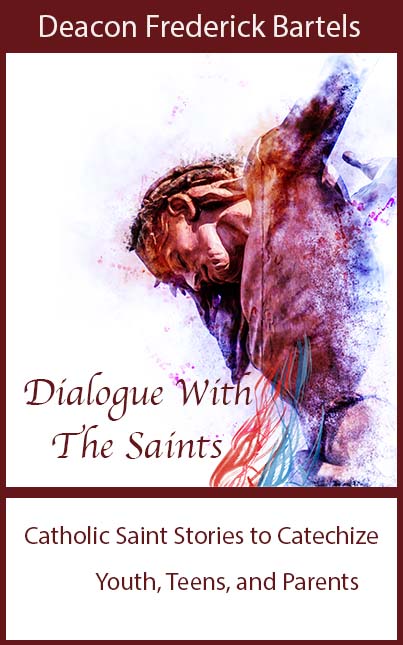 You'll listen to St. Teresa of Avila talk about the wiles of the devil and cultivating a prayer garden for the Lord to frequent. You'll meet St. Dimas and learn about his life of crime and you'll get to know why St. John of the Cross learned to love his cross. You'll listen to St. Maria Goretti recount her fear of Alessandro, his single-minded fixation on her, and her subsequent martyrdom for purity. You'll hear St. Elizabeth of Hungary tell how she was whisked away as a little girl to her future husband's castle, and St. Rose of Lima recall her parents' conversation with the servant girl who saw her face transformed into a rose. You'll hear St. Polycarp describe how the pagan crowd excitedly ran from the Roman amphitheater to gather wood for the pyre and St. Maximilian Kolbe explain what it was like at Auschwitz. And you'll learn about the Immaculate Conception and what it might have been like for Mary and Joseph as they traveled to the village of Bethlehem.
Although Dialogue With The Saints narrates some historical facts about the saints, its focus is on catechesis through storytelling. Each section on a particular saint features a parents' section that further explains theological concepts and truths of the faith, including some of today's pressing moral issues using references from the Catechism, Church documents, and quotes from the saints. The book is written with readers from about age twelve and up in mind and features illustrations by Johnnie Eagan.
Preview the chapter on St. Maximilian Kolbe:
I'm glad we have a chance to talk, especially to clear up a few things. Some people think the story of my life is nothing but a sad story about a life without purpose that ended terribly. The world—meaning people who don't know and love Jesus—view my life as one of pure misery, prematurely cut off by the heinous crimes of the Nazis at Auschwitz. They perhaps think of only the last moments, when the cell door was finally thrown open and a guard appeared silhouetted against a previously hidden sky, framed by rusted iron beams on either side.
"We're tired of waiting on you," he said in a raspy, cigarette stained voice.
"Waiting?" I asked.
"To die."
The guard motioned with his hand and said, "Outside."
It would be good to get outside.
That last moment. It's often what people focus on, unable to see beyond it. But that's not how it was. In fact, those who think that way miss the whole point. They fail to grasp the grandeur of a life lived for the Lord, unaware of God's providence and unceasing love. My life has—both then and now—great meaning and purpose in Christ. It was and is filled with joy because of Jesus' love for me, a love that overcomes all things. Even behind the walls of Auschwitz, hemmed in on every side by cruel guards, half-starved, with no hope of escape—even then I was truly at peace, my heart vibrating with the joy of the Spirit of the Lord. That doesn't mean I was never afraid, never concerned about what might happen to me. It doesn't mean that I didn't lie down at night, falling to sleep while thinking of escaping from the confines of the camp, where there was no privacy or clean water or a decent meal, where the threat of death slowly crushed the spirit of so many men.
Born 8 January 1894, in Poland, I was given my birth name of Raymund Kolbe. Back then, it was a dangerous place to live because my homeland was part of the communist Russian Empire. The grinding arm of the Soviets stole our lives, remade our society, and forced us to do many unpleasant things. I doubt that you've experienced the evil forces of socialism and communism. At least I hope not. There's one word that sums it up: Death. The communist invasion meant death to our way of life, death to our citizens, death to our freedom, death to the hope in men's hearts that longs for prospects of building a future for their families.
Preview the chapter on St. Maria Goretti:
A "martyr for purity," yes, well … but I must tell you that those days and months leading up to my murder were terrifying. The sun rose and fell as a living nightmare. Each morning I awoke only to wish to go back to sleep, that I might somehow avoid facing the danger that lay ahead. And, as I lay down to sleep each night, I thanked God for a few hours of safety while I lived in fear of the day to come, certain to be plagued with anxiety under the weight of Alessandro's lustful stare. I so often prayed that he'd turn his attention elsewhere, changed by God's grace—although I knew it would take a miracle since our families shared the same building.
Perhaps you've had some experience with a bully who won't let you alone? It's a terrifying thing to have no means of defending yourself and nowhere to run. It's one thing when bullies tease, but it's altogether different when you begin to sense they're holding back a deep-seated violence. Oh, how I desired to find some way to get away from Alessandro! To escape to a distant land. To wake one day and find that he and his family had moved away. I imagined how wonderful it would be if my family had to pick up and move to a new home, as we had been forced by poverty to do before. Something! Anything! Yet each day came and went, with Alessandro's presence looming over me.
A little further on:
As threatening as he was, I had a great deal of pity for Alessandro. His alcoholic father was unloving, distant, and harsh. And while I had lost my loving father, Alessandro had lost an abusive mother, impossible to please, who returned kindness with insults. It seemed to me, Alessandro had grown up in an atmosphere of tension, uncertainty, fear, and loneliness. He'd not had the stability a loving family provides. He'd not known the love of a truly Christian father and mother. What would that be like? I couldn't really imagine. I shuttered to think about it.
Over the next year, Alessandro's aggressiveness became more pronounced. It got to the point where he made no effort whatsoever to look away when I caught him in his stare. Twice he tried to trap me in the house.
"We're alone. Give me what I want," he said threateningly.
"No," I said. "It is a sin against God!"
On hearing this, he hesitated just long enough to allow me to duck away.
Each time, with God's assistance, I managed to escape him, go to my room, and close the door. But I couldn't really get away, could I? I would never really be safe. That terrible thought haunted me day and night. If I went outside, he appeared out of nowhere. Inside, he stood in the hallway, waiting patiently for the moment when I had to walk past. I dared not go into the barn, for I feared he would trap me there, where my screams would go unheard, with no means of escape. What was I to do? What could I do?
Purchase Dialogue With The Saints.
Photo and book cover image by Thoom, shutterstock, modified by Deacon Frederick Bartels.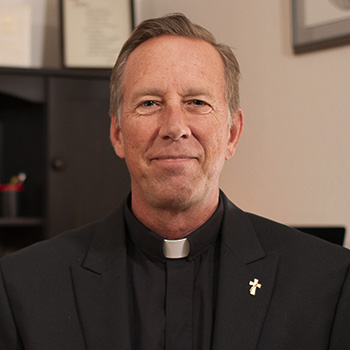 Deacon Frederick Bartels is a member of the Catholic clergy who serves the Church in the diocese of Pueblo. He holds an MA in Theology and Educational Ministry and is a Catholic educator, public speaker, and evangelist who strives to infuse culture with the saving principles of the gospel. For more, visit YouTube, iTunes and Google Play.