There is something irresistible about the truth. You might try to bury it; that will not, however, bring satisfaction and serenity but only an irritating and persistent urge to seek it all the more. Although it is often mistakenly thought that an end can be brought to this desire by acquiring material objects, the heart cannot long be fooled, the depth of Eternal Beauty continues to draw you to Itself.
By Deacon Frederick Bartels
28 March 2014
In Dignitatus Humanae Pope Paul VI wrote, "All men are bound to seek the truth, especially in what concerns God and his Church, and to embrace it and hold on to it as they come to know it" (DH 1, part 2). This duty, notes the Catechism of the Catholic Church, derives from "the very dignity of the human person" (DH 2).
In his encyclical Caritas In Veritate Pope Benedict XVI noted that the truth is necessary for the authentic development of the human person. Love and truth cannot be separated, to love is to live the truth and convey the truth of Jesus Christ and his Church to others. In seeking the truth and adhering to it once found, the human person is opened to God and his plan, and therefore transformed by the love of God as he walks the path of eternal life.
[Love] is a force that has its origin in God, Eternal Love and Absolute Truth. Each person finds his good by adherence to God's plan for him, in order to realize it fully: in this plan, he finds his truth, and through adherence to this truth he becomes free (cf. Jn 8:32). To defend the truth, to articulate it with humility and conviction, and to bear witness to it in life are therefore exacting and indispensable forms of charity. Charity, in fact, 'rejoices in the truth.' (1 Cor 13:6; CIV 1)
But seeking and acquiring the truth has become complicated, or so it can seem. We live in a world of sound bites and catchy phrases, a place often ruled by media hype and thousands upon thousands of outlandish opinions. Our children are taught not so much to seek and fall in love with the beauty of truth, but to memorize formulas and equations they may find useful in the secular world. In many colleges and universities, religious truth is something examined under the harsh and calculating eye of indifference and rationalism. Dogma is the sworn enemy, for it stifles the mind and retards human progress, so they say.
In such a world, the beauty of truth is drowned out by the trumpet blast of relativism. So widespread has the attack on truth become that, for many, there is no escaping the influence of those who seek to crush it. The world has become a place of uncertainty, chaos, disagreement, and disillusionment. It is a place gone quite insane. Consequently, the journey into truth is a forgotten one. Often, it is never begun.
Have you tried to bury the truth? It is interesting, how you attempt to hide from it. You sweep it into the closet and slam the door tightly shut upon it. In order to shore up yourself and your lifestyle, it seems the easier thing to do. Then, you quickly turn your attention to the sound bites, to music and noise and television, to work or leisure or the weekend in hope of cutting off the whispering voice within. You place your trust in something you have once been told, in the way you were raised, in those philosophies to which you cling and to the false ideas others have placed in your mind. However, the truth cannot be entirely silenced. It calls you to take stock of your life, to bring out what is hidden and examine it in the light, to change as is necessary, and to embrace a new way of living.
THE TRUTH SHOUTS: BECOME A NEW PERSON!
Some are afraid of these things. They are afraid of what the truth might uncover. They fear the truth will devastate themselves and others. They manufacture the truth according to their own design and live by lies that distort it in an attempt to soften what seems a harsh reality. They shield others from the truth in fear that it may shock them. Much of their life is spent trying to avoid the truth as a deadly plague, something to be shunned as if it is incapable of healing or liberation or transformation, a caustic poison that can only bring deterioration, decay, pain and death.
It is bizarre, because trying to escape from the truth is as futile as trying to hide from the blazing light of the sun. Eventually, we will have to face it. However, the longer we remain in the dark, the more we like it, the more normal it seems. As our skin grows pale and our health wanes, we stubbornly remain there, shielding our eyes from the life-giving light of truth because we are afraid of the pain we falsely perceive it might bring.
NEVERTHELESS, THE THIRST FOR TRUTH REMAINS
The last truth many of us refuse to uncover is human mortality. Death is ignored as the unseen enemy who silently lurks on a faraway horizon. Yet this life will end in the blink of an eye. From the perspective of the future, you will look with astonishment on its fleeting nature. The last day is upon you; perhaps it is today. That we cannot escape death is one of the most fruitful truths on which we can meditate. Death's finger will touch you and all your friends. However, it is not the end. It does not have the last word. Jesus Christ is risen.
In the face of all these things, the beauty of truth remains, unchangeable, eternal and everlasting as is God himself. Every human heart thirsts for it, for the simple reason that each person longs for God. There is no escaping that longing. Why not drink from the well of Truth springing up to eternal life? Why not quench your thirst with Jesus Christ? Why not sate your desire with the truth faithfully transmitted by the Bride of Christ, the Church?
What is interesting is that God knows we long for the truth. That is no surprise, you say. However, while it is painfully obvious, it is often overlooked. Why would God withhold the truth from his children? For many looking in from the outside, it appears God indeed withholds the truth. The evidence is incontrovertible, they say. Christians cannot agree on anything, it seems. Some of the most basic tenets of the faith are in dispute between Christian brothers and sisters. If we are one family, why not eat at the same table? We cannot do so because we are not yet fully one and united, a unity for which Jesus himself prayed. We are in communion by virtue of our baptism, but it is imperfect, wounded.
Learn about St. Augustine and his love of what is true.
God knows we long for the truth. And he does not withhold it, for to do so would be an unusual cruelty. God the Father sent his only Son into the world to bear witness to the truth (Jn 18:37). Jesus Christ, the Son of God who assumed human flesh, founded an institution of truth as a beacon of light on a hill: the Catholic Church (cf. Matthew 16:17-19; 1 Tim 3:15). Pouring out his blood on the cross, he gave life to the one, holy, catholic and apostolic Church whose eyes remain unwaveringly fixed on her Beloved. Throughout her two-thousand years, she has unfailingly guarded and transmitted the deposit of Christian faith. She freely offers the words of Christ and the truth about the human family to all nations and all people, at all times and in all places.
Given the brutal, frequent attacks mother Church has suffered down through the ages, the terrifying battles she has fought and won, and the millions of holy martyrs who have willingly poured out their sacred blood in her name, there is no explanation for her longevity other than the finger of God. Indeed! The gates of hell will not prevail against her, for they cannot withstand her saving cry nor hold out against her magnificent beauty. She crushes stone walls of falseness, destroys barriers of pretense, chases away evil and darkness with the light of Christ, and continuously bears the flag of truth in the world.
TRUTH IS HER VOICE, BEAUTY HER HAND, TRUTH HER BATTLE CRY
There is something irresistible about the truth. You might try to bury it; that will not, however, bring satisfaction and serenity but only an irritating and persistent urge to seek it all the more. Although it is often mistakenly thought that an end can be brought to this desire by acquiring material objects, the heart cannot long be fooled, the depth of Eternal Beauty continues to draw you to Itself.
On finding the truth, your heart first cries with joy: "I have attained the treasure!" it says. Then, it begins to rest in the security, beauty and goodness of the truth. You fall in love with it all the more deeply, for its magnificence exceeds all boundaries and it nourishes you with a sublimity never before known. Its fragrance is everlasting; its light new, wondrous, unforgettable, creative, transformative. Your heart sings: "I am home!"
The beauty of Truth: it is God's own voice directing you into the depth of his heart of Love.
*****
Please help maintain this ad-free site with a donation
Photo Credit: Deacon Frederick Bartels. All rights reserved.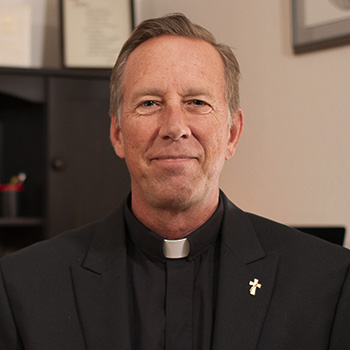 Deacon Frederick Bartels is a member of the Catholic clergy who serves the Church in the diocese of Pueblo. He holds an MA in Theology and Educational Ministry and is a Catholic educator, public speaker, and evangelist who strives to infuse culture with the saving principles of the gospel. For more, visit YouTube, iTunes and Google Play.