In all things, God works for the good of those who love him.
By Deacon Frederick Bartels
27 November 2017
In today's first reading (Dn 1:1-6, 8-20), we here about how King Nebuchadnezzar of Babylon commanded his chief chamberlain to pick some of the Israelites of noble blood, "young men without any defect, handsome, intelligent and wise, quick to learn, and prudent in judgment, such as could take their place in the king's place." The king's intent was for these men to be trained in the language and literature of the Chaldeans in order for them to enter into the king's service after a training period of three years. During their time of formation, these men were to be served with food and drink from the king's table.
But that is a problem for Danial, one of the several men chosen. He is "resolved not to defile himself with the king's food or wine." The reason for Daniel's protest against eating food from the king's table is found in Nebuchadnezzar's pagan worship of false gods. Pagans offered their food and drink in sacrifice to the gods and then consumed it afterward. Because of this practice, the food was viewed as tainted, defiled, connected to the false worship of nonexistent deities. To eat it was to consume an idolatrous meal. Consequently, displaying his fidelity and love for the one true God of Israel, Daniel requests to be served vegetables rather than corrupted food.
There were three other men who followed Daniel's lead and did the same, eating vegetables rather than idol-worship-food. What is interesting—and telling—is that these men, because of their fidelity to the one true God, were divinely blessed for their obedience and commitment. The first reading informs us that "to these four young men God gave knowledge and proficiency in all literature and science, and to Daniel the understanding of all visions and dreams." The Lord God gave these gifts. Consequently, when Nebuchadnezzar interviewed these four men, none of the other men originally chosen to enter the king's service were found to be their equal.
Regardless of the question Nebuchadnezzar put to these four men, "he found them ten times better than all the magicians and enchanters in his kingdom." Their fidelity to God had earned them divine assistance, which raised them to a status above all those who were considered "important" under Nebuchadnezzar's rule. These men who gave themselves fully to God, trusting in his goodness, were ennobled and elevated, even within a pagan kingdom.
What does this story about the kingdom of Nebuchadnezzar, Daniel and this three companions, have to do with our lives today?
The attitude of many contemporary Americans is that God is a permissive deity who doesn't intervene much in their lives. He's a distant being or power who robotically casts blessings on "nice" people but otherwise is rather uninvolved in everyday events and activities. Although he watches with disinterest from afar, like an absentee father, he is nevertheless pleased when everyone gets along well with others. Appreciative of tolerance of any view and every lifestyle, and in conformance with today's relativistic ideology, he shuns principled conviction for what is true. He is an indifferent God who, little concerned with people's full allegiance, doesn't make any real moral demands on anyone.
It's a rather convenient view of God, isn't it?
Our reading from the Book of Daniel, however, paints a very different picture of God the Father. Here God is concerned with our allegiance, and with it comes reward. Those who give themselves fully to him, forsaking involvement with pagan practices and making personal sacrifices of conviction and fidelity, are favored with his divine assistance, which is not merely the blessing of temporary contentment or "worldly happiness" but rather an elevating and ennobling grace that raises one up to a new status. This is a far cry from the contemporary American "I'm spiritual but not religious" and/or New-Age attitude in which God is little more than a comfortable yet imaginary human projection.
I remember some years ago when I worked at a local HVAC equipment warehouse. My job was to take orders, pull parts, and load selected items into clients' vehicles. At the time, I was overwhelmed with memorizing the computer short-hand codes required to pull up several hundred stocked items. It seemed that pulling, loading and stocking parts was nothing other than an endless, tedious and stressful occupation. I longed for a more peaceful role at work that would allow for contemplative prayer and tranquility. Perhaps that sounds strange. A layperson engaged in contemplative prayer while working a secular warehouse job? Tranquility and peace in the bustle of the modern-day, profit-driven work environment?
I trusted that God desired to grant my wishes. I loved him and he loved me. I had committed my life fully to the Blessed Trinity and desired nothing more than to serve my Lord Jesus Christ. He was the focus and object of my love; my thoughts were directed constantly at him. As a result, I often defended Jesus Christ and his Catholic Church, even at risk of being ostracized, misunderstood and mocked. God meant more to me than anything or anyone.
After a few short weeks, the warehouse manager approached me and asked if I would like to run outside deliveries. He thought "I might like it." As I listened to him speak, all I could think of was that God had answered my prayers—this new delivery position was certainly no coincidence. The Lord had silently moved the manager to make this welcome and desired change. While making deliveries, I would be away from the stress of the warehouse; I could pray and contemplate; I could be at peace.
Praise be to Jesus Christ!
Everyone who gives their life over to Christ has a similar story to tell. God does intervene in the lives of those who love him. God the Father is the God of absolute love, truth, beauty and justice. He certainly does, in opposition to today's culturally projected false god, require our full allegiance: he desires our entire self, dedication, and life; he makes moral demands and expects compliance in free and loving obedience; he insists that his will is given priority over our own will. This means I am at God's disposal. The Christian who enjoys an intimate relationship with Jesus Christ knows such a fact very well—it is the rule of life.
"They who have my commandments and keep them are those who love me; and those who love me will be loved by my Father, and I will love them and reveal myself to them" (Jn 14:21).
What does it mean to love God? It means dying to self; it means self-entrustment to Christ; it means living a moral life of holiness and purity that is countercultural; it means public worship at the Sunday celebration of Eucharist; it means a readiness to give one's life for the love of God; it means a willingness to martyrdom.
It's the only kind of life to live. Why? Because in this kind of life God himself walks beside you. And in him, you can do all things.
We know that all things work together for good for those who love God, who are called according to his purpose. For those whom he foreknew he also predestined to be conformed to the image of his Son, in order that he might be the firstborn within a large family. And those whom he predestined he also called; and those whom he called he also justified; and those whom he justified he also glorified. (Rom 8:28-30)
*****
Dear Friends: Please help support Joy In Truth by sharing posts and articles on your social media accounts. The share buttons make doing so fast and easy. Thank's for your support!
Please help support Joy In Truth with a tip.
Photo by Edwin Andrade on Unsplash.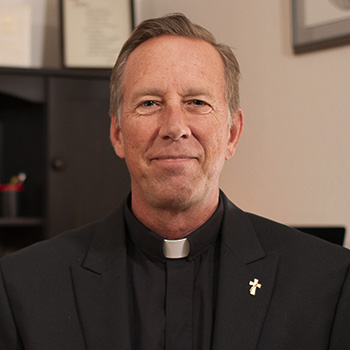 Deacon Frederick Bartels is a member of the Catholic clergy who serves the Church in the diocese of Pueblo. He holds an MA in Theology and Educational Ministry and is a Catholic educator, public speaker, and evangelist who strives to infuse culture with the saving principles of the gospel. For more, visit YouTube, iTunes and Google Play.