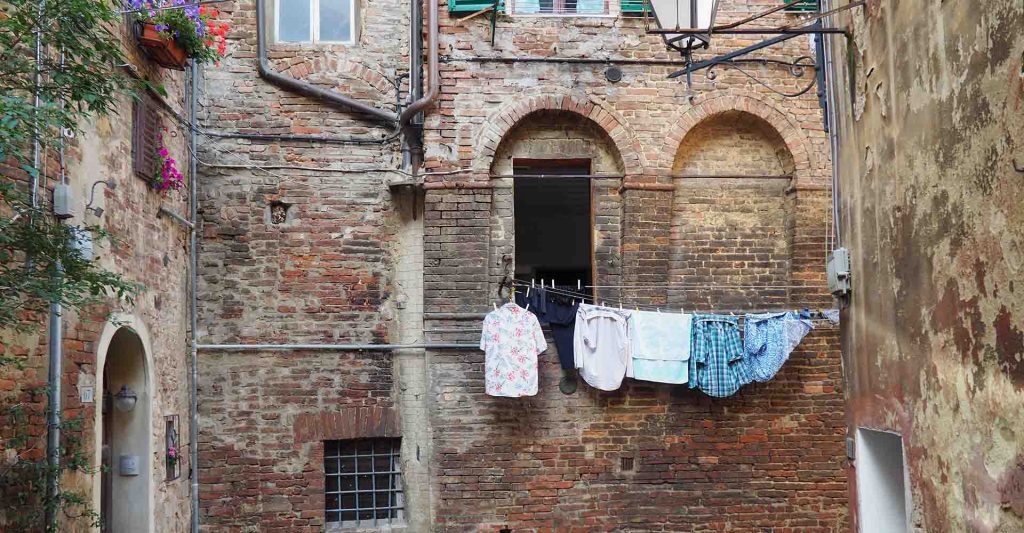 Doing Laundry used to be a kind of "ancient ritual" practiced by housewives and mothers. There was a lot that went into it. It was something important. It had meaning. In a way, it was even a method of communication, you might say.
by Barbara (Bobby) Case Speers
10 January 2020
Forty-plus years ago, housewives had their own personal trainers.
The name of my personal trainer was Lorn Dree! Moms didn't need to go to the gym to be fit. All we needed was a family. If you had children, pretty much, every day you would be lugging a load of wet clothes from the house to the clothesline. I had four boys at the time, and dirt was their forte! There were times when the washer or dryer was on the brink, and the local Laundromat became our home away from home.
Read about pregnancy and motherhood.
Women were Dynamos!
While doing laundry, one would bend down and then stretch upwards, to clothespin the garment to a thick rope, which was anchored and tied between two poles. If you were "lucky", you had the umbrella type of clothesline, which would spin and you didn't have to yank up the basket of wet clothes, and follow the length of the clothesline. The bigger the family, the bigger the line! Sometimes, a center pole was needed, if the expanse was too long. We wouldn't want our sheets dragging on the ground!
Laundry was a big part of a housewife's daily ritual. Clean clothes didn't just happen. This task took strategy!
The smart homemaker would look outside to see if rain clouds were in sight. Doppler and the weather channels didn't exist on the five stations broadcasting from dawn to midnight. If the coast was clear, the washer was loaded and we played beat the clock. In the colder climates, summer was easy but winter took on a whole-new game plan.
Sometimes, we had to step out on faith hoping it wouldn't rain, making all our efforts null and void.
A little rain wouldn't stop the industrious mother! Clothes would hang in every nook and cranny in the house. Old-fashion styled radiators came in handy! If you don't know what a heat radiator is, ask your mother or grandmother. They were ugly things, that stood about two to three-feet high, were about three feet wide, made-of metal, and almost hot enough to bake bread. They popped up against the walls in older homes. Totally unattractive but necessary!
Washing clothes was an important job. It kept our family looking tidy. This chore was also a reflection of who we were and how much we cared for our family.
Many women used Ivory Snow, a detergent to softened fabric and was especially formulate for a baby's sensitive skin. None of our hard work was in vain, because the clothes had a fresh scent, looked Fab, and they lasted longer streamlining our budget! Washing also killed bacteria, viruses, bugs, helping to control sickness. All-in-all, we had nothing to lose, and more to Gain, putting effort into this time-consuming chore.
Read about the weariness of motherhood.
In the big cities, clotheslines draped from building to building. Nothing was hidden from the critical eye of your neighbors and/or mother-in-law!
The public knew you were pregnant by the clothes wiggling in the wind. Passersby would know when a new baby was born, by the display of tiny kimonos perfectly hung every hour on the hour, and by the color of the garment, if you had a boy or a girl. If the tiny gowns were yellow, one would have to guess the gender. If your husband wore a uniform, work clothes would dry stiff as a board, and make the clothesline sag from the weight. Neighbors could even tell if you changed jobs, just by looking out their window. If you were fat or skinny, old or young, male or female, your whole-life who was in full view, on that line!
Miguel De Cervantes, in his novel Don Quixote of La Mancha, used the metaphor, "It all comes out in the wash", suggesting that once you start utilizing plans or making good decisions, difficulties will wash away.
For the most part that is true. There are occasions, no matter how much you try, the stain is permanent and cannot come out. Not all difficulties can or will be fixed, and the problem takes on another dimension, in order for one to cope or heal.
So, how bad is your stain?
Is it a soak-over-night kind or one requiring Arm & Hammer? You can use Scrubbing Bubbles, Shout and complain but if you don't have the right solvent or solution, the stain will remain and not Wisk away. Life is not always Cheer-full, a lesson you learn if you live long enough. There are big problems and little problems. Surface stains clean easier and with less work than the ground-in kind. The more investment we have in a garment, the more money we will shell out trying to get rid of the stain! How much are your clothes worth? How much more are you worth? Are you willing to change the Tide in your life?
If we were to put our lives on the clothesline, what would others see?
Would our wardrobe be clean, void of stains by love, goodness, charity, honesty, compassion, forgiveness, and righteousness? Or, is our clothing tinged with deceit, maliciousness, lying, merciless, debauchery, vindictiveness, selfishness, addictions, gossip, revenge, and self-righteousness? You get the picture. If God's word doesn't live in our hearts, minds and deeds, our robes are shabby, discolored by our sin. If we profess and earnestly seek to live life the way a Christian should live; our robes become spiritually laundered, cleansed by Jesus' blood. A promise He made if we claim grace, the solvent that removes our ungodly sinful stains. God's word bleaches and purifies, sanctifying our robes, preparing us for immortality.
Isaiah 1:18: Come now, let us set things right, says the LORD: Though your sins be like scarlet, they may become white as snow; Though they be red like crimson, they may become white as wool.
Photo by Megan Murray on Unsplash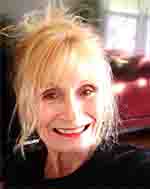 As a writer, I paint a black and white canvas using words, presenting spiritual points to ponder, even if it is just for me! My goal is to bring us closer to the Will of God in our lives, encourage an intimate relationship with Jesus, Mary, and all the saints.