In many ways, Lent is about death: it's about dying to self for the love of God and embracement of the cross of Christ.
By Deacon Frederick Bartels
18 February 2016
In many ways, Lent is about dying: dying to self as you embrace the cross of Christ; dying to the world as you live as a citizen of heaven; dying to material wants and sensual pleasures that you may be raised by God to new heights; dying to fleeting things that you may take hold of eternal life. And all along, it is God who sustains you, gives you strength and directs your path. Lent, then, is a journey into the wondrous and beautiful heart of God.
Lent is a sacred and holy season in which we are invited to re-shape our lives in a positive way so as to grow closer to Christ. There are a number of ways in which we can work toward such a goal: the disciplines of prayer, fasting and almsgiving come to mind; reception of the sacrament of Reconciliation; the importance and necessity of acts of voluntary suffering as penance in atonement for our sins and the sins of others; subduing the physical desires of the body, such as for pleasure, in order to build self-discipline and virtue; and working to increase self-mastery over the use of created things, so as to use them wisely and in the right proportions in accordance with the virtue of temperance. Also, we often think of Lent as a time in which we strive to bring the body into conformity with the spirit or soul, so as to lead holy lives in union with the loving plan of God.
Lent involves all these things, of course. And none are possible without the help of God's grace. But that is not all Lent is. It is also a season in which we nourish the theological virtues of faith, hope and charity. Without these virtues, which are free gifts from God normally received through the sacrament of Baptism, our lives would fall quite rapidly into meaninglessness and chaos. It is important to understand that, in order to nourish these virtues, we must turn our eyes more firmly upon our loving God and, at the same time, shift our focus away from worldly diversions and distractions.
We can see, then, that engaging the season of Lent in a fruitful way involves shifting priorities away from self toward God and the needs of others. Selfishness is forced into submission, while selflessness is amplified through dependence on God. It is a time when I embrace the fact, however difficult it may be, that life is not about me. The goal of my life is attained in following along in the way of Christ. This process is often summed up as "dying to self."
Then Jesus told his disciples, "If any man would come after me, let him deny himself and take up his cross and follow me. For whoever would save his life will lose it, and whoever loses his life for my sake will find it. For what will it profit a man, if he gains the whole world and forfeits his life?" (Mt 16:24-26)
Dying to self sums up what Lent is about. And in doing so we die to other things as well. For example, holding on to the world—that is, a disordered attachment to it—will result in loss. This is not to suggest that Christians should not strive to better the world. But a life lived in a materialistic way is a great danger to the soul. We give priority to heavenly things. St. Paul reminds us that we are citizens of heaven (Phil. 3:20). This means our journey below is a pilgrim journey, a temporary one, and it is thus crucial to walk in the right direction.
If we fail to shift our focus from worldly, material things, toward divine and heavenly things, we will remain stunted and spiritually immature. In many ways, then, Lent is about clarity and growth: clarity of purpose, of living, and in recognizing our ultimate goal. In a manner of speaking, Lent is a season in which we are to force open our eyes in order to gaze upon what is really real. So, Lent is not only about bringing our flesh into conformity with the spirit, but also about thinking in new ways and seeing what perhaps was before unnoticed. As our gaze shifts toward God so too do we grow spiritually.
The paradox, however, is that just as the cross of Christ representing suffering and death is in fact the way to new life, so too are such aspects as self-discipline, penance, and self-sacrifice tied to drawing nearer to God. We must diminish for God to increase. Apart from these things, the beauty of God will not only go unnoticed but unsought as well, which means growth in union with God will wane or not occur. It was St. Teresa of Avila who noted that Christ does not give himself completely to us, until we first give ourselves completely to him.
It is essential to understand that a change needs to take place within us, which always begins with God's grace, but is also something we deliberately intend to do and act on. We have to take notice of the structure of reality around us, put those fleeting worldly things in their place, for they will soon pass away, and act with new purpose as citizens of heaven. If we fail to do these things, the world around us will enslave us.
Imagine a man sitting at a hotdog stand, surrounded by a grand theme park. If he's interested only in eating hotdogs because his god is his stomach and sensual pleasures his primary desire, the hotdog stand becomes his self-imposed prison, and he will take no notice of the theme park that surrounds him, nor walk through it and experience its varied interests. More to the point, he will never get beyond its fleeting attractions and discover the beauty of the ocean that lies nearby, nor will he ever sail in the direction of the city of heaven that rests on the horizon in order to one day partake of its unending delights. This man's attraction to the hotdog stand has not only limited him but in fact has become his ruin. The remedy is to bring his passions under control and open his eyes to the greater reality that lies beyond. He cannot accomplish this by himself, but only with the aid of God's grace. Yet his own efforts at self-discipline, however difficult they may be, are indispensable. He must take action.
What is obvious about this man is that he is satisfied with filth and rags, while the real treasure that lies nearby goes unnoticed.
The disciplines of Lent help to purify our lives of the unnecessary that we may notice and move closer to the Necessary Other: God. Therefore Lent is often viewed as a season of purification, and thus is described in terms of journeying into the desert. It is an appropriate description. Why? Because the desert, with its vast emptiness, tends to strip away the unnecessary and focus the attention on the issue of survival, on what really matters. A journey through the desert clarifies, distills priorities, strengthens the will and personal resolve. It sweeps away life's distractions so as to sharpen one's gaze. Out there, nothing really remains but sand and wind and . . . . God. It's a purifying experience. It's a spiritual experience.
The desert, with its lack of distractions, also lacks many of the temptations we encounter in the modern world. Noise is gone. Silence pervades. This helps us to, with the grace of God's forgiveness, amend our lives and rid our souls of sin. The desert experience, then, is purgative, which is something necessary in order to advance spiritually. It is often painful. Yet it is also healing.
The desert, with its sparseness, associated mortification and self-denial, intensifies our focus, and allows us to see what before was unnoticed and crave what before was deemed undesirable. There, the extraordinary and supernatural breaks through. There we hear the voice of God and a new hunger springs forth. This is not a hunger for food to sustain one physically but for the Bread of God: Jesus Christ who gives his flesh as the food of eternal life. The dry sand stirs a new thirst piercing into the very depths of the human heart. This is no natural thirst, but a thirst for the waters welling up to eternal life that the Spirit of God alone can provide.
Yet unless you take action and begin your desert journey, none of these things will happen. Unless you tear yourself away from whatever distraction imprisons you, force yourself beyond whatever diversion stands in your way, no progress will occur. The beauty of the ocean will go unnoticed; the horizon of heaven in the distance will remain unseen.
Dying to self. It involves letting go of "me" and my ways as well as the evanescent attractions of the world, that I may discover the Divine Other whose beauty is beyond description, and live in his way, which leads to the fullness of life. Enter fully into the sacred season of Lent and set your gaze on the horizon that lies beyond: The resurrection of Christ and the promise of life eternal!
*****
Please help maintain this site with a donation.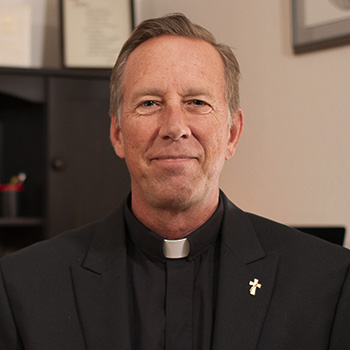 Deacon Frederick Bartels is a member of the Catholic clergy who serves the Church in the diocese of Pueblo. He holds an MA in Theology and Educational Ministry and is a Catholic educator, public speaker, and evangelist who strives to infuse culture with the saving principles of the gospel. For more, visit YouTube, iTunes and Google Play.