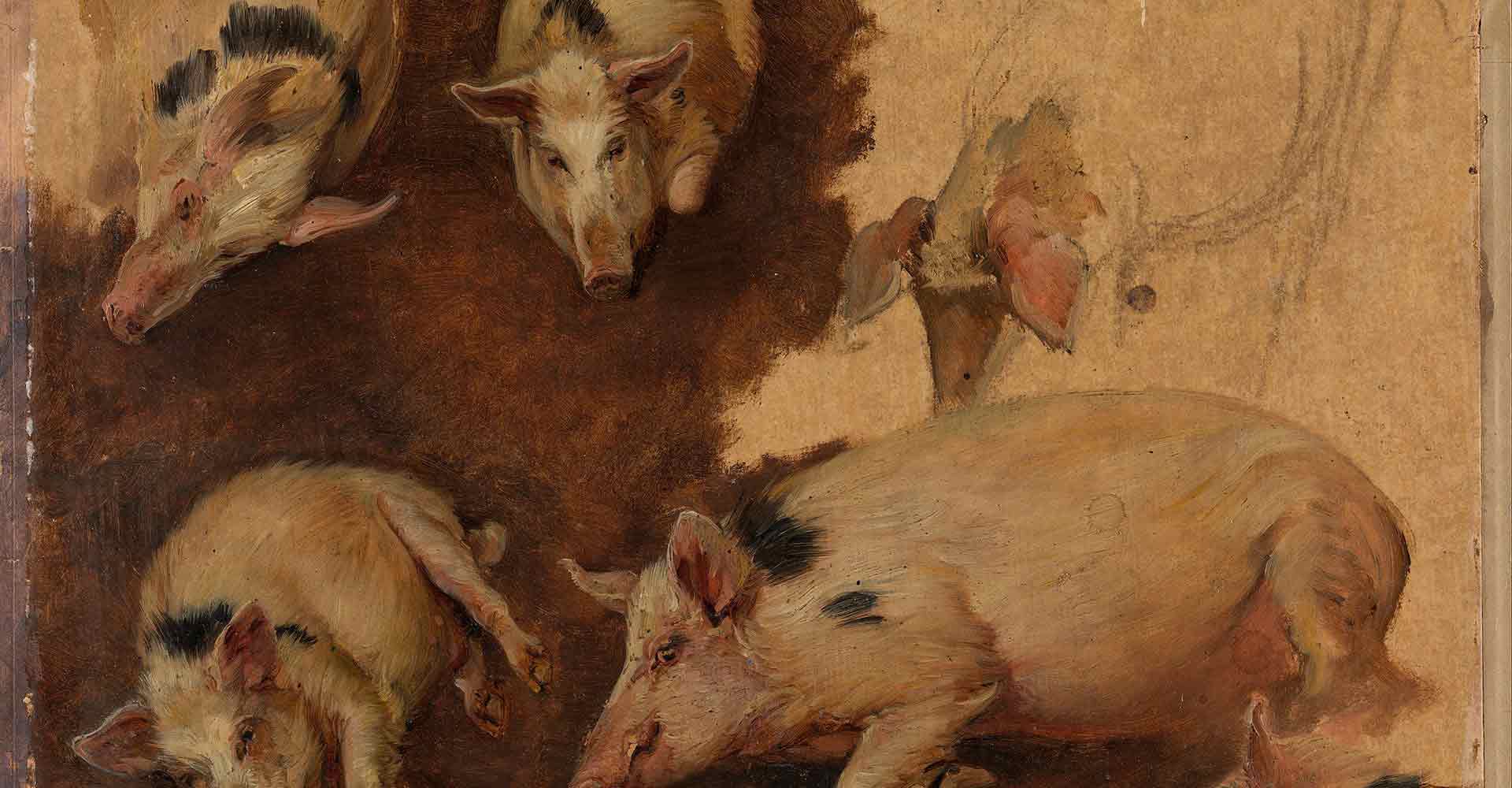 Turning fully to Christ in faith is the solution to the greatest threats against humankind of our age.
By Deacon Frederick Bartels
5 June 2017
In today's gospel (Mt 8:28-34), Jesus exorcises the demoniacs, forcing the demons that previously possessed these men into a heard of swine, and then drives the heard into the sea, demonstrating Jesus' divine power over the legions of Satan's evil kingdom. It also provides a foreshadowing of the purpose of Jesus' earthly, salvific mission: to defeat sin, evil and the devil, including the eternal death of the soul which participation in the works of the devil brings about as its end.
The gospel reveals to us that the greatest threats to our life—sin, evil and Satan—are overcome by turning to Christ in faith and giving our lives over to him in repentance of sin. It is through living a new life of holiness in Christ, as a man remade and spiritually renewed by his divine power (Eph 4:22-24), that the binding forces of evil are broken and the doorway to eternal life is cast open. We must avail ourselves of Christ in order to say, in union with St. Paul:
I have been crucified with Christ; it is no longer I who live, but Christ who lives in me; and the life I now live in the flesh I live by faith in the Son of God, who loved me and gave himself for me. (Gal 2:20)
One essential component of turning to Christ in faith that is often overlooked or disregarded in today's climate of deism and moral relativism, is the crucial need for sincere repentance. When Christ began his public ministry, his first words were: "Repent, for the kingdom of heaven is at hand" (Mt 4:17). One cannot belong to the Savior and his heavenly kingdom if he refuses salvation and union with Christ by persisting in knowingly deliberate grave sin, which is itself mortal sin and which destroys one's relationship with God. Entering the kingdom of Christ presupposes repentance.
Note also that repentance entails a complete turning away from sin, a radical reorientation of one's life in which there is given a firm determination of will to amend one's life, avoid instances of temptation, and remain free from sin in the future. The repentant person, moved and aided by the grace of God, leaves sin behind permanently. In repentance, there is a dying to self and to sin that takes place as one's whole life is given in its totality to Christ and a new way of living is begun. This is not something we do of ourselves alone, as some human project, but rather is accomplished primarily with the assistance of God's divine power. Nevertheless, our own personal commitment and persistence is essential to opening the way for God's transcendent and transformative power to work in our lives. Although it is true that, due to our wounded human nature, we tend to sin and will likely sin again, this does not mean that repentance consists in the mere half-hearted desire to "one day stop sinning." Nor is it constituted in seeking forgiveness alone, apart from amendment of one's life. Repentance must include a complete rejection of sin along with taking concrete steps to avoid it completely in the future.
The error so common today among many Catholics and other Christians, is found in thinking that God is permissive of grave and/or mortal sin, especially those sins involving sexual impurity and immorality. These include but are not limited to: cohabitation/fornication, adultery, the use of pornography, approval of same-sex "marriage," and artificial birth control used to frustrate the procreative act. Other grave sins, often incorrectly viewed as no sin at all, include the willful rejection of public worship of God (participation at Mass and Sunday Eucharist required by the third commandment), receiving the Eucharist in a state of grave sin (see 1 Cor 11:27-32), and rejection of or indifference toward the sacrament of Penance and Reconciliation. This situation, in which the sense of the seriousness of sin has been in many ways lost, poses a grave danger to souls, and is responsible for the continued moral fragmentation of society.
Although the post-modern-autonomist philosophy of today, infused by the poison of relativism, displays near total indifference to the ugly reality of sin, the consequences of rejecting God through intentional grave sin are truly terrifying. This is the case because mortal sin, if left unrepentant to death, can result in eternal damnation since it is itself constituted by a definitive self-exclusion from the kingdom of God.
The Catechism of the Catholic Church provides definitive teaching on the nature of mortal sin and its destructive capability:
For a sin to be mortal, three conditions must together be met: Mortal sin is sin whose object is grave matter and which is also committed with full knowledge and deliberate consent.
Grave matter is specified by the Ten Commandments, corresponding to the answer of Jesus to the rich young man: "Do not kill, Do not commit adultery, Do not steal, Do not bear false witness, Do not defraud, Honor your father and your mother." The gravity of sins is more or less great: murder is graver than theft. One must also take into account who is wronged: violence against parents is in itself graver than violence against a stranger.
Mortal sin requires full knowledge and complete consent. It presupposes knowledge of the sinful character of the act, of its opposition to God's law. It also implies a consent sufficiently deliberate to be a personal choice. Feigned ignorance and hardness of heart do not diminish, but rather increase, the voluntary character of a sin.
Unintentional ignorance can diminish or even remove the imputability of a grave offense. But no one is deemed to be ignorant of the principles of the moral law, which are written in the conscience of every man. The promptings of feelings and passions can also diminish the voluntary and free character of the offense, as can external pressures or pathological disorders. Sin committed through malice, by deliberate choice of evil, is the gravest.
Mortal sin is a radical possibility of human freedom, as is love itself. It results in the loss of charity and the privation of sanctifying grace, that is, of the state of grace. If it is not redeemed by repentance and God's forgiveness, it causes exclusion from Christ's kingdom and the eternal death of hell, for our freedom has the power to make choices for ever, with no turning back. However, although we can judge that an act is in itself a grave offense, we must entrust judgment of persons to the justice and mercy of God. (1857-1861)
When we look upon Christ crucified, the deadly and terrifying reality of sin is illuminated before our eyes and hearts. Christ calls each and every person to the life of holiness and virtue—to live as a "little christ." He offers his forgiveness and grace to the repentant sinner who approaches him in faith and trust. Assisted by his divine treasures of grace and the Holy Spirit, the Sanctifier, whom he infuses into the soul, freely given in virtue of faith and baptism, we must strive to put on Christ and live an amended life, ardently following the impulses of the Spirit of truth and love. In this recreated life, free and loving adherence to the commands of God is primary because Christ is placed as the object of our life and love above all else.
Christ's peace.
*****
Please help spread the gospel with a donation.
Photo Credit: Anders Askevold [Public domain], via Wikimedia Commons.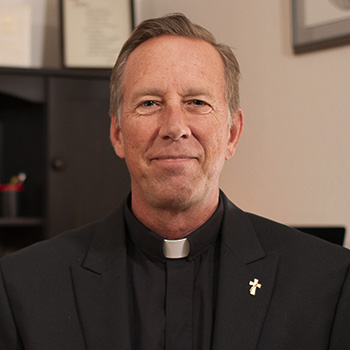 Deacon Frederick Bartels is a member of the Catholic clergy who serves the Church in the diocese of Pueblo. He holds an MA in Theology and Educational Ministry and is a Catholic educator, public speaker, and evangelist who strives to infuse culture with the saving principles of the gospel. For more, visit YouTube, iTunes and Google Play.