An intimate relationship with Jesus gives us the power to put our past in the past and look to a future filled with new hope, life, and love.
By Lauren Heaton
8 August 2017
Luke 5:1-11 The Call of Simon the Fisherman.
The story of the Call of Simon in Luke 5:1-11 is a beautiful story of obedience to God and the blessings that come from following his plan. St. Peter does as Jesus asks and puts his fishing nets in the water once more despite working hard all night and coming up empty. By doing what Jesus asks of him, Peter finds himself with such a great number of fish that he has to call to his partner's boat to come help, and even then the abundance of fish is almost too much for them to carry! What a beautiful example of using our own free will to do what God knows is best for us!
There is another aspect of this story that I want to draw your attention to, however, specifically verses 8 and 10. When Simon Peter sees the abundance of fish, "he fell at the knees of Jesus and said, 'Depart from me, Lord, for I am a sinful man.' For astonishment at the catch of fish they had made seized him and all those with him."
St. Peter recognizes the power of God in Jesus and immediately freezes amid his own inadequacies, his sins. He focuses on how unworthy he is to stand in the presence of Jesus.
How does Jesus respond to this reaction of Peter? He tells him "Do not be afraid."
I've spent the last month focusing heavily on my faults, the reasons I suck, and how unworthy I am of God's love. Reading this passage showed me I have been grasping at my failures, trying to keep them under control and fix them on my own.
I have been like a two-year-old turning my back on my parents, shouting "no!" when all they want to do is replace the heavy rock I am clutching with something much more beautiful and life-giving, like a teddy bear or a rose.
St. Peter's interaction with Jesus in this passage shows me there is another way. I must turn back to Jesus, fall at his knees. I can still present my faults to him, but now I can let them go and leave them at his feet. If I turn to him, maybe this time I will be able to hear him say "do not be afraid." Maybe this time I will listen.
What are you holding onto? What does it look like for you to fall at the knees of Jesus and let go of the heavy weight of your human failures? Turn to him. Do not be afraid. He only wants to love you.
*****
Please help spread the gospel with a donation.
Photo Credit: Lauren Heaton. All rights reserved. Used with permission.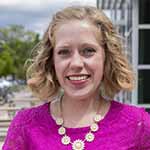 Lauren is a young Catholic professional working in the marketing industry. She loves working with high schoolers and leads a high school youth group. She is also passionate about leading a young women's bible study, is on the leadership team for West Denver 2:42 a young adult ministry and sings at her church. Lauren is a modest fashion enthusiast, pancake connoisseur, promoter of faith and fitness, and lover of all things family oriented.