People today often think that getting to heaven is easy. All you have to do is be a "nice" person. We dabble in sin regularly, even nearly constantly, telling ourselves "it's no big deal. God is merciful."
By Deacon Frederick Bartels
26 June 2018
Jesus speaks these words to us in today's gospel:
Enter through the narrow gate; for the gate is wide and the road broad that leads to destruction, and those who enter through it are many. How narrow the gate and constricted the road that leads to life. And those who find it are few.
The Road To Heaven:
People today often think that getting to heaven is easy. All you have to do is be a "nice" person. We dabble in sin regularly, even nearly constantly, telling ourselves "it's no big deal. God is merciful." We gossip, nourish disordered attachments to food, drink, sex and surfing the web. We rarely—or perhaps never—attend the sacrament of confession. Mass is something we just "do on Sunday," if at all, provided it doesn't inconvenience our schedule, and then put it behind us in order to get on with other things we treat as more important.
Jesus, however, warns us that getting to heaven is anything but easy. We must step onto the battlefield and fight in the war between good and evil—if we refuse to do so, we already lie dead in defeat. It requires work each moment of each day. It involves sacrifice, penance, and suffering. It means living in a way that is unworldly and counter-cultural. It consists in taking risks, speaking what is true even at the cost of being misunderstood, persecuted or hated, and living the gospel life of holiness in the face of immense cultural pressures to live in opposition to it as a secular humanist.
We're often willing to work hard for, guard and cherish a number of material, passing things here in the world. People spend a lifetime on a trophy home, new cars, vacations, and planning for a few "golden years" in retirement. Our career is often front and center while an authentic spirituality lived out in saintly holiness is rarely pondered.
How much are we willing to sacrifice in order to inherit eternal life? Our time here is less than a mere blink of the eye in the face of eternity. Soon, this life will end. When that moment arrives and we look back on our past, will we find that our time spent here was more about us or about Christ? Who will I have lived for? For whom will I have died?
C.S. Lewis wrote in The Wight of Glory that a "rejection, or in Scripture's strong language, a crucifixion of the natural self is the passport to everlasting life. Nothing that has not died will be resurrected."
Heaven cannot be won cheaply. Its cost is death to self. Its doorway is faith in Christ. And faith is no mere intellectual exercise. Faith devoid of the cross is no faith at all.
Christ's peace.
*****
Please support Joy In Truth by sharing on social media.
Photo Credit: Deacon Frederick Bartels. All rights reserved.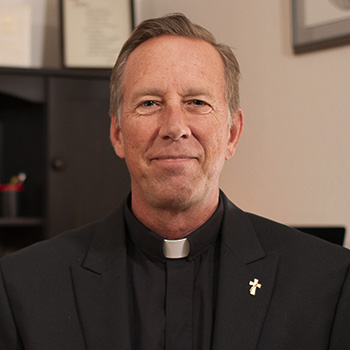 Deacon Frederick Bartels is a member of the Catholic clergy who serves the Church in the diocese of Pueblo. He holds an MA in Theology and Educational Ministry and is a Catholic educator, public speaker, and evangelist who strives to infuse culture with the saving principles of the gospel. For more, visit YouTube, iTunes and Google Play.