The divine love of Christ is better than life because it fulfills, heals, perfects, recreates and ennobles.
By Lauren Heaton
31 July, 2017
Psalm 63:4 "For your love is better than life, o Lord!"
"Dear God, why do I believe in you?!" I cried out in prayer. I was not crying out in disbelief, rather I was longing for words to describe my strong belief in the Lord our God. I know that I love him, but I feel like I rarely have the words to explain why I love him to others.
I received a simple answer that night as I prayed: Psalm 63:4 came to my head, ringing out "because you know my love is better than life itself," he whispered.
I believe that without God I am nothing. I believe because I love God with my whole heart, soul, and mind. I believe because my God and king continues to show his love for me. Yes, I do believe.
I could tell you story after story of how God has answered my prayers in ways more beautiful than I could have ever imagined. I could tell you stories of my friends who have experienced miracles. I could take a walk with you and show you the beautiful creation our God has made out of love for us. I could pray to perfectly put into words why I believe in God, but it still might not be enough for you.
You might not believe. You might be skeptical that in a world of hurt there is a loving God. You might be so angry at God for a deep hurt in your own life that you are choosing not to believe in him as revenge.
I hope that one day you will come to know that the joys of this life are from a God who loves you. His love is better than any joy you might experience. His love is better than any love you experience on earth. His love is better than life itself.
Why?
Because his love is everlasting. Joyful experiences, as wonderful as they are, are fleeting. The love of another imperfect human being, no matter how beautiful and strong that love is, is temporary. Life as we know it lasts only but a moment. This is not the same for God's great love for you and me. His love is eternal and better than anything this world has to offer.
For he knows how we are formed. Remembers that we are dust. Our days are like the grass; like flowers of the field we blossom. The wind sweeps over us and we are gone; our place knows us no more. But the Lord's kindness is forever. (Psalm 103:14-17)
Yes, I believe that his love is better than life.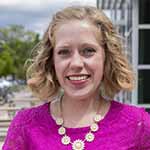 Lauren is a young Catholic professional working in the marketing industry. She loves working with high schoolers and leads a high school youth group. She is also passionate about leading a young women's bible study, is on the leadership team for West Denver 2:42 a young adult ministry and sings at her church. Lauren is a modest fashion enthusiast, pancake connoisseur, promoter of faith and fitness, and lover of all things family oriented.