Words are perhaps one of the most dangerous tools at our disposal. They can be used for great good or for great evil.
By Deacon Frederick Bartels
14 June 2018
In our gospel today, Jesus speaks about anger directed at a brother or sister:
Jesus said to his disciples: "For I tell you, unless your righteousness exceeds that of the scribes and Pharisees, you will never enter the kingdom of heaven. You have heard that it was said to those of ancient times, 'You shall not murder'; and 'whoever murders shall be liable to judgment.' But I say to you that if you are angry with a brother or sister, you will be liable to judgment; and if you insult a brother or sister, you will be liable to the council; and if you say, 'You fool,' you will be liable to the hell of fire. So when you are offering your gift at the altar, if you remember that your brother or sister has something against you, leave your gift there before the altar and go; first be reconciled to your brother or sister, and then come and offer your gift. Come to terms quickly with your accuser while you are on the way to court with him, or your accuser may hand you over to the judge, and the judge to the guard, and you will be thrown into prison." (Mt 5:20-26)
In our gospel today, Jesus gives an authoritative teaching on fulfillment of the law by condemning anger held in the human heart. Anger, malicious thoughts, hatred, desire for vengeance, these things flow from a person's interior, from his heart, and eventually manifest externally. They poison relationships by spreading hate from person to person. They can even lead to the terrifyingly destructive reality of war.
Jesus points out that we must not be angry with a "brother or sister," with those who are closest to us. It's often the case that we injure those nearest us because harsh words spoken to family members inflict deep, lasting wounds. They are a sword that pierces to the heart and can cause a persistent scar.
Words are perhaps one of the most dangerous tools at our disposal. They can be used for great good or for great evil. They may console, build up, heal, restore, and communicate the truth, or they may wound, destroy, crush, deceive, and tear down. It is helpful to recall that God hears our every utterance. Jesus reveals, out of loving concern, that every word we speak will have to be accounted for:
For out of the abundance of the heart the mouth speaks. The good person brings good things out of a good treasure, and the evil person brings evil things out of an evil treasure. I tell you, on the day of judgment you will have to give an account for every careless word you utter; for by your words you will be justified, and by your words you will be condemned. (Mt 12:34-37)
Just and unjust anger
Given today's gospel focus on anger, it's important to distinguish between unjust anger and just anger. Jesus himself manifested just anger when he overturned the tables of the money changers in the Temple. Just anger can move us to combat, correct and overcome evils, and thus can be a motivating force for the good.
Unjust anger, however, is evil in itself, and includes malice, hate, desire for revenge, murderous thoughts, etc. Unjust anger springs from evil desires of the heart.
The Catechism gives this teaching on anger:
By recalling the commandment, "You shall not kill," our Lord asked for peace of heart and denounced murderous anger and hatred as immoral.
Anger is a desire for revenge. "To desire vengeance in order to do evil to someone who should be punished is illicit," but it is praiseworthy to impose restitution "to correct vices and maintain justice." If anger reaches the point of a deliberate desire to kill or seriously wound a neighbor, it is gravely against charity; it is a mortal sin. The Lord says, "Everyone who is angry with his brother shall be liable to judgment."
Deliberate hatred is contrary to charity. Hatred of the neighbor is a sin when one deliberately wishes him evil. Hatred of the neighbor is a grave sin when one deliberately desires him grave harm. "But I say to you, Love your enemies and pray for those who persecute you, so that you may be sons of your Father who is in heaven." (CCC 2302-2303)
What is the healing solution?
Given the wound of original sin with its corresponding effect of producing in us the human weakness of a tendency to sin (concupiscence), our Lord's command to remain free from anger is indeed a very high and difficult to achieve standard. We have all been wounded by others, and we have all wounded others. What is the solution?
One of the most effective means of helping anger to wane and grace to increase is to pray for one's enemies or those who have deeply harmed us:
You have heard that it was said, 'You shall love your neighbor and hate your enemy.' But I say to you, Love your enemies and pray for those who persecute you, so that you may be children of your Father in heaven; for he makes his sun rise on the evil and on the good, and sends rain on the righteous and on the unrighteous. For if you love those who love you, what reward do you have? Do not even the tax collectors do the same? And if you greet only your brothers and sisters, what more are you doing than others? Do not even the Gentiles do the same? Be perfect, therefore, as your heavenly Father is perfect. (Mt 5:43-48)
Do not give in to defeat since to do so is precisely the work of the devil! St. Paul teaches, "Be angry but do not sin; do not let the sun go down on your anger, and do not make room for the devil" (Eph 4:26-27).
Christ offers you and me, all of us, a truly new start in life. We begin anew each day by accepting his mercy and forgiveness, and moving forward with the help of his grace conferred by the sacraments.
Our greatest weapons against anger are prayer, the Mass, and the sacraments, especially the sacraments of Penance (confession) and the Eucharist. When we make a good confession for those times when we have been unjustly angry with a loved one or a neighbor, forgive them if necessary, and do what we can to reconcile, we embark on a new path of charity. When we receive the Eucharist worthily and in a state of grace, the glorified and risen Christ is himself received into us, whose divine power and grace strengthens us to live a life of authentic Christian love, free from the poison of anger and hate. The sacraments of the Church confer God's grace as a true means to peace and healing.
God is merciful. After confessing our sins, we must not dwell on past failures but look forward to a new life. For we most certainly are given one in Christ!
*****
Please support Joy In Truth by sharing on social media.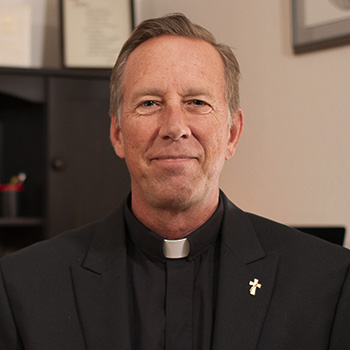 Deacon Frederick Bartels is a member of the Catholic clergy who serves the Church in the diocese of Pueblo. He holds an MA in Theology and Educational Ministry and is a Catholic educator, public speaker, and evangelist who strives to infuse culture with the saving principles of the gospel. For more, visit YouTube, iTunes and Google Play.