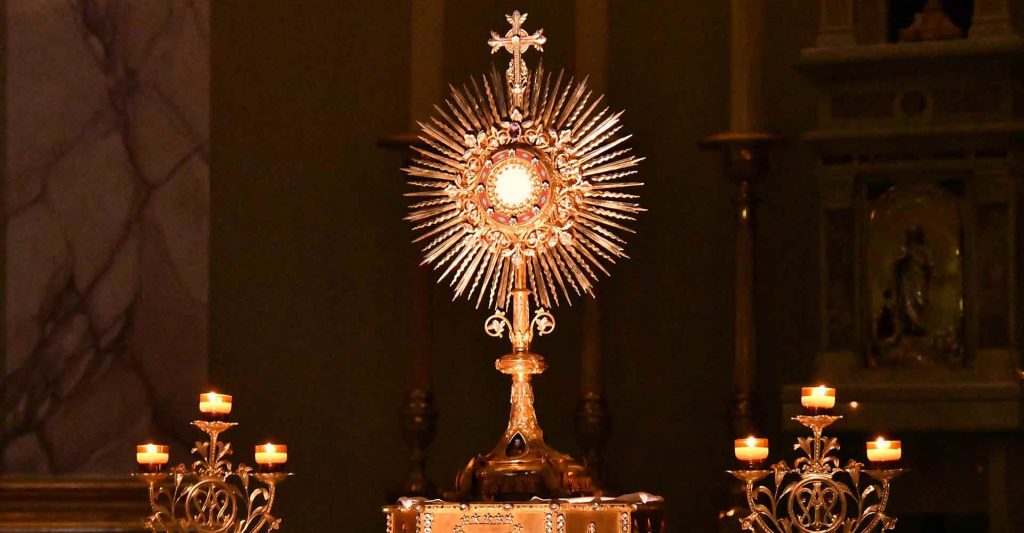 Democrat presidential candidate Joe Biden was recently denied Holy Communion by Fr. Robert Morey for obstinately persevering in manifest grave sin.
By Deacon Frederick Bartels
7 November 2019
Democratic presidential candidate Joe Biden has been denied Holy Communion by Fr. Robert Morey of St. Anthony Catholic Church in Florence, South Carolina, for his obstinate perseverance in public manifest grave sin as is evident by his open support for the intrinsic evils of legalized abortion and same-sex "marriage."
In spite of the not so subtle protests and insinuating comments by some members of the clergy and others, Fr. Morey acted as a holy, just, and courageous priest of the Lord. In refusing Joe Biden's access to the Eucharist, he did what should have long ago been done. In fact, he did what every true pastor of souls should always do in these kinds of situations, not only for the spiritual well-being of the person directly involved, but for those who will be led into sin by witnessing the scandalous actions of Catholic politicians who flagrantly dissent from Church teaching on matters of grave moral significance, while, at the same time, insist they are in union with Christ and his Church.
God bless you Fr. Morey. Thank you for upholding the truth of the Eucharist and acting charitably toward Joe Biden by your fraternal correction, with its aim of his repentance, restoration to full communion with the Church, and salvation in Christ.
Withholding Holy Communion in these kinds of cases shouldn't come as a surprise to Catholics, nor to anyone else in the world who is at all familiar with Church teaching. Instead of the exception, it should be the expected norm. It's long been the belief of the Church that Catholics must be in a state of grace and of the proper disposition to receive the body and blood of the Lord. In fact, that belief is embedded in divine revelation itself (see 1 Cor 11:27 ff.).
Since the Eucharist is both a sign of communion with Christ and his Church as well as the means of bringing that unity about, Catholics who deliberately and knowingly dissent from definitive Church teaching on faith and morals should excuse themselves from receiving Holy Communion until they rectify the situation. In other words, one must never receive Holy Communion when one rejects communion through dissent, heresy, and/or the commission of mortal sin. This teaching of the Church is not in place to unjustly exclude people from communion with the Church. It is in place to help to prevent people from condemning themselves before God. It is charity in truth.
In the case of Catholics who persevere in public, manifest grave sin, their dissent from Church teaching is known to all. It's public. Which means their lack of full communion with the Church is known to all. When Catholic politicians who openly support intrinsic evils such as abortion, same-sex "marriage," and the use of contraceptives to frustrate the marital act, argue in the public square that these evils are "rights" people have and therefore must be enshrined in the positive law, they place themselves at odds with Christ and the belief of his Church.
When asked about the incident, Joe Biden said it was a private matter. He said he didn't want to talk about it. Then, he talked about it. He said it's never happened before. He even said the Pope gives him Holy Communion.
There are some clergy, whose names I won't mention, who have insinuated, in so many words, that Fr. Morey did the wrong thing. They've said they wouldn't deny Biden communion. They've said they don't want to politicize the Eucharist. They've said it's not up to them to judge the state of man's soul. They've said their job is to be pastoral.
In other words, never mind what's objectively true. It's more important to maintain diplomacy for the sake of going along to get along. Never mind what should and must be done in accord with the belief of the Church, sacred scripture, and Canon law. It's better to be "inclusive" and "tolerant." Never mind the fact that a true pastor is first and foremost supposed to be concerned for the eternal welfare of the souls in his care. Never mind the fact that our Lord Jesus Christ—the Master and Pastor Supreme—is Truth Itself.
According to Canon 915 of the Catholic Code of Canon Law, those who are "obstinately persevering in manifest grave sin are not to be admitted to holy communion." Catholic politicians who publicly and openly support evil policies like legalized abortion or officiating at same-sex "marriages," as has Joe Biden, are guilty of pubic and manifest grave sin. They're not to be admitted to Holy Communion. Withholding from them the Eucharist is itself an act of charity. It's the right thing to do. It's what must be done if one is concerned for their eternal salvation.
It's not possible to say to our neighbor, "I care about you," and, at the same time, stand idly by while he endangers his soul. The here and now is temporary. Eternity lasts forever.
As St. Paul teaches in 1 Corinthians 11:27 and following, partaking of the Eucharist unworthily is itself a mortal sin. Those who do so are guilty of profaning the body and blood of our Lord Jesus Christ and therefore bring the judgment of the Lord upon themselves. St. Paul goes on to say that receiving the Eucharist unworthily is why some in the community are weak, have fallen ill, and even died.
Canon 915 seeks to protect those who are in public, manifest grave sin from those consequences. It's in place for the true benefit of a person's soul. Its purpose is to help protect people from the very real danger of condemning themselves to hell by profaning the Holy Eucharist. It's aim is to move them to repentance, that they may be saved.
Complying with canon 915 is not at all about politicizing anything, especially the Eucharist. To say it is, is pure nonsense. Those who make the claim of "politicizing" are actually the one's doing the politicizing.
And no priest is being pastoral by comfortably ignoring these kinds of scandalous and gravely sinful situations and allowing them to continue. It's not pastoral to say nothing and do nothing when people place their souls in peril.
And it's not about judging the state of anyone's soul. Only God can do that. However, we do have the ability to make objective judgments about whether someone is committing public, manifest grave sin and is therefore endangering their soul.
Fr. Morey did the charitable thing. He refused to let Joe Biden, who has publicly and repeatedly supported abortion on demand, receive the Eucharist. Fr. Morey acted in a truly pastoral manner.
As for Joe Biden's part, it's necessary for him to publicly repent of his support for intrinsic evils. Public manifest grave sin requires public repentance. Additionally, he is required to confess grave sins in the sacrament of Penance, that he may be absolved of any eternal guilt he has incurred as a consequence of these sins. Once these are done, he can receive the Eucharist worthily, as a Catholic in full communion with the Church, as a Catholic who is at one with Christ and his teaching, as we all must be in order to receive the body and blood of the Lord.
Thank you and God bless you Fr. Morey for doing the right thing. Thanks to you, Joe Biden may very well be moved to repentance. That's what we're all praying for.
Learn more about the Eucharist.
Please consider supporting Joy In Truth. We need your help. It's very difficult for me to bankroll this work myself. I'm not a retired deacon. I'm not a wealthy deacon by any stretch. I humbly ask you to assist me in the process of bringing Christ and truth into culture.
If you're interested in helping, thank you! Simply click on the "Support Joy In Truth" link.
Vivatis in Christo!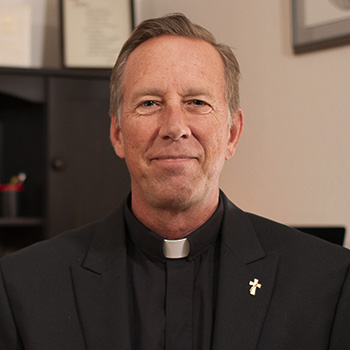 Deacon Frederick Bartels is a member of the Catholic clergy who serves the Church in the diocese of Pueblo. He holds an MA in Theology and Educational Ministry and is a Catholic educator, public speaker, and evangelist who strives to infuse culture with the saving principles of the gospel. For more, visit YouTube, iTunes and Google Play.