Photo Credit: Deacon Frederick Bartels, all rights reserved.
By Lauren Heaton
10 March 2017
"Let me love you"
I heard Jesus softly say last Saturday night after receiving Him in Holy Communion. I knew in an instant I was going to cry; He was extending His hand to me and offering His peace to replace the pain I had been avoiding all week long. I didn't want to face or experience the grief of the loss of a friendship and so I buried the pain beneath school, work, and praying for others. But Jesus, He knew my thoughts and how they kept drifting back to the friend whom I was missing dearly. Jesus was inviting me to friendship with Him, to letting Him love me instead of seeking out the love of my friend.
"Let me love you"
I've been pondering and praying over these words all week long and God has loved me in a variety of ways throughout the week. Each time He emphasized a different word.
"LET me love you"
Jesus wants to delight in yours and my hearts (Psalm 37:4). He wants to sing over us even! (Zephaniah 3:17). We only need to accept His love.
"Let ME love you"
Jesus wants to love on me right now. He is trying to stop me of thinking of all the ways I can and need to show Him that I love Him. We can't be actively trying to earn His love when He is trying to lavish His love and graces upon us.
"Let me LOVE you"
A good friend and I were talking about the different ways God shows his love for us. For her, it is spending time outside experiencing His beauty or being with the loving people God has specifically put into her life. For me right now, letting God love me is letting God carry me. I am weak and trying to accomplish too many things on my own. God loves me by sending me smiles in the forms of a phone call from my sister or a dazzling sunrise on my morning runs. Most importantly God loves me by whispering His truths with His still but small voice into my life on a daily basis.
"Let Me Love You"
God wants to love each and every one of us in the unique ways that speak to our individual hearts, if only we let Him. He created, crafted and designed your heart to be truly you. He knows how to love you well. Will you let him?
*****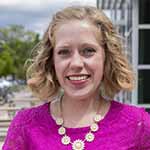 Lauren is a young Catholic professional working in the marketing industry. She loves working with high schoolers and leads a high school youth group. She is also passionate about leading a young women's bible study, is on the leadership team for West Denver 2:42 a young adult ministry and sings at her church. Lauren is a modest fashion enthusiast, pancake connoisseur, promoter of faith and fitness, and lover of all things family oriented.