Life In The Spirit: Inhale His Fragrance of Love; Let Him Ravish Your Heart
By F. K. Bartels
4 May 2012
In his book The Experience of God's Presence, Fr. Anselm Moynihan quotes from an American writer who, in referring to a group of university students, describes them as living "in comfortable disregard of the superhuman. They are neither in revolt against it, nor in search of it. Religion as a social service they find all about them, and they respect. Religion as something relating to God they neither know nor miss" (9).
Fr. Moynihan utilized that quote in order to underscore a disturbing problem he noticed, one which he characterized as the "degradation of religion to a thinly-disguised worship of humanity" (ibid.). What does he mean by this statement? He is not, of course, suggesting that Christians are somehow in error if they pursue with zeal the love of neighbor and the common good of society. For Jesus said, "Truly, I say to you, as you did it to one of the least of these my brethren, you did it to me" (Mat. 25:40). He does point out, however, that the often militant atheism of the present age is not nearly so frightening "as the lack of interest in God or sense of His reality among reputed Christians" (8). Speaking of this lack of awareness of God's presence, he states that "almost the whole content of Christianity is the commandment to 'love thy neighbor,' with little reference to the first commandment" (9).
The Experience of God's Presence was copyrighted two years after the close of Vatican II. Consequently, Fr. Moynihan aptly observed that the Council Fathers vigorously affirmed that the primary mission of the Church is to bring the world to Christ. Many others have since said the same. For instance, Cardinal Avery Dulles wrote: "The council repeatedly and emphatically taught that the procurement of salvation is the most important task of the church" (qtd in Vatican II: Renewal Within Tradition, 163).
Moreover, in the first year of his Pontificate, Blessed John Paul II taught that "The Church's fundamental function in every age and particularly in ours is to direct man's gaze, to point the awareness and experience of the whole of humanity towards the mystery of God, to help all men to be familiar with the profundity of the Redemption taking place in Christ Jesus" (Redemptor hominis 10 § 3). If the function of the Church is to draw man into an experience of the mystery of God, it is also, then, of paramount importance that every Christian engage themselves, on a personal level, in a pursuit of that same object; i.e. an encounter with God. In order to do so, it is vital to direct the activity of one's life in such a way so as to promote an increase of love of—and intimacy with—the Holy Spirit.
Am I Conscious of The Indwelling Spirit of God?
The question is, how deeply have we plunged into the sublime mystery of God? Are we in a state of grace, and, if so, are we aware of the constant presence of the indwelling Spirit? Do we, throughout the day, give adoration and praise to God, nestled as we are in the arms of his unceasing embrace? Or, on the other hand, is the temple of God (1 Cor. 3:16) that we are by virtue of our Baptism and faith in Christ left unvisited by our own hand? That is, have we become "deserted temples," not because the Spirit has refused entry within the mysterious corridors of our soul, but rather because we have failed to prayerfully explore with depth the interior landscape of our own being and thus discover the Advocate who dwells therein and awaits our love?
It is tempting to lay blame on the frenetic "busyness" of the modern age. Perhaps none of us need reminding of the dangers of clutter and distraction in our daily lives; nevertheless, it is all too easy to fall prey to the plague of unrelenting "noise," allowing it to blot out the subtle yet persistent divine impulses of the Spirit.
There is also the problem of simple forgetfulness; insidious though it is. Although we know we are temples of the Spirit and have often been told as much, we yet suddenly awaken to the fact that days or weeks or even months have passed in silence. How is it possible that the lover could forget his most adored and cherished Love? It is not that we refuse to speak with the Advocate who shapes our hearts and defines the richness of our life, rather it is that our attention is drawn to lesser, smaller and often insignificant things. Therefore it is profitable to seriously ask ourselves, "What or who do I really love?"
Upon reflection, many will find that their spiritual life has never begun to flourish. Why is this so? It is not God's doing. Christ did not die on the cross to diminish or empty out our life, but rather he came so that we may have life and have it abundantly (Jn 10:10). Christ died to give us true, everlasting and superabundant life. Nevertheless, rather than thirsting after the fiery heat of intimacy with the Spirit, whose gifts of love fill us with power from heaven (cf. Lk 24:49), many are content with a static, dry and mundane existence devoid of the supernaturally infused joy and peace that goes along with a life lived in abandonment and openness to the Spirit.
But if the immense richness and love of the Spirit is to be experienced, tasted and possessed, it need be first sought after before it can be discovered. While it is true that the gift of the Spirit is a free and unmerited one, it is also true that Christ will not lavish us with his incomparable gifts until he sees that we are willing to give of ourselves entirely to him. The Spirit is God's infinite self-gift; the fruitful reception of this Gift is actualized through our own self-gift offered in reciprocation. It is always God who initiates the embrace of love; yet a complete and lasting embrace is an impossibility in a one-sided relationship.
Embarking On Life In The Spirit
In his interview with Peter Seewald, Pope Benedict XVI often emphasized the importance of a renewed intimacy with God in the lives of Christians. He noted that the "important thing today is to see that God exists, that God matters to us, and that he answers us. And, conversely, that if he is omitted, everything else might be as clever as can be—yet man then loses his dignity and his authentic humanity and, thus, the essential thing breaks down. That is why, I think, as a new emphasis we have to give priority to the question about God" (Light of The World, 65).
That if God is omitted from our lives all is for nothing, is a crucial truth we must take to heart. If we hope to understand ourselves and direct ourselves properly in order to attain our end in God, we must grasp that truth. There can be no lasting happiness nor true human fulfillment outside of the mystery of God. In a word, God alone suffices, as St. Teresa of Avila noted. Where are we to begin? How are we to re-create our life in such a way so as to truly share in the divine life of God?
First, it is God who is the supreme and efficacious laborer; it is the Spirit whose love shapes us and defines us, delicately transforms us into who we are called to be and who we were created to become. Christ therefore re-creates through the gift of his Spirit whose gifts enable us to act in ways proper only to God. Yet we must do our human part. We must respond openly, lovingly and with complete docility to the grace of the Holy Spirit. Here we encounter an at once simple yet complex subject. Some are of the mind that study of the principles involved in the spiritual life is a waste of time; it is better, they say, to just act, do something, anything for God. But to hold to that attitude is a serious mistake. Others insist it is best to be "spiritual but not religious." That, too, is a capital error for numerous reasons.
Life in the Spirit, immersed in his way of love and beauty, docile to his movements as a feather is carried about by a Divine Wind, is a way of life. And it is not easy: it requires determined commitment, persistence, and sacrifice. It is a sacramental life that travels the way of sanctity, holiness and loving obedience in the womb of mother Church; it is an ascetic life of repentance and grace and unceasing prayer, lived in humility and love, with our human gaze ever fixed on the divine Other who sustains us and possesses us that we too might possess him. It is a life of voluntary and innocent suffering, that we truly may become "little christs." It is a life whose supreme focus is directed unrelentingly on Love.
When a lover is in the presence of his Love, his gaze remains fixed on the divine Other who is the highest object of his joyous hope. He thus remains unceasingly attentive to his cherished Love, alert to all the endless movements and delicate sighs that accompany the language of love, responding to them with depth and tenderness, savoring every thought, whisper, gesture and revelation of the Other. Not one glance from Love escapes the lover; all are rich with meaning. Each breath of sweetness, every sacred aroma that issues forth with delight from the mouth of Love is adored; these treasures of Love infuse the lover with new insights and communicate ever more deeply the sublime secrets of the divine life of God.
Man cannot live without love. He remains a being that is incomprehensible for himself, his life is senseless, if love is not revealed to him, if he does not encounter love, if he does not experience it and make it his own, if he does not participate intimately in it. This . . . is why Christ the Redeemer fully reveals man to himself. . . . In the mystery of the Redemption man becomes newly 'expressed' and, in a way, is newly created. He is newly created! . . . (Blessed John Paul II, Redemptor hominis 10)
The labor of the Church, one of the highest forms of love, is to make all women and men conscious of the reality of God, the supreme Being of love and mercy who, in a stupendous display of love, assumed human nature and became man in the Person of Jesus the Christ. Salvation is therefore realized in an encounter with Christ the Redeemer whose sacrifice of infinite worth has enabled men to be caught up in the loving embrace of God; the God of incomprehensible power yet tender compassion who, astonishingly, seeks to join with men in indescribable intimacy through the presence of his indwelling Spirit. Let us make the labor of the Church our own. Let us embrace life in the Spirit.
Until the day breathes cool and the shadows lengthen, I will go to the mountain of myrrh, to the hill of incense. You are all-beautiful, my beloved, and there is no blemish in you. You have ravished my heart with one glance of your eyes, how much more delightful is your love than wine, and the fragrance of your ointments than all spices!  (Song of Songs 4:6-10)
Christ's peace.
*****
Please consider helping to maintain this site with a donation.
Photo Credit: https://unsplash.com/@lee_hisu, Hisu Lee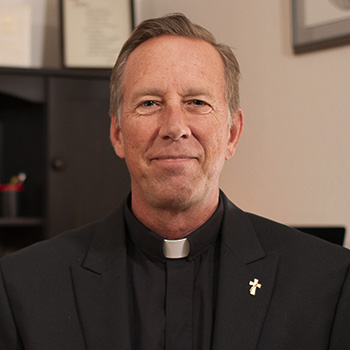 Deacon Frederick Bartels is a member of the Catholic clergy who serves the Church in the diocese of Pueblo. He holds an MA in Theology and Educational Ministry and is a Catholic educator, public speaker, and evangelist who strives to infuse culture with the saving principles of the gospel. For more, visit YouTube, iTunes and Google Play.