What would life be without love? Think about the best love stories that inspired you growing up, important role models in your life, great love stories from Disney characters or perhaps the lifelong love and fidelity of a married couple you know. Love is the fabric of life: a divine gift that directs, heals, and ennobles our life-journey toward heavenly fulfillment.
By Kaitlyn Vermeeren
16 August 2018
I could never have imagined love and marriage were so great until my husband and I were united in the sacrament of matrimony. I heard a very good homily about marriage the other day in which the priest talked about marriage as a man and a wife bringing together their gifts, each bringing something unique into the marriage, helping to support one another in the journey towards sainthood. However, they themselves do not know all the answers and possess all the gifts. Married spouses need the constant love and support of their families, their friends, and their church in order to live a good marriage. This support is not restricted to only our home parish, but includes the love and support of the entire Church and every Catholic who is a member of the living community of faith.
Learn more about marriage, the lifelong union between one man and one woman.
Consider who you eat your meals with and the importance of gathering together. Maybe you're a fast-paced person who's constantly rushing through a drive-through for meals. You could be the person who will always plan to eat as a family, no matter how chaotic the day or what the time is. For my family, that's dinner time, as often as we can do it. We plan to eat that one meal together, giving time for family conversation, talking about our day and spending the time together. We should acknowledge all people we gather with. At meals, we replicate the last supper, a time of food, fellowship, and gathering in faith. Do you cherish time spent with family? Think about this in relation to your life journey towards sainthood and the support you're given each and every day by both your immediate family and the entire Church. It's not just your family and parish that support your goals, your life journey, it's also the universal Church in faith. Isn't that an amazing gift of love?
In John 15:12-17 we read:
This is my commandment, that you love one another as I have loved you. Greater love has no man than this, that a man lay down his life for his friends. You are my friends if you do what I command you. No longer do I call you servants, for the servant does not know what his master is doing; but I have called you friends, for all that I have heard from my Father I have made known to you. You did not choose me, but I chose you and appointed you that you should go and bear fruit and that your fruit should abide; so that whatever you ask the Father in my name, he may give it to you. This I command you, to love one another.
In this passage, Jesus tells us about how we need to love one another, that our first goal—our primary goal—is to act in love. We start by expressing our love and trust in God, the Father and Creator, and replicate this same love to each other, to our families, those we meet throughout the day, the poor and the grieving and those who need our counsel or encouragement. Jesus shows us the incomparable importance of love by his examples of helping the poor, sitting with the tax collector, feeding the thousands, and especially through voluntarily dying on the cross and bearing the nails for the sake of our redemption.
Jesus tells us that in living a life of Christian love, which is the virtue of charity, God will give us anything we ask for. Now, this doesn't mean God will give us a new TV, a new car or a vacation to Hawaii just for completing a few small acts of love. He means that through these acts of love accomplished in faith and for the love of God, through making acts of love a daily part of our lives, we will be filled with God's divine love and enjoy a share in his very life, which is itself the fulfillment of every desire.
Read about why the Church refers to children as the crowning glory of marriage.
There is no greater focus in life than to take every opportunity we can to respond to others in love, which we see manifested in the sacrament of marriage between a husband and wife celebrated in the Church. When Christian spouses live out the vocation of marriage fully, they image in the world the unconditional and sacrificial love of Christ for his Bride, the Church. Christian marriage, then, is not simply about two people who decide to live together and share their lives for a time; it's about a public vocation and permanent, lifelong union ordered toward building up the Church. Marriage is a sacrament of service to community, society, the common good, and the kingdom of Christ. If you've ever wondered why the Church uses the expression of the bride and bridegroom, as spoken of by Saint Paul in his letter to the Ephesians (the Church and Christ), it is because it communicates the greatest visual we have for the nuptial love between Christ and his Bride, the Church; namely, that he voluntarily offered his life for the Church by virtue of his saving death on the cross. In the same way, a married couple sacrifices out of love for one another each and every day, while also doing the same for their community.
Do you make sacrifices out of love, with nothing to gain, as Christ did for us on the cross? Take some time to ask God to help you replicate this act of love and to make sacrificial acts of love for other people as your primary duty as a disciple in faith.
Let us pray together a prayer for loving God and all people:
Holy Spirit, because God loves us so much, help us to love our neighbor.  We have never seen God, but if we love each other, we know that God will live in us and His love will be brought to full expression in us.  Holy Spirit, we do not want to grieve You by the way we live.  You are the One who has identified us as Your own, guaranteeing that we will be saved on the day of redemption.  In this season of reflection and repentance, help us to let go of any bitterness, rage, anger, harsh words, and slander, as well as all types of evil behavior.  Instead, help us to be kind to all people, tenderhearted, forgiving one another, just as God through Christ has forgiven us. Break any bondage(s) that is keeping us from loving and caring for people. Help us as a Church Family to draw closer to God, our Father, and Jesus, our Lord, through loving each other.  Holy Spirit, heal broken relationships. Amen.
*****
Please support Joy In Truth by sharing on social media.
Photo Credit: Lauren Heaton, all rights reserved, used with permission.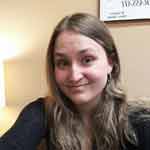 Kaitlyn Boyd is a graduate student in Catholic Studies for Teachers from King's University in London Ontario. She is currently in her first year of Teacher's College this, with hopes of completing a Masters in Theology in the future. Kaitlyn loves participating in her faith, and also shares her love of God continuously at her home parishes of Tillsonburg and Langton, through helping to lead in worship and retreats in order to grow in her own faith, while also inspiring others to do the same. She runs her own website called "The Crazy Catholic," sharing daily articles and devotions in relation to the daily readings and her experiences in the faith. Kaitlyn is newly married, from this past July, starting a new life journey. She hopes to teach religious studies and English for high school students in the near future.