It's my dream that we will all look upon Christ crucified and experience the terrifying tragedy of sin, melting our stony hearts into natural hearts.
By Deacon Frederick Bartels
15 January 2018
Martin Luther King Jr. was born January 15, 1929, and assassinated on April 4, 1968. He is remembered for fighting as a champion of justice against ethnic discrimination, a cause that he ultimately gave his life upholding. The virtue of justice is defined as giving each man his proper due. Martin Luther King understood this fact: where there is no justice, there can be no peace.
Here's a short excerpt from his most famous speech called, "I Have a Dream":
I say to you today, my friends, … even though we face the difficulties of today and tomorrow, I still have a dream. It is a dream deeply rooted in the American dream. I have a dream that one day this nation will rise up, [and] live out the true meaning of its creed: "We hold these truths to be self-evident, that all men are created equal."
Martin Luther King was, of course, speaking against widespread ethnic discrimination and unjust oppression of African Americans in a nation that was formed on the basis of loosing itself from the bondage of English rule—a nation itself forged by the desire for freedom. Unfortunately, ethnic prejudice, although it has diminished over the years, continues in the minds and hearts of some Americans today.
In his "I Have a Dream" speech, Martin Luther King Jr. quoted from the Declaration of Independence:
We hold these truths to be self-evident, that all men are created equal, that they are endowed by their Creator with certain unalienable rights, that among these are Life, Liberty and the pursuit of Happiness.
Racial or ethnic prejudice is not only an attack on liberty and the pursuit of happiness, it is an attack on human life itself because it is an assault on human dignity and what it means to live as a free, God-created and God-loved human person. A life in which dignity is withheld, plundered or denied always deteriorates into slavery in some sense. As Martin Luther King Jr. articulated again and again, ethnic discrimination is an evil that must be opposed.
While not dismissing the evil of ethnic discrimination, it's important to point out that there are violent attacks perpetrated against human life in America today that are far more pervasive than the racial prejudice present during Martin Luther King Jr.'s campaign for justice. These attacks, too, are rooted in a type of prejudice—one which is wielded by the powerful against the weak. They involve a prejudice against stages of human life in which those in the earliest phases of human development are deemed expendable. Proponents insist, rather than attacks, they are human "rights" that must remain protected under the positive law; however, in reality, they are counterfeit assertions yielding but only intrinsic evils that labor to destroy the most fundamental human right of all: the right to life. These so-called rights are boldly proclaimed in political campaigns as if any sane person should agree with them; they are trumpeted as the post-modern dogma of freedom. The infamous day on which these attacks were enshrined into law was January 22, 1973, just short of five years after Martin Luther King Jr. was assassinated.
I wonder what he, as a champion of justice and upholder of authentic human rights, would have said about Roe v. Wade?
Martin Luther King Jr. wrote about his dream. This is my dream:
That the grace of Christ and his gifts of truth and life will change America. That one day, we will leave racial prejudice entirely behind and embrace a new way of living in true equality and respect for all. That every kind of unjust discrimination becomes a thing of the past; that other prejudices evaporate away in the love of God, such as prejudices against "stages of life" in which human persons are intentionally killed because they are very young, very innocent, very weak and unwanted by those whose means and voices are more powerful than their own.
It's my dream that we will all look upon Christ crucified and experience the terrifying tragedy of sin, melting our stony hearts into natural hearts. It's my dream that every American will be transformed by the shocking reality of the cross and its expression of infinite, divine love. It's my dream that all men will apply themselves with vigor and zeal to the implementation and living out of the virtue of justice in all its fullness. For it is only then that peace will become a reality.
This dream must mean living and acting in a new, grace-filled way, in cooperation with the Spirit of God. It entails leaving party affiliations behind, voting a consistent life-ethic against candidates who uphold intrinsic evils of any kind and ordering our lives in harmony with justice, truth, and God's wise and everlasting plan of love.
In an excerpt from today's gospel (Mk 2:18-22), Jesus said:
No one sews a piece of unshrunken cloth on an old cloak. If he does, its fullness pulls away, the new from the old, and the tear gets worse. Likewise, no one pours new wine into old wineskins. Otherwise, the wine will burst the skins, and both the wine and the skins are ruined. Rather, new wine is poured into fresh wineskins.
It's my hope and prayer that all Catholics, other Christians and people of good-will, will strive to become "new wineskins" and fill themselves with the "new wine" of the life, grace and truth Christ offers humankind through his Church, the sacrament of salvation and the city of truth.
It's my dream that the brotherhood of Christ will become a reality. In this new kind of life, as sons and daughters of the divine family, there's no place for prejudice of any kind. In the kingdom of Christ, there's no room for whatever opposes love.
*****
Please support Joy In Truth with a tip!
Photo Credit: By Marion S. Trikosko [Public domain], via Wikimedia Commons. Photo modified for Joy In Truth.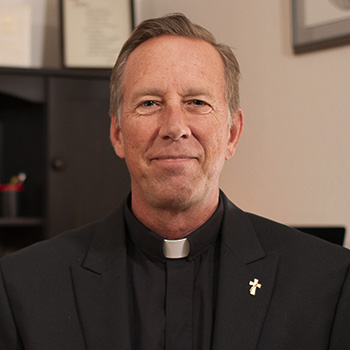 Deacon Frederick Bartels is a member of the Catholic clergy who serves the Church in the diocese of Pueblo. He holds an MA in Theology and Educational Ministry and is a Catholic educator, public speaker, and evangelist who strives to infuse culture with the saving principles of the gospel. For more, visit YouTube, iTunes and Google Play.