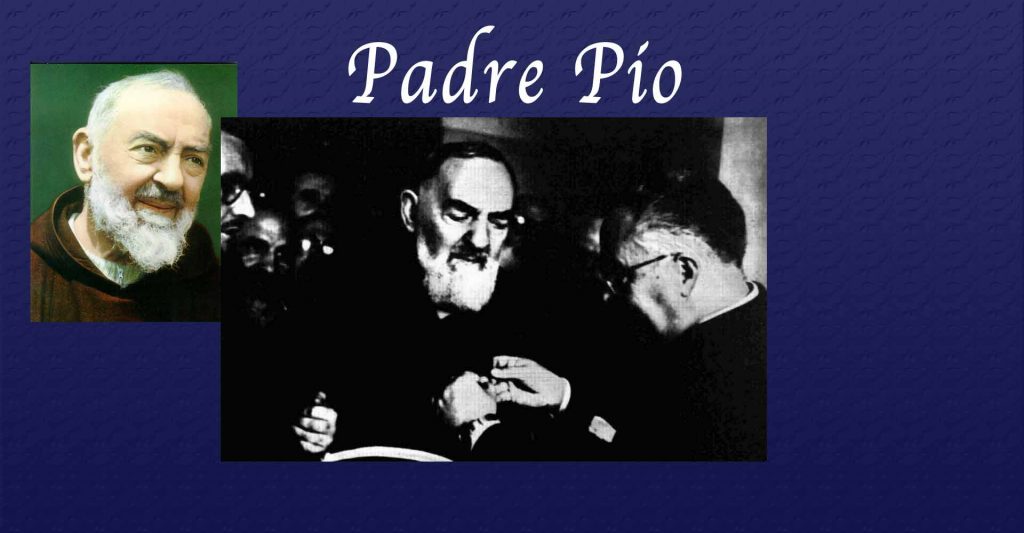 Padre Pio of Pietrelcina was a humble stigmatist whose trust in God, despite much suffering and opposition, allowed him to follow his own advice: "Pray, hope and do not worry".
By Hector E. Duarte
23 September 2020
In order to attract us, the Lord grants us many graces that we believe can easily obtain Heaven for us. We do not know, however, that in order to grow, we need hard bread: the cross, humiliation, trials and denials.

St. Padre Pio
St. Padre Pio, born Francesco Forgione, was an Italian priest; he joined the Capuchin order at the young age of fifteen. He always knew that being a Capuchin priest was his call. At the age of five, he had already decided to give his fiat to the Lord's plans for his life.
The Stigmata
He is a famous saint, known for various reasons, but especially because he was a humble man who received the stigmata. Stigmata are physical wounds that the stigmatic has, in the same place as the wounds that our Lord, Jesus Christ, had. His stigmata lasted for 50 years and were extremely painful for him. A lot of people judged and accused him that his stigmata were faked, meaning that they claimed that he caused the injuries himself.
However, those wounds did not heal as expected, which disproved the theory that they were faked. Another interesting thing about his stigmata is the smell, for it is known that the smell that the wounds had was not as a normal natural wound; these wounds smelled like flowers.
In addition to the judgment of the people, and the pain that came with the stigmata, he also had to undergo other hardships during his lifetime. Since he was young, he suffered from various illnesses; although he was ill, he was able to be ordained a priest in 1910. He had one special gift from God: he was able to see and communicate directly with his guardian angel, Jesus and Mary. In his humbleness and simplicity, he thought that everyone was like him in that aspect of prayer life.
Another remarkable thing is that his Masses would last for hours, as he received visions and experienced suffering. During his lifetime he was asked by his superiors several times to shorten it; however, he replied saying that God knows that he wants to make them shorter, however, he couldn't. While not everyone was happy with the length, a lot of people who had the opportunity to attend were amazed by the beauty of the way he celebrated the Holy Mass, with so much love and reverence.
Pray, Hope and Do Not Worry
Throughout his life, he suffered from many hardships that could have discouraged him; however, he knew that this was the Lord's plan for his life and that he gave his fiat to His will. He had a lot of difficult moments in his life, from suffering from illnesses to being drafted for war; but there was one thing that he never lost, the hope and his love for God. He knew that if he followed Him, everything would be fine. He just had to follow his rule: "Pray, Hope, and Do Not Worry".
This can be a huge lesson for us if we pause and think for a moment…How many times are we struggling in the hardships of our lives, and instead of offering it to the Lord, we complain to Him? How many times are we stubborn and don't realize that He, the Lord, has a perfect plan for our lives, and we just have to trust in Him? I invite you to make a deep reflection on those two questions and think deeply about our life.
Learn about the Parable of the Dishonest Steward.
We can learn a lot about St. Padre Pio, but one of the most important lessons that he can teach us through his example of his holy life is to be humble and docile to the Lord. Do not lose hope, remain focused on Christ, for He is with us. We may not understand everything that happens in our life, however, that is never a reason to give up.
Learn about St. Pio's favorite novena to the Sacred Heart of Jesus here.
Sources:
"80 Famous Quotes By Padre Pio to Inspire You to No End." Quotabulary, 14 Mar. 2020
"Biography." Padre Pio Foundation of America, 22 Oct. 2018
The Editors of Encyclopaedia Britannica. "Padre Pio." Encyclopedia Britannica, Inc. 21 May 2020
Hector Duarte is a high school student born in Guatemala, a country in Central America. A year ago, with the help of God, he was accepted in a Catholic High School in the United States allowing him to continue his studies, and learn more about Catholicism. In his free time, he likes to code and to learn new things about technology. He also loves writing and exploring more about Catholicism.