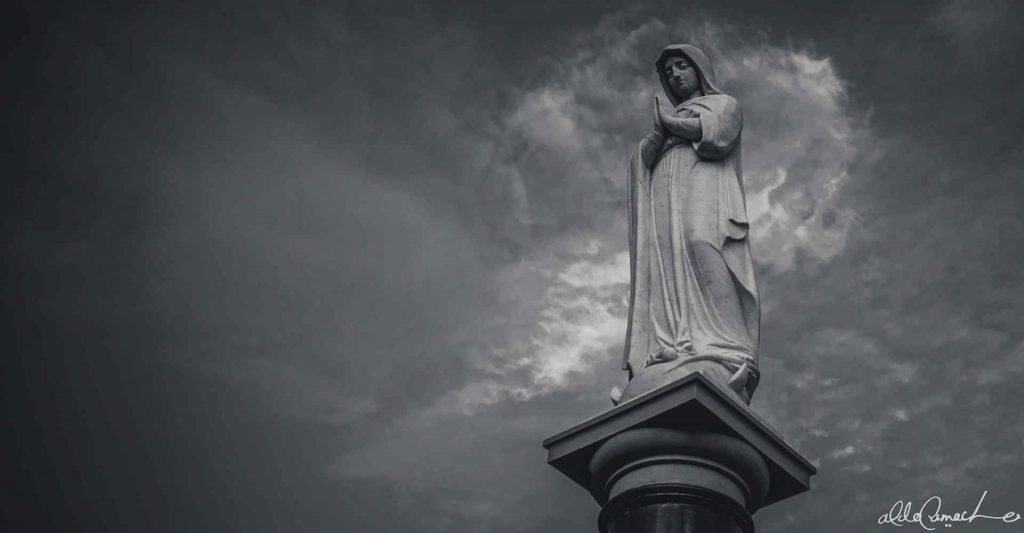 Regina Cleri, Queen of the Clergy, pray for us. After Mass, the seminarians, deacons, priests and lay faithful all together raise their supplication to you, Queen of Heaven, singing to you the Ave, Regina caelorum, while outside the carillon sounds forth loudly a grateful hymn to you. Having been fed with the Bread of Angels, off your sons go now to the refectory—it is time to be fed with the manna.
By Virginia Fraguio
16 May 2019
The sun rises, bells ring calling to chapel like a mother[2] waking up her children for school. It is time for morning prayer. You, Mother of the Seminary, unshaken even in tempests, with your lovely tranquil countenance, your hands joined in prayer, stand on the pedestal men made for you, between God and all his children, above us all, but the humblest of us all[3].
Serene but stern, your eyes looking downward watch from above as all walk slowly, sleepy eyed, to chapel. The men with the collar plead for your wisdom to guide and form these young men God has entrusted them as Christ entrusted you his beloved disciple[4]. The deacons, next in line to become your Son's priests, ask that you will inspire them to be humble, obedient and docile to the Spirit in serving their pastor and parish[5]. The seminarians walk by your motherly image, praying that you will care for them in their discernment, in their studies, in their days of desolation, in the days when God tests them with the fire of his love, as silver and gold are purified[6]. Unnoticed, the bishop, like a father and shepherd of the men God commended to him[7], has been awake long before anyone else, praying to you Blessed Mother, for all the needs of the Catholic Church in our country and this archdiocese, so that God's will be done on earth as it is in Heaven[8].
Now the sun is almost at high noon, the bells of St. Mary's chapel ring now for the Holy Eucharist, the highlight of the day. You, Queen of the Clergy, Regina Cleri, watching from above, are already in prayer, interceding for all who will offer their lives on the altar of your Son Jesus Christ. You are the mother of silence, you teach us how to recollect and prepare the soul for contemplation at the Sacrament of the Holy Eucharist. In preparation, the schola rehearses its chants, the presider, concelebrants and deacon prayerfully get vested, lectors make final verifications, while the organ begins to sound its celestial chords reminding us that the Mass is a prelude of Heaven here on earth. And if something can make present Heaven on earth it is indeed the impeccable, reverent and prayerful liturgy of your own sons' seminary, most Blessed Mother. Your image seems to smile as you a proud mother watch your sons while they process into the chapel.
After Mass, the seminarians, deacons, priests and lay faithful all together raise their supplication to you Queen of Heaven singing to you the Ave, Regina caelorum[9], while outside the carillon[10] sounds forth loudly a grateful hymn to you. Having been fed with the Bread of Angels[11], off your sons go now to the refectory – it is time to be fed with the manna[12].
Finally, the sun has fallen and the bells call as if your motherly voice were calling them home for dinner, now summoning these tired men to evening prayer. The day of prayer, work, study, formation, and consecration to you and Christ's Church is almost ended, and it is time to recollect and reflect in gratitude and repentance. You have watched them during the late afternoon hours as some in solitude others as a group stroll down the gardens, bearing in their hand the weapon against spiritual warfare you gave them – the prayer and beads of the Holy Rosary. "You have kept all things, and pondered them in your heart,"[13] as you watched them grow both spiritually and intellectually, seminarians under your mantle, guided by the Holy Spirit, in imitation of your Son, so as to become priests by the Father's will. Your sons, some sooner than others, will someday leave this home, as the child who comes out of the womb of his mother.
An earthly mother would wonder: "will they remain faithful, will they be protected against the evil of this world, will they continue their discipline of prayer and spiritual reading, will they have someone to help them at times of desolation, loneliness, temptation, persecution? Will they still remember her and speak of her with love in their hearts to their own spiritual children?"
But you, oh, Mother of the Seminarians, Mother and Queen of the Clergy, do not worry because you, the one full of grace[14], carried the Son of God in your womb, and in a way, you carried each of these sons of yours in your womb too. Even though they will go out into the world of the parish life, the school, the hospital, the prison or the battlefield you will never abandon them. Wherever they go, there you will be with them, as you stood at the foot of the Cross with your Son, Jesus Christ, you stand next to your seminarian turned priest. Just as you said to me a pilgrim on Mt. Carmel in Haifa when I asked you "where will I go?", and you answered "my Son will be with you" while I noticed Him in persona sacerdos standing at my right in the empty chapel of the Stella Maris Monastery, you know He will be standing at their right every step of the way. You crush the serpent under your heel[15], and so as long as they stay close to you they will not be fatally wounded by it. They learned at your home the seminary to rely on you, under your loving gaze looking down from above as their queen, your mantle like an umbrella and the Cross of Christ like a lightning rod guarding them during the storms of life while they grew up and were being formed in your womb.
The Spirit has been at work within you to fashion them in "the living and transparent image of Christ the priest"[16], to later on through the Sacrament of Holy Order, have their souls imprinted with the priestly character[17] to act in persona Christi Capitis[18]. God Incarnate chose to be held in your virginal womb and hands, and thus chose these men to hold and consecrate His Body and Blood in their chaste hearts and hands.[19]
Mother of the Seminary, Mother of the Priest, intercede for all your consecrated sons who embrace the gift of chastity for the kingdom of God[20], who suffer persecution, who strive to lead saintly lives, who struggle with temptation and sin, who want to live and die to self, like the Apostles, Martyrs before them, for the faith, for the People of God, ultimately for Jesus Christ, the great High Priest[21]. Holy Mary, Seat of Wisdom, instruct them in your Son's path, so that with poor and pure spirits they may lead, teach and serve others by doing the Father's will like He did, and inspired by the Holy Spirit, guide to Heaven all your children under their care. Guard your bishop, priests, deacons and seminarians who need you now more than ever in waging spiritual warfare.
Queen of Heaven, Mother of the seminarians and of the priests, we thank God for you Theotokos[22] for having borne the Son of God and giving birth to these sons who consecrated themselves to God through your maternal and saintly care. "You are the one who forms every priest. And no one can have a greater claim on you, Our Lady, than a priest."[23] Pray for them now and at the hour of death, that when their mission is completed, they may be rewarded in Heaven with your Son for all eternity. Amen.[24]
[1] The author would like to express her gratitude to Msgr. James B. Anderson and Fr. Vincent Anyama, professors at St. Mary's Seminary in Houston, TX for kindly proofreading and correcting this text. This article is dedicated to both of them, and to all the 2nd year theology seminarians.
[2] From Fr. Vincent Anyama's Homily at St. Mary's Seminary, 2018.
[3] Luke 1:38
[4] John 19:26
[5] Pope St. John Paul II, Pastores Dabo Vobis, 29.
[6] Zechariah 13:9
[7] John 10:11
[8] Matthew 6:10
[9] Ave Regina Caelorum (Hail Queen of Heaven) is one of four Marian antiphons traditionally said or sung after each of the canonical hours of the Liturgy of the Hours.
[10] A musical instrument composed of a set of bells housed usually in the bell tower of a church.
[11] Psalm 78:25
[12] Exodus 16:31
[13] Luke 2:19
[14] Luke 1:28
[15] Genesis 3:15
[16] Pope St. John Paul II, Pastores Dabo Vobis, Libreria Editrice Vaticana, 1992, 12. [w2.vatican.va/content]
[17] Bl. Columba Marmion, OSB, Christ, the Ideal of the Priest, Ignatius Press, 2005.
[18] In the Person of Christ, Head of the Church.
[19] St. Juan de Avila, Treatise on the Priesthood: transl. J. Gormley. IVE Press, 2012.
[20] Matthew 19:12
[21] Hebrews 4:14
[22] Mary as the 'God-bearer' was declared by the Catholic Church at the Council of Ephesus in 431 AD.
[23] Seminario Catolico de Macau, "Who is Our Lady for a Priest: Mother Teresa Speaks on Priesthood," [www.oclarim.com]
[24] Photo credit: Statue of St. Mary (pedestal reads: Regina Cleri, Ora pro Nobis) at St. Mary's Seminary, Houston TX. Photo by Aldo A. Camacho, 2nd Year Theology Seminarian.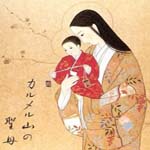 Virginia Fraguio is a Secular Discalced Carmelite. She holds a Master's Degree in Theological Studies and is currently pursuing a Master of Divinity at the University of St. Thomas at St. Mary's Seminary in Houston, TX. She is passionate about the truth, spreading the Catholic faith and spirituality, going on pilgrimages, and the international dimension of the Universal (Catholic) Church. Virginia was born in Argentina and grew up in Japan. After living in Brazil for some years, she was brought to the United States by her U.S. employer twelve years ago.