Self-entrustment to Christ is the key to living the fullness of life. Giving yourself over completely to Jesus sets your life on course toward a new horizon of divine life with God.
By Deacon Frederick Bartels
7 September 2017
In our gospel today (Lk 5:1-11), Jesus gets into Simon's boat, puts out a short distance from the shore of Lake Gennesaret, and teaches the crowd. I imagine this as a beautiful, tranquil moment: the voice of Christ, the Master of heaven and earth, through whom all things came to be (Jn 1:3; Col 1:16), is projected over the created waters he himself has made, penetrating the hearts and minds of those he calls to become his brethren. Most of the people listening did not know who Jesus really is, of course, but they would one day understand, even if, perhaps, that understanding had to wait until their passage from this present life.
After he is finished teaching the crowd, Jesus asks Simon to "put out into deep water and lower your nets for a catch." But Simon protests: "Master, we have worked hard all night and have caught nothing." Simon was well acquainted with fishing. The trade was his life and provided his sustenance; he knew it well. He had no reason to believe another fishing attempt would be successful. Nevertheless, against his "better, professional judgment," Simon complies with his Master's request. They set out into deep water and lower their nets. The result is a catch of fish so large, the "nets were tearing."
Later, Jesus would give Simon a new name, Peter, which means "rock." With that, Peter is given a new vocation as earthly leader of the apostles and the Church, destined to become the rock-like foundation upon which Christ would build his one, universal Church (see Mt 16:17-19) as the home of humankind and city of truth.
The nascent Church began simply and humbly with Jesus and twelve uneducated men. Given these beginnings, facing severe persecution and high levels of martyrdom in the coming years, who would have thought she could survive? At Pentecost, subsequent to Christ's resurrection to new life and the sending of his Divine Advocate, Peter preaches to the crowd with Spirit-filled power and brings in a great catch of 3000 who were baptized (Acts 2:41). Within a few centuries, the Church contained many millions of converts to the Christian faith. Today, 1.3 billion people self-identify as Catholic. Indeed a great catch!
There is no possible explanation for the continued growth and existence of the Church, so often hated, so often sought to be destroyed by powerful men and rulers, other than the finger of God. By divine constitution, the Church was born; by divine guidance, she is sustained; by the love of the Spirit of God, she expands to all nations as the new Jerusalem, the dwelling place of men with God in Christ and through the Holy Spirit.
But what does this gospel mean for you? How does it apply to your life? When you comply with Jesus' wishes, giving yourself over confidently to him in self-entrustment, however difficult or counter-intuitive it may seem, the unexpected happens. What seems impossible against all odds becomes possible as a new horizon opens up before you. Astonishing changes take place. Your life alters course, takes on a new tone, and is infused with new purpose and vigor. With Christ, you become a new, re-created person!
The Lord Jesus Christ, his Majesty, Master of Truth and Love, desires to enter into your life and remake you. Why? That you may enjoy the fullness of life and love: human life in abundance (John 10:10). But what must you do? You must commit your life to him. You must take what seems a dire risk, but in reality is the wisest possible choice, for who is better suited to care for you than the divine, omnipotent Creator and Redeemer?
Christ's desire is that you become the very best version of yourself. But even more than that, his intention is for you to give your life to him, that he may share his divine life with you. Jesus desires to make you a son or daughter of the divine family, that you may live the fullness of human life in communion with the Tripersonal God. This does not mean things will be easy in the here and now; for this life will always have its challenges, disappointments and times of suffering.
It does mean, however, that in the end things will be perfect as you attain definitively your end in God! It also means that, right here and right now, you can experience a new kind of happiness: the joy God himself gives. Its exquisite beauty, depth, and light are unlike anything else.
Christ's peace.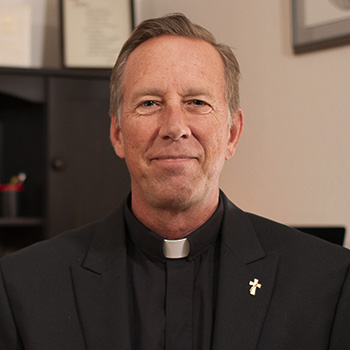 Deacon Frederick Bartels is a member of the Catholic clergy who serves the Church in the diocese of Pueblo. He holds an MA in Theology and Educational Ministry and is a Catholic educator, public speaker, and evangelist who strives to infuse culture with the saving principles of the gospel. For more, visit YouTube, iTunes and Google Play.