One cool morning, a woman I had met asked a question that really made me think. "Do we serve God or others? Do we seek to be a people pleaser?" This stopped me dead in my tracks.
By Tiffany Buck
30 November 2018
This past Sunday, we celebrated the feast day of Christ the King. It was only recently that I started thinking of the significance of this feast. No matter how crazy and frazzled the world may be, Jesus is still on His throne. No earthly king can overthrow him.
Jesus said to Pilate: My kingdom is not of this world. If my kingdom were of this world, my servants would certainly strive that I should not be delivered to the Jews: but now my kingdom is not from hence (John 18:36).
At Mass, I often think of those that serve the Lord. Of course, what naturally comes to mind are priests, nuns and the pope. A few times, I have often asked how could I be a servant of God? Foolishly, I didn't consider the fact I could be God's servant too, even though I lived in a modest home instead of a convent. As Christians, we are all called to be servants.
The world today, like many days before, is messy. It is difficult to be a servant of God when the world asks us to be servants to so many other "kings." Society dictates that, as a woman, I should be educated, financially successful, beautiful, thin, and desirable. After my husband and I had been married for several years, we were blessed with the birth of our daughter. I learned as a mother there was a completely new set of rules or kings I needed to follow. As a mother, society has many rules. I need to be busy, follow the guidelines of veteran moms, and make sure my daughter is as perfect as possible. I must admit, I wasted much energy trying to be what society dictates. One thing I've learned in my journey with Christ is that it is nearly impossible to be a good servant to society.
When my daughter was two, the Walking With Purpose ministry was led by a lovely lady my age. She was a mother of four and imparted much wisdom on my eager ears. She spoke often of silence and seeing Christ in everyone she came in contact with. One cool morning, she asked a question that really made me think. Do we serve God or others? Do we seek to be a people pleaser? This stopped me dead in my tracks. I was this person. I had spent my life trying to please others and never bothered with trying to please my King. From that day forward, I started to challenge myself in a more positive way.
In a rather bold move for myself, I signed up to bring a plate of food for our Advent by Candlelight event. In the past, I would have sulked if others didn't speak to me or make me feel welcome. I had brought food after all. I think back on this selfish and insecure attitude and shake my head. At that event, each time I felt insecure or lonely I would say a small prayer to myself over and over again. "My King, help me be a good servant." I was rewarded that night with friendship; friendship with Jesus and friendship with my fellow parishioners.
Serving the King. Following him. Being with him. It's a new kind of life. It's the only kind of life I shall ever want to live.
*****
Caring is sharing. Please support Joy In Truth by sharing on social media.
Photo Credit: John Stephen Dwyer [CC BY-SA 3.0 (https://creativecommons.org/licenses/by-sa/3.0)], via Wikimedia Commons.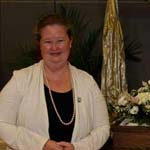 Tiffany Buck is a stay-at-home mom. She is a parishioner at Good Shepherd Catholic Church in Cumming, GA. She is active in the ministries of Walking With Purpose, Book Chat, and the Council of Catholic Women. Her poetry has been featured in Silver Birch Press, Wagon Magazine, and the San Pedro River Review. You can follow her poetry blog at ourladyslipper.blogspot.com.