The Teresian Method of Christian Meditation takes time and effort. Diet, so I've heard countless times, is more important than exercise. While we need mental prayer to tone ourselves and strengthen our resolve, we have to feed ourselves a balanced diet of Christian meditation on the Word of God and put it into practice, so we absorb and retain all its nutrients.
By Dan Dellamarine
18 February 2019
Every Catholic has heard of religious orders, and knows that each one has an apostolic trademark by which to differentiate itself from other orders. The Franciscans work with the poor. Dominicans are scholars and teachers. Salesians work with the young and the elderly. Carmelites and Discalced Carmelites engage in what is called a "contemplative apostolate," dedicating themselves to prayer. (There are distinctions between monks and friars, but there is definitely an emphasis on prayer versus activity).
In even the earliest days of Carmel, the members of the order were dedicated to contemplation on the Mysteries of the Faith. To help counsel the nuns he was ministering to, Father Gabriel of Mary Magdalen compiled his advice and meditations into a time-cherished book called "Divine Intimacy." This book, in short, tackles every day of the Liturgical Year with fuel for mental prayer.
Growing up, I had no idea what mental prayer was. Even when I become a Third Order Discalced Carmelite aspirant I had no idea what it was! But quickly I got to studying, and slowly I learned. One priest stated that mental prayer isn't chipping away like a chipmunk, and requires silence. With this silence comes time and effort. It's not easy—but by the grace of God, it will transform a person for the better. According to Father Gabriel, there are steps to take while engaging in mental prayer.
Preparation
One of the most common steps people forget to do before prayer is the preparation. Some people don't think they have the time. Some people just don't want to. Some people skip preparation simply because they don't know how to prepare.
Before I serve the Holy Sacrifice of the Mass, I pray a short prayer while I put on my cassock and surplice. Although Pontifical High Masses are not too common anymore, they start with the bishop having his vestments placed over his cassock. I would recommend watching Archbishop Alexander Sample being vested before the Mass, which my rector says is like watching a knight getting ready for battle. While the pomp and circumstance of putting on the necessary garments differ between Archbishop Sample and myself, we are both being forced into the presence of God.
While I was growing up, there was a priest I knew who would always say, "Oh, God understands." The emphasis on this was our personal weakness. But while this phrase is supposed to encourage us to rise and brush ourselves off, many people use it as an excuse to stop pursuing the spiritual life. One example I can think of is the cowardly Kichijiro in Shusaku Endo's novel "Silence."
In "The 12 Steps to Holiness and Salvation" there is an entire chapter dedicated to St. Alphonsus Liguori's reflections on the presence of God and the necessity of solitude. We should remember that even Jesus "dismissed the multitude…[and] went into a mountain alone to pray" (Matthew 14:23). While preparing to engage in mental prayer, one must put himself into the presence of God. That is, mentally.
We are always in the presence of God. He sees all. And yes, He understands our weakness in being distracted—and also our discipline in persevering. If we were to just remember at all times that we are in the presence of God, we would never commit another sin.
Reading
One of the words I have read time and time again in Carmelite works is "aridity," which is the perfect word for the dryness and weariness we feel when we start praying. There are plenty of times in St. Therese's "Story of a Soul" where she mentions not having enough material to ponder over. This is where reading comes in.
When I first started in the lay order, our superior delineated a recommended reading list. At some point he just started mentioning authors, because the mystical arsenal with which we can fire at our aridity is so large. While we are not supposed to use our imaginations in prayer, it would help to draw from the events of Sacred Scripture, and even use artwork for help.
There have been plenty of times in which I pondered over an Icon while praying the Rosary, paying attention even to minute details. Something I constantly admire is how the Blessed Mother is almost always, if not always, in the center of the Apostles in the Mystery of Pentecost.
When we read the life of a saint, we should be inspired to imitate that saint's life for God's sake only. We do not admire St. Fulgentius for his own sake, but as a ladder by which to climb to God. As St. Pio said to a woman who tried to steal his rosary for a relic: "Go make your own relics!"
St. Louis de Montfort provides a plethora of meditations about the Holy Rosary in "The Secret of the Rosary." St. Francis de Sales' "Introduction to the Devout Life" provides counsels for laypeople and clergy alike in attaining proficiency in everyday spiritual living. "The Life of St. Francis of Assisi" according to St. Bonaventure convicts us of each instance of laziness contrasted to each moment of Saint Francis' austerity.
Reflection and Meditation
After reading, it would be wise to examine what we gathered from that reading. Very often, especially through Scripture, God touches us with a particular set of words. One priest mentioned how he was praying the Liturgy of the Hours and was stuck saying, "How on earth can a rock praise the Lord?"
The reading we used should set our hearts on fire with a deeper love for God, and help us concoct a game plan in cooperation with His grace so we can fight off temptation. I used to think spiritual reading and meditation were the same until I realized we are supposed to take our eyes off the page and face the silence.
St. Bernard once had a vision while his brothers were at prayer. He saw an angel beside each monk writing in gold, silver, ink, water, or nothing at all. The gold and silver represented the fervor with which the more devout monks were praying. The ink represented the words said without devotion. The water represented words said carelessly. The angels who didn't write anything showed that the corresponding monks entered with voluntary distractions ("The 12 Steps to Holiness and Salvation").
But this is not a reason to be discouraged. St. Alphonsus writes, "[Distracting] thoughts cannot spoil the effects of our prayer." I always tell my CCD kids that God judges on the effort with which you perform your prayers and actions. St. Therese says God judges based off love, which I dare to say is the same thing. St. Teresa of Calcutta states, "There is no love without sacrifice."
Mental prayer is also an opportunity by which we can evaluate our souls a little better. St. Bernard calls it a mirror for the soul. One only has to read about St. Teresa of Avila to realize she went from counting down minutes in the beginning of her career, to spending two whole hours just meditating on the words "Our Father." Not the prayer. The words.
Colloquy
Father Gabriel of Mary Magdalen says that a colloquy is a loving conversation with God. In "Divine Intimacy," he includes colloquies from holy figures to help demonstrate what a holy soul would sound like. It's no coincidence that when one reads these colloquies, he realizes they are completely selfless.
Father Gabriel recommended three additional steps, all of which fall into his colloquies in "Divine Intimacy." These are thanksgiving, offering, and petition. These are prayers we should all know from our days of religious instruction—whether through CCD, parental guidance, or RCIA. These additional three steps are designed to extend the colloquy.
When one initiates a friendship or maintains a strong and healthy one, he enjoys who he is talking to. I'm sure we've all had friends we could talk to for hours without noticing time slipping away from us. St. Dominic Savio called his mental prayer time his "distraction," because if someone didn't stop him he would stay in the church through the entire school day by accident.
So what does this all mean for us laypeople in the world? It means that in stopping time and engaging in mental prayer, we are making a special sacrifice of ourselves and our time. This is called "spiritual exercise" for a reason. If you want to build your body, you have to work out. This being said, exercise is not enough for the maintenance of the body.
Diet, so I've heard countless times, is more important than exercise. You can be strong while being on the verge of dying of a heart attack. While we need mental prayer to tone ourselves and strengthen our resolve, we have to feed ourselves a balanced diet of the Word of God and put it into practice, so we absorb and retain all its nutrients.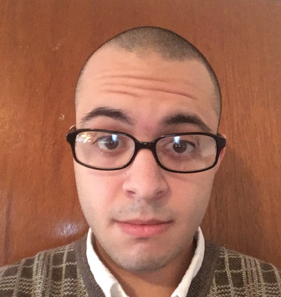 Dan Dellamarine is a CCD teacher for multiple grades at two parishes, and recently earned his Bachelor of Arts in Psychology from Rowan University. He serves Tridentine Rite Low Mass at his home parish, and particularly enjoys the works of Saint Alphonsus Liguori and Father Stefano M. Manelli, FI.