By F. K. Bartels
July 16, 2009
An August 2008 survey conducted by the Pew Forum found that 87 percent of American voters said the economy would be very important in regards their vote, but only 39 percent mentioned abortion as being very important. And only 13 percent of American voters say abortion should never be permitted ("More Americans Question Religions Role in Politics," Pew Forum, Aug. 2008).
This survey clearly shows that most Americans, while they favor restrictions on abortion, believe abortion should be legal/allowed in certain circumstances, usually in cases of rape, incest, and danger to the life of the mother. Moreover, the majority of Americans (61 %) place the importance of the killing of 3,000 unborn children each and every day below economic concerns! This does not bode well for the case that Americans are God-loving Christians who place significant importance on the Gospel. One cannot find a Gospel message such as this: "serve manna above and before thy neighbor."
There is simply no issue facing America as grave as the destruction of our unborn children: since Roe V. Wade became law and legalized abortion on demand, approximately 50,000,000 unborn American children have been attacked in their mother's womb and eradicated from our nation. This type of slaughter is indescribable. In one year the number of children killed outnumber by twice all of the American fatalities incurred in all the wars in our nation's entire history.
It is true that many women and men give in to the horrors of abortion through human weakness, such as fear of the future, selfishness and so forth. Our brethren who find themselves in a situation of considering an abortion need our love and support. We all understand this. Yet they need also to understand the reality and magnitude of evil in the abortive act. It is a "choice" to intentionally kill an innocent, voiceless and defenseless child—albeit a very young one. Look at a picture of an eight-week-old child in the womb and try to tell yourself it is not an infant.
Below are a few arguments used by "soft pro-choice" (anti-life) adherents and those "pro-lifer's" who postulate that abortion should be allowed under specific circumstances:
"Abortion should be allowed in cases of rape or incest; after all, who should ever force a woman in such a situation to give birth."
There is no better way to get at the truth of something than to face the issue squarely. Yet in order to do so we must be willing to call something for what it is, use the proper language in addressing the issue, and apply the correct meaning of words and phrases. Anti-life adherents have a deplorable habit of constructing verbally engineered slogans in order twist the evil reality of the act of abortion into something that sounds innocuous.
The statement above is in fact saying to the child: "I believe you should be killed because there is a negative event in your mother's past." Some are willing to kill a child because of mistakes others made before the child even existed.
"If the mother's life is in danger, abortion should be allowed."
Put another way: "My child, I believe you should die because you're putting a strain on your mother's health."
Supporters of abortion in cases of danger to the mother's life will, of course, object, insisting that the mother's health may not be merely strained but rather in real danger. However, it is extremely rare that a mother's life is in danger due to pregnancy. There are many cases in which doctors advised mothers to have abortions in order to protect their life which turned out to be unjustified. And, most importantly, whether or not the mother's life is in danger gives nobody the right to kill an innocent child. God is the author of life. Period.
Further, there are people who place the lives of others in danger through reckless driving, sinful drunkenness, carelessness in the workplace and so forth. Do we "choose" to kill these people simply because there exists the potential that they might hurt someone? No, of course not. Moreover, such an analogy, as helpful as it is, is flawed; for the child who lives in his mother's womb is innocent and helpless, and has committed no wrong against anyone. Unborn children are therefore not responsible for placing anyone's life in danger.
Our holy Catholic Church clearly teaches that it is never acceptable to commit an evil for an intended end result which is perceived to be good. We are not allowed to intentionally kill innocent children in the hope that some good will come of it.
The solution to the "mother's life is at risk" issue is that the life of both the mother and the child is to be protected.
"It's the woman's choice. It's between her and God."
Yes, it is between her and God. Every sin is an offense against God and neighbor, for which we will be held accountable. Praise God for his mercy! However, the fact that we are individually accountable for our moral choices before God is not the end of it. We have also as a society the moral responsibility to protect innocent human life. Nobody thinks it should be legal to commit murder. No man or woman has the "right" to choose to kill their unborn child.
It should also be noted that statement above is common among men whose wife is pro-choice. Perhaps they feel it excuses them from the responsibility of taking a stand on the issue, holding to the false notion that they cannot tell a woman what she "must do with her own body." However, every person is obliged to uphold Divine Law. God has commanded that "you shall not kill." Moreover, acting permissively of sinful behavior and immoral beliefs is itself sinful; we sin through our own faults, in what we have done and in what we have failed to do.
Let us pray:
"Father, give us the strength to carry out our duty in protecting the life of the unborn.
"Grant this through our Lord Jesus Christ, your Son, who lives and reigns with you and the Holy Spirit, one God, forever and ever. Amen."
Christ's peace.
*****
Please consider leaving a tip!
Photo Credit: pexels.com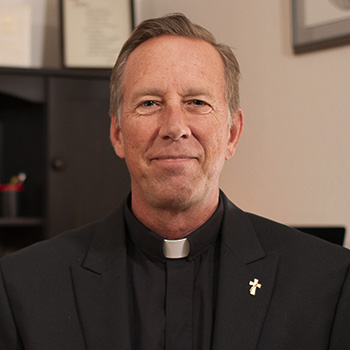 Deacon Frederick Bartels is a member of the Catholic clergy who serves the Church in the diocese of Pueblo. He holds an MA in Theology and Educational Ministry and is a Catholic educator, public speaker, and evangelist who strives to infuse culture with the saving principles of the gospel. For more, visit YouTube, iTunes and Google Play.