Sin and death, virtue and life. The prophet Ezekiel reminds us that these are the realities we face. Contrary to the moral permissiveness of the present age, we must take life and the choices we make seriously—very.
By Deacon Frederick Bartels
27 September 2017
Our readings today from the word of God warn of the iniquity of sin and its dangerous consequences. And they speak of its opposite: the life of virtue in obedience to the will of God the Father.
Speaking about sin, does our society have a good grasp on its deadly nature? Is there a widespread understanding of how it is an offense against God and neighbor, reason and truth; that it is harmful, that it can result in eternal death in hell? Sin and hell and punishment are not popular topics. This can be blamed, at least in part, on the fact that a clear, healthy view of sin seems to be on the wane.
Perhaps some of you have heard of Dr. Christian Smith and a fascinating study he did some years ago in which he interviewed hundreds of teenagers from various religious backgrounds. He found that teens in America, from many different religious affiliations, had several shared views about who God is and what he expects in their lives. He coined the phrase "moralistic therapeutic deism" to describe their views.
In his study, he found that teens generally agree that God exists, created the world, and watches over human life. As for how God expects us to live, they often said that God "wants people to be good, nice, and fair to each other." The central goal of life "is to be happy and feel good about oneself." They think that God is not particularly involved in their lives, except when they need something. Finally, they believe all "good people go to heaven when they die."
This de facto religion, as Dr. Smith calls it, is not in conformity with the Christian profession of faith. It's a new religion that has attached itself to other religious beliefs, including the beliefs of Catholics and other Christians:
Moralistic Therapeutic Deism is also about providing therapeutic benefits to its adherents. This is not a religion of repentance from sin, of keeping the Sabbath, of living as a servant of a sovereign divine, of steadfastly saying one's prayers, of faithfully observing high holy days, of building character through suffering, of basking in God's love and grace, of spending oneself in gratitude and love for the cause of social justice, etc. Rather, what appears to be the actual dominant religion among U.S. teenagers is centrally about feeling good, happy, secure, at peace. It is about attaining subjective well-being, being able to resolve problems, and getting along amiably with other people.
Central to this de facto religion, is the belief that "good people go to heaven." Which begs the question, what does it mean to be good? Teens believe it means getting along well with others, striving to better oneself and be successful, and living a happy life. For these teens, the moral demand God makes in their lives is simply to be "nice" people.
Dr. Smith also found that teens did not cook up these ideas on their own. They absorbed them from their parents and from society. They assimilated these ideas not simply from their peers but from others deemed as authority figures. As a result, it follows that large segments of society seem to think heaven is a given, so long as people get along well with others and strive to be good citizens—so long as they don't do something "really bad," like murder someone, rob a bank, or hijack an airplane.
I imagine if I were to ask people this question: "What will you say to God at your judgment, when he asks if you should be admitted into his kingdom?" Many will answer: "I would say that I'm a good person."
Well …. no. Wrong answer. That answer betrays a fundamental misunderstanding about how salvation works. No one is good enough to deserve heaven. We are saved by the death of Christ on the cross. He sacrificed his human life for the expiation of our sin, to redeem humankind, and open the way to heaven. We are saved by virtue of repentance, baptism, and grace working through faith in Christ. No one has access to the Father but through Christ (John 14:6).
To be sure, the divine faith of the Church is not primarily about a list of "thou shalt nots." The immediate and pressing goal is to enter into personal communion with Christ. Nevertheless, living an upright moral life in Christ is tied to salvation. The "thou shalt nots" matter. They bear on eternal life and eternal death.
Let's turn to our first reading, the words of the prophet Ezekiel (chapter 18).
I can imagine the fiery Ezekiel shouting from a hilltop: "Thus says the LORD: When someone virtuous turns away from virtue to commit iniquity, and dies, it is because of the iniquity he committed that he must die." Ultimately this means that when someone turns away from a righteous, virtuous, and upright moral life and chooses to live a life of mortal sin, he will suffer eternal death, should he fail to repent of his sin and die in that state.
Another way of looking at it is to say that God judges the state of our soul at death based on the life we're living prior to the moment of death. Although we might have done good things in the past, if we die in a state of rejection of God through the commission of mortal sin, we will be forever lost. Death is the finish line: if we cross it with sanctifying grace, which is necessary to inherit heaven, we win forever. If we cross the finish line without this life-giving grace, we lose forever.
The Catechism teaches:
Mortal sin is a radical possibility of human freedom, as is love itself. It results in the loss of charity and the privation of sanctifying grace, that is, of the state of grace. If it is not redeemed by repentance and God's forgiveness, it causes exclusion from Christ's kingdom and the eternal death of hell, for our freedom has the power to make choices for ever, with no turning back.

CCC, 1861
Mortal sin is committed when we sin in a grave or serious way, such as is found in breaking one of the ten commandments, and we do so with full knowledge and complete consent. For example, there are people today rioting in the streets of our cities, destroying people's lives and property, beating people and murdering police officers. That activity is gravely sinful. If they engage in these injustices with knowledge of their sinful character and do so deliberately, they commit mortal sin, which severs their relationship with God. People who support these moral evils, who do so intentionally, knowing they are incommensurate with the good, also commit mortal sin—even if they claim to be acting in the name of "justice."
Although just about everyone agrees that rioting and pillaging and murder is wrong, people often think that God is permissive of other grave wrongdoing, especially in areas that relate to sexual sins. So, while people decry torching businesses, they often won't do the same for something like cohabitation. Notice that this attitude and behavior is a case of man judging himself, making up his own convenient rules, based on his own convenient and self-gratifying human standards.
What is often overlooked, dismissed or rejected is God's standards, clearly spelled out in his sacred Word and the belief and teaching of the Church. For example, it's common to hear people insist they're "good people" while they cohabit or contracept or support other intrinsic evils in deed or word, such as support for abortion to some degree or physician-assisted suicide or same-sex unions. People who claim to be "good people" often vote to elect anti-life politicians who support the intentional killing of pre-born children or approve of letting aborted infants who survive abortions die alone, without medical care, in some cold, sterile room while, at the same time, they claim to want to make medical care readily available to other people. Or perhaps these "good people" are deliberately and heedlessly breaking some of the other commandments. The point is, men today are often living by the rule of man, not by the rule of God.
As we know, salvation is tied to living a virtuous, upright moral life in Christ. Aided by God's grace, we are required to live a virtuous life and avoid sin. Virtue and sin are incompatible, contradictory, like oil and water. It's not possible to be a virtuous person and live a life steeped in grave sin.
The question is, what does it mean to live a virtuous life? As a start, it does not mean "being nice," "successful," and "getting along well with others."
Virtue is a good habit that is practiced or repeated until it becomes habitual or natural. For example, when a person gives to others their proper due, and lives in right relationship with God and neighbor, and does so consistently until it becomes an integral part of his character, he possesses the cardinal virtue of justice.
What does a virtuous life look like? That's a complex question. To put it simply, living a virtuous life means free and loving obedience to God's commandments. It begins with humility before God, as St. Paul teaches us today, when he urges us to have "the same attitude that is also in Christ Jesus, Who, though he was in the form of God, did not regard equality with God something to be grasped. Rather, he emptied himself, … becoming obedient to the point of death, even death on a cross."
A truly virtuous person imitates the life of the Lord Jesus Christ. He strives to live the life of holiness in union with Christ, who is himself perfectly virtuous because he is God-made-man. The life of virtue is the life of obedience to God.
That kind of life is not easy. It requires courage in the Holy Spirit and persistence. And, as Catholics we know we are sinners. Even highly virtuous people fall into sin. In response to the dangers of sin, Christ has instituted the sacrament of confession in his Church for those times when we have failed to do the good. The beauty of the sacrament of penance is that we can walk through the doors of the confessional, having destroyed our relationship with God through mortal sin, repent of our sins and make a good confession, and receive absolution from the guilt of sin. Then, once again, we are friends of God. Once again, the Holy Spirit dwells within our souls. The sacrament of confession is a merciful treasure that restores the mortal sinner to God's grace and to sainthood, helping him to regain a foothold on virtue.
Read about how the resurrection defeats the throes of death.
Praise be to the Lord Jesus, through our repentance God's mercy becomes infinitely and readily available to us. As the prophet Ezekiel teaches us today, if a man "turns from the wickedness he has committed," and "he does what is right and just, he shall preserve his life; since he has turned away from all the sins that he has committed, he shall surely live, he shall not die."
Our Lord's saving death on the cross and the graces that flow from it make it possible for each and every one of us to clearly recognize sin for what it is, turn away from it, begin anew, and enter into eternal life.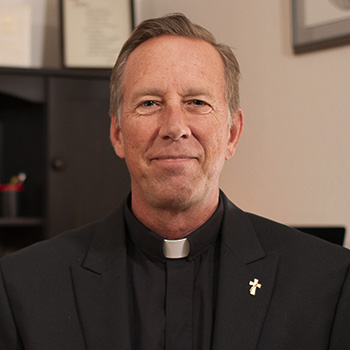 Deacon Frederick Bartels is a member of the Catholic clergy who serves the Church in the diocese of Pueblo. He holds an MA in Theology and Educational Ministry and is a Catholic educator, public speaker, and evangelist who strives to infuse culture with the saving principles of the gospel. For more, visit YouTube, iTunes and Google Play.