One of the gravest misuses of God's name in American culture is the widespread habit of using it trivially to express excitement, astonishment or incredulity. All these are a sign that one lacks a deep, loving respect for the Tripersonal God.
By Deacon Frederick Bartels
16 June 2018
Jesus said to his disciples: "You have heard that it was said to your ancestors, Do not take a false oath, but make good to the Lord all that you vow. But I say to you, do not swear at all; not by heaven, for it is God's throne; nor by the earth, for it is his footstool; nor by Jerusalem, for it is the city of the great King. Do not swear by your head, for you cannot make a single hair white or black. Let your 'Yes' mean 'Yes,' and your 'No' mean 'No.' Anything more is from the Evil One." (Mt 5:33-37)
In today's gospel, Jesus warns about the gravity of swearing oaths. During his time on earth, oath swearing was frequent, riddled with intricate rules and details, and widely abused. What does the Catechism teach about swearing oaths or calling on the Lord's name?
In the Sermon on the Mount, Jesus explained the second commandment: "You have heard that it was said to the men of old, 'You shall not swear falsely, but shall perform to the Lord what you have sworn.' But I say to you, Do not swear at all. . . . Let what you say be simply 'Yes' or 'No'; anything more than this comes from the evil one." Jesus teaches that every oath involves a reference to God and that God's presence and his truth must be honored in all speech. Discretion in calling upon God is allied with a respectful awareness of his presence, which all our assertions either witness to or mock. (CCC 2153)
Following St. Paul, the tradition of the Church has understood Jesus' words as not excluding oaths made for grave and right reasons (for example, in court). "An oath, that is the invocation of the divine name as a witness to truth, cannot be taken unless in truth, in judgment, and in justice." (CCC 2154)
The holiness of the divine name demands that we neither use it for trivial matters, nor take an oath which on the basis of the circumstances could be interpreted as approval of an authority unjustly requiring it. When an oath is required by illegitimate civil authorities, it may be refused. It must be refused when it is required for purposes contrary to the dignity of persons or to ecclesial communion. (CCC 2155)
I think one of the gravest misuses of God's name in American culture is the widespread habit of using it trivially to express excitement, astonishment or incredulity, not to mention its frequent use as an expletive or curse. Using God's name in these ways is an obvious sign of lack of love, devotion, and reverence for the Tripersonal God who himself created and sustains the physical universe, and whose love is the first cause of your existence. It is not possible to claim one has an intimate, personal relationship of communion with Christ when one uses God's name disrespectfully or carelessly.
The only reason you exist in the present is because God is constantly thinking of you in a loving, sustaining, fatherly way. God is thinking you into being this very moment!
It's important to reflect on these questions: When I use God's name, do I do so with adoration, love, and respect? Or, on the other hand, do I frequently use God's name without giving it a second thought, not realizing that God is present and offended by a heedless, sinful lack of respect for him? Am I aware that God hears and remembers every word I utter? Or, on the other hand, do I view God as a kind of distant, impersonal and unknowable "power" who is unconcerned with the way I act and the things I say?
If you desire unending happiness and the fullness of life, you have to grow closer to God! One of the best places to begin is to show adoration, respect, and fear for his name. This can only take place in humility. We must truly, in the depths of our hearts, recognize and accept just how desperately dependent upon God we are for everything, including taking a breath this moment.
God has granted us life! He gifts us with love! He gave his only Son in order to bestow on us life in abundance! All praise and honor to you, Blessed Trinity!
Christ's peace.
*****
Please support Joy In Truth by sharing on social media.
Photo by Andre Benz on Unsplash.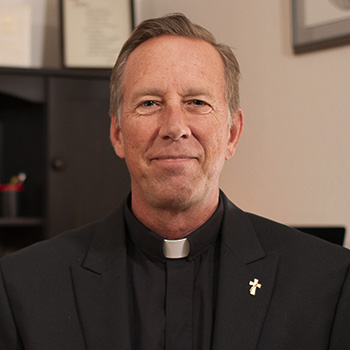 Deacon Frederick Bartels is a member of the Catholic clergy who serves the Church in the diocese of Pueblo. He holds an MA in Theology and Educational Ministry and is a Catholic educator, public speaker, and evangelist who strives to infuse culture with the saving principles of the gospel. For more, visit YouTube, iTunes and Google Play.