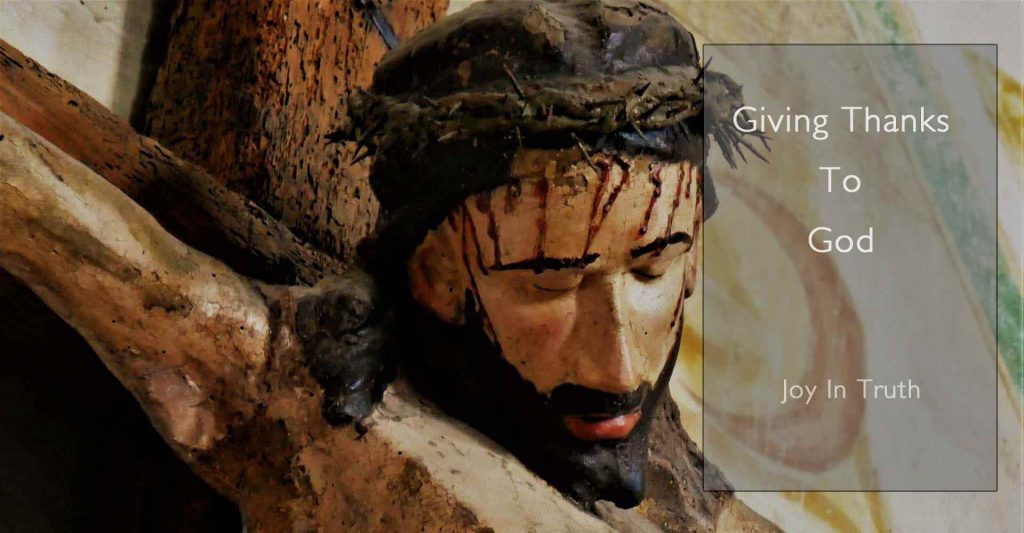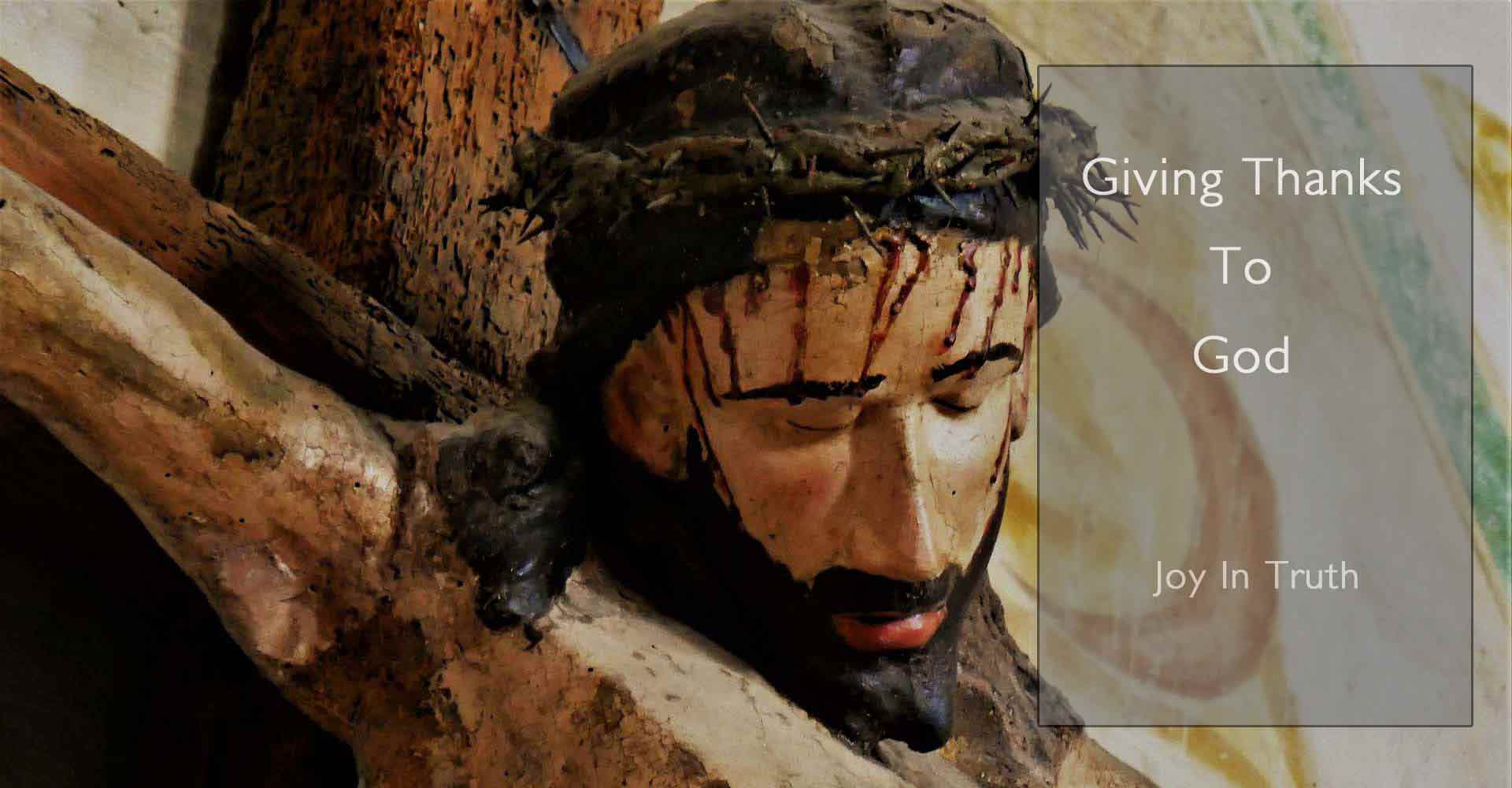 This Thanksgiving, let's give thanksgiving in Christ. Let us be especially mindful of giving thanks to God for the gift of his incarnate Son, Jesus Christ.
By Deacon Frederick Bartels
23 November 2017
The Thanksgiving holiday seems a nice, festive break from the daily grind. More importantly, it's a time to get together with family and friends, enjoy a meal, relax and share some fellowship. I remember celebrating Thanksgiving with my grandparents and other relatives on my mother's side of the family as a child. I would characterize the experience as uncomfortable because I was so young, placed awkwardly amongst a house full of adults I hardly knew. At that time, I didn't like turkey—it was far too dry and difficult to swallow. Cranberry sauce and stuffing were hardly my favorites either. I usually opted for a ham slice or two, rolls with butter and honey, and a wedge of cherry pie. My favorite dessert was the chocolate fudge ice-cream my grandmother always served after the rest of the meal was put away. Later, I sat quietly in a corner of the living room, listening to the stories my grandfather told of the "old days" with horse-driven plows while he smoked his pipe.
My grandfather loved to tell stories. He was good at it too. If I so much as get a hint of sweet-smelling pipe tobacco, the memory of him sitting in his chair in the family-room floods right in.
I'm much older now, but in some ways, Thanksgiving hasn't changed all that much. While the turkey is consumed and wine glasses clink, I can't help but notice the slight feeling of emptiness that underlies the occasion. It's still a little uncomfortable, I suppose; not because I hardly know the people at the table, but because there's something missing. My heart longs for a different kind of celebration in a different kind of place. And until I am there, there will always be something missing.
As others talk, my thoughts turn in hope to Jesus Christ. I recall the promise of eternal life for those who give themselves over to him in dedication and love. I thirst for God, whose radiant warmth and peace put all things into place and whose love replaces emptiness with burning joy and indescribable contentment. In Jesus Christ, we are destined for a permanent Thanksgiving—an eternal banquet of abundant beauty and goodness. At that table, in that place, there will no longer be any hint of emptiness.
I'm also reminded of the importance of gratitude for the many gifts God has given me. I owe my life and breath this moment to his creative and sustaining power and love. Everything I have—all good things—find their origin in him. It's a natural thing, really, to be thankful toward God. Not only will I miss out on the banquet of fullness and peace he offers if I fail to express my gratitude, but I would not really be fully human if it were absent.
Gratitude is the first sign of a thinking, rational creature. Be sure, if the enemy of our souls is pleased at anything in us, it is ingratitude of whatever kind. Why? Ingratitude leads to so many breaks with God and our neighbor—Blessed Solanus Casey.
But gratitude cannot exist apart from humility. It is there, with humility, that we must begin. For if we do not, we will likely find that pride has uprooted any hint of it. Oddly, the prideful man is in a way grateful for himself because he sees himself as the center of the universe. He might be characterized as a person of self-gratitude. He thinks that he is in control, that everyone else owes him something. That is an illusion, of course, carefully and tightly constructed within a hardened, closed-in heart. The worst of it—this overgrowth of pride—is that it isolates him from others and from God. He may be a towering figure at his Thanksgiving table, but he sits alone.
I must always be mindful of humility as a virtue indispensable for union with Christ. C. S. Lewis wrote in The Weight of Glory:
For each of us the Baptist's words are true: "He must increase and I decrease." He will be infinitely merciful to our repeated failures; I know no promise that He will accept a deliberate compromise. For He has, in the last resort, nothing to give us but Himself; and He can give that only in so far as our self-affirming will retires and makes room for Him in our souls.
I must decrease that Christ may increase. The more humble and little I become before him, the more he raises me up. "All who exalt themselves will be humbled, and all who humble themselves will be exalted" (Mt 23:12). St. Teresa of Avila noted that the more we give ourselves to Christ, the more he gives himself to us. Without humility, I have no gratitude, and without gratitude, I cannot give myself to Christ. If I am ungrateful for his many gifts, I can hardly get to know who he really is. I certainly cannot love him because I cannot love who I do not know.
Humility, gratitude, thankfulness. As I enjoy turkey, family, fellowship, and dessert, my heart returns again and again to the God for whom I long; to the God whose love is so radical and extreme that he would become man and die on a Roman cross for me, for you, for us all.
Read: Thanksgiving and remembering why we are faithful.
Thank you, my God, for your many gifts; especially for the gift of your incarnate Son who gave his life for the sake of love.
Blessed Solanus Casey quoted in OSV Newsweekly, November 12-18, 2017, p. 13.
Photo Credit: pixabay.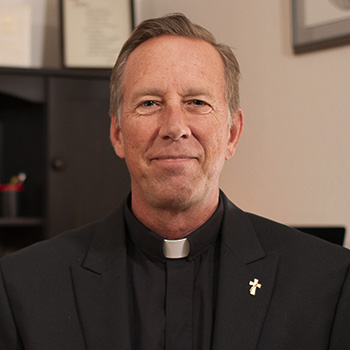 Deacon Frederick Bartels is a member of the Catholic clergy who serves the Church in the diocese of Pueblo. He holds an MA in Theology and Educational Ministry and is a Catholic educator, public speaker, and evangelist who strives to infuse culture with the saving principles of the gospel. For more, visit YouTube, iTunes and Google Play.