The new pagans of this age labor to guard their false philosophies by annihilating judgment. Even Christians can be swayed by their influence. The Bible, however, does not prohibit objective moral judgment of others, but rather encourages it. Jesus Christ himself urges brotherly and fraternal correction (see Mt 18:15).
By Deacon Frederick Bartels
15 August, 2013
A correct understanding of judgment—that is, the process of moral discernment in which a determination is made of whether a particular human action or lack of it is morally right or wrong, good or bad–has become so diluted in the contemporary age of the "new paganism" that, as Peter Kreeft writes, the only judgment remaining "is the judgment against judging."
The new pagans who battle against judgment fail to abide by their own precepts, however. While their final ruling is, apparently, the adamant refusal to judge anyone for anything, they refuse to play by the rules of their own making. People who disagree with their take on things are unhesitatingly judged, at the least, to be in error, and, most often, to be "intolerant religious bigots."
The distortion of what it means to judge has led also to a distortion of what it means to be tolerant. The tolerance of the age is a false tolerance: it happily tolerates the intolerable and roundly condemns a consistent respect and conviction for goodness and human dignity.
The first and most terrifying example that comes to mind is legalized abortion. The new pagans shout "judge not" in their support of the intentional killing of innocent unborn children. However, those who point out that a consistent respect for human life and the dignity of every human person is gravely contradicted by the evil of legalized abortion are quickly judged to be "moralist radicals" who are intolerant of "women's reproductive rights." Dare not ask, "Since when is killing children radical?" for then you are being "judgmental."
Perhaps this attitude in favor of annihilating judgment makes some feel a little better about themselves. After all, if one must not judge the actions of others, one must not judge his own actions either. Judgment is simply off limits. Whether interior or exterior; whether looking within or without; it is something that must be done away with.
But it cannot be done away with. Everyone, whether consciously or unconsciously, makes decisions about what is good or bad for themselves and for others. We would not get out of bed in the morning unless we judged that particular action to be in some way good. If we thought it harmful to leave the covers, we would remain cautiously snuggled underneath.
The human person is "wired" to make moral judgments, to decide what is right or wrong, good or bad, to discern situations and circumstances. If we were incapable of judging, we would also be incapable of choosing, which would then mean we lacked free will. No longer would the human person be a rational animal, but an irrational one enslaved by instinct. We are, however, created in God's image and likeness and given the gift of free will. We are made to make judgments in order to determine what is good and avoid evil, and thus find our way to the ultimate, infinite and perfect good who is God.
The important thing to remember is that humankind does not create moral laws. Judgment does not originate in or from man. Relativism is dangerous because it is founded on the false notion that man determines what is true for himself. Given humankind's tendency toward sin, relativism puts everyone and everything at risk. Nevertheless, divine law, moral law–these originate in the Creator, in God. We achieve our destiny and judge correctly when we align our actions and moral decisions in accordance with God and his goodness.
In the normal course of a day we make many determinations of what is right or wrong, good or evil. The problem arises when people begin to think that their actions are above judgment or that they must never objectively judge the actions of others. These types of ideas lead to all manner of errors and social sin.
Note that we are not here speaking of subjective judgment of the state of a person's soul. Will someone enjoy eternal life in communion with God? Is my neighbor saved? We cannot know the answers to these questions. Only God knows. However, we do know when a particular human action, such as idolatry, using God's name disrespectfully, deception, murder, rape, theft, fornication and so forth, is objectively immoral or sinful.
Some think silence is best in the face of grave sin. But that is a serious error. We are not helping our brothers or sisters by withholding the truth. Souls can be lost by silence taken as approval. If we say we have not sinned, we make God a liar (1 Jn 1:10), which means we all need correction, admonishment and support. A dose of wisdom is light to the soul. The idea that we harm a friend by speaking the truth is perhaps one of the greatest errors of the age.
It may come as a surprise to some Christians that, when the Gospel is taken as a whole in its proper context, we are called by God to discern by the light of faith our actions and the actions of others. In fact, we are to, in a balanced way and within certain limits, voice our opposition to sin (especially grave sin) with the aim of the salvation of another's soul in mind. This, of course, does not mean nitpicking someone for a minor fault of human weakness; nor does it mean constantly pointing fingers, or being rashly judgmental or condemnatory; it does not in any way favor inappropriate harshness but rather charity, compassion, concern and love; and it most certainly does not mean attempting to correct the faults of another while refusing to examine and correct our own.
When Christians speak about refusing to judge others, they often impartially quote the verses from either Matthew chapter 7 or Luke chapter 6 that speak about judgment. Both are very similar.
In Luke (6:37) Jesus says, "Judge not, and you will not be judged; condemn not, and you will not be condemned" (Lk 6:37). If we take this verse in context of what comes before and after, however, we find that the overarching message is one of mercy, forgiveness and love for enemies. While Jesus is condemning rash judgment, his words are not a total condemnation of judging whether particular actions are good or evil. We know this because he goes on to speak about removing the "log" from our eye before attempting to remove the "speck" from another's eye. Once one begins to live a life of holiness, seeing clearly, he can then indeed assist his brother in removing the "speck" that is in his eye (41-42). There is indeed a place for speaking the truth and for fraternal correction.
We know Jesus does not condemn attempts to correct sinful actions because he tells us that "If your brother sins against you, go and tell him his fault, between you and him alone" (Mt. 18:15). Here we have one of the most important and revealing narrations concerning proper judgment as well as the authority given the Church by God himself. Jesus goes on to say:
If he listens to you, you have gained your brother. But if he does not listen, take one or two others along with you, that every word may be confirmed by the evidence of two or three witnesses. If he refuses to listen to them, tell it to the Church; and if he refuses to listen even to the Church, let him be to you as a Gentile and a tax collector. (18:15-17).
Recall that the Jews viewed Gentiles and tax collectors as outsiders who were to be shunned and avoided. Jesus himself, then, encourages strong admonishment, if necessary, but it is to be always tempered with mercy and with the aim in mind of spiritual healing and the achievement of unity. In fact, to help someone to be healed spiritually through encouraging free and loving obedience to the truth is itself an act of love.
We find another example with St. Paul, who wrote, "Therefore do not pronounce judgment before the time, before the Lord comes, who will bring to light the things now hidden in darkness and will disclose the purposes of the heart" (1 Cor 4:5). Here, however, Paul is speaking of criticisms made by others of his own ministry. He is not denouncing proper, objective judgment against sinful actions.
We know Paul does not advocate a total refusal to properly judge within the right context, since he tells us elsewhere to let "the word of Christ dwell in you richly, as you teach and admonish one another in all wisdom" (Col. 3:16).
In Paul's letter to the Ephesians we read: "Take no part in the works of darkness, but instead expose them" (5:11). Turning our back in silence does nothing to expose works of darkness.
In the letter of St. James, we learn that fraternal correction is a work of mercy: "My brethren, if any one among you wanders from the truth and some one brings him back, let him know that whoever brings back a sinner from the error of his way will save his soul from death and will cover a multitude of sins" (5:19-20).
Article 1868 of the Catechism of the Catholic Church teaches:
Sin is a personal act. Moreover, we have a responsibility for the sins committed by others when we cooperate in them: by participating directly and voluntarily in them; by ordering, advising, praising, or approving them; by not disclosing or not hindering them when we have an obligation to do so; by protecting evil-doers.
Clearly, one purpose of our life is to labor to heal others. To judge correctly and with charity in order to assist and guide our brothers and sisters along on their pilgrim journey is in itself a great gift. The wise person embraces fraternal correction, for he knows it is for the good of his soul. He listens intently and carefully, eagerly following sound Christian advice that is in accordance with the will of God.
Perhaps all of this is best put into perspective if we recall that we are family. Family watches out for family. Family takes care of family.
If we are family, then we are, too, friends. Friends speak openly and sincerely from the heart. They do not hide what should not be hidden; nor do they refuse to speak about what must be spoken of. Above all, friends help each other.
Christ's peace.
*****
Please consider helping to maintain this site with a donation.
Photo Credit: Clinton & Charles Robertson (Flickr)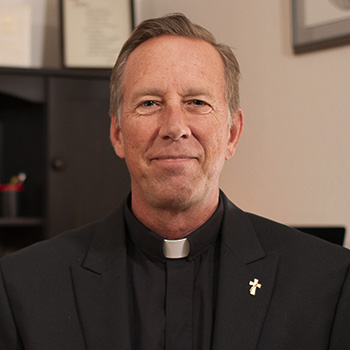 Deacon Frederick Bartels is a member of the Catholic clergy who serves the Church in the diocese of Pueblo. He holds an MA in Theology and Educational Ministry and is a Catholic educator, public speaker, and evangelist who strives to infuse culture with the saving principles of the gospel. For more, visit YouTube, iTunes and Google Play.