There are many paths or portals through which evil spirits are enabled to gain personal access to our lives in extraordinary ways. These doorways provide evil spirits with a kind of "permission" or "right" to oppress, obsess and even possess people. Christians would do well to carefully avoid them.
By Deacon Frederick Bartels
10 October 2018
Last night I was once again blessed to be given the opportunity to expose the Blessed Sacrament—our Lord Jesus Christ's body, blood, soul, and divinity sacramentally present under the sign of bread—and lead benediction at Fr. Greg Bramlage's prayer ministry service. This was the second night of his mission at St. Joseph Church in Grand Junction, CO.
For more info on Fr. Bramlage and his mission work, go here, here and here.
Each night has proved to be spiritually enriching and productive. The main focus last night was renouncing evil spirits and ensuring that we avoid engaging in activities that open portals for the devil and his team of nefarious, demonic minions to enter into our lives. Fr. Bramlage spent part of the evening educating Catholics and other Christians about what some of these portals or doorways are, what can happen when we open up these paths to demonic activity and influences, and the essential importance of avoiding them through living a Christian life of holiness in Christ.
There are many avenues evil spirits can use to gain access to our lives and our person. The most common and ordinary way we experience demonic activity in our lives is through temptation. We all know what that is about. Evil spirits use temptation as a tool through which a person is led to give his personal consent to sin, which means the person is culpable before God for having sinned. In other words, although evil spirits tempt people to sin, it is the person who himself consents to engage in sinful activities. In this way, evil spirits lead people indirectly into damnation. While temptation can come from evil spirits, they are not its only source. Other sources of temptation include the flesh (passions, sensuality, disordered desires and so forth) and the world.
There are other forms of demonic activity through which people suffer attacks, such as oppression, obsession and possession. These types of attacks are of an extraordinary nature and therefore are not as common as temptation. Fr. Bramlage emphasized the fact that evil spirits are ready and waiting to seize any opportunity to attach themselves to us in some way, bringing harm into our lives. St. Ignatius of Loyola taught similarly. He noted that the spirit of evil examines us as a battle commander carefully and expertly examines a fortress, searching for any weak point in the structure through which to gain entry. When one is found, he initiates his planned assault decisively and forcefully.
Be alert and of sober mind. Your enemy the devil prowls around like a roaring lion looking for someone to devour. (1 Pet 5:8)
Again, there are many paths or portals through which evil spirits are enabled to gain personal access to our lives in extraordinary ways. These doorways provide evil spirits with a kind of "permission" or "right" to oppress, obsess and even possess (possession is rare) people. Fr. Bramlage noted many examples such as Ouija boards, bringing cursed objects into one's home, seances, necromancy, Free Masonry, charms, tarot cards, the practice of Yoga (which is an un-Christian form of eastern polytheistic meditation and worship), the use of mediums, New Age spirituality, mindfulness and transcendental meditation, astrology, astral projection, etc.
Common aspects many of these practices share include an unhealthy curiosity, an attempt to gain knowledge of the future, wield power over others, and otherwise have access to supernatural abilities contrary to the divine faith. All are opposed to Christian trust in God and his providence. When knowingly and deliberately practiced, they are rooted in the capital sin of pride.
Many of these activities involve divination, spiritism, and magic. The Catechism of the Catholic Church teaches that dabbling in these practices is a sin against the first commandment:
All forms of divination are to be rejected: recourse to Satan or demons, conjuring up the dead or other practices falsely supposed to "unveil" the future. Consulting horoscopes, astrology, palm reading, interpretation of omens and lots, the phenomena of clairvoyance, and recourse to mediums all conceal a desire for power over time, history, and, in the last analysis, other human beings, as well as a wish to conciliate hidden powers. They contradict the honor, respect, and loving fear that we owe to God alone. (2116)

All practices of magic or sorcery, by which one attempts to tame occult powers, so as to place them at one's service and have a supernatural power over others – even if this were for the sake of restoring their health – are gravely contrary to the virtue of religion. These practices are even more to be condemned when accompanied by the intention of harming someone, or when they have recourse to the intervention of demons. Wearing charms is also reprehensible. Spiritism often implies divination or magical practices; the Church for her part warns the faithful against it. Recourse to so-called traditional cures does not justify either the invocation of evil powers or the exploitation of another's credulity. (2117)
It's often the case that people find they have opened these portals unwittingly. For instance, Fr. Bramlage told a story about a woman who had inherited a valuable and extensive antique collection that she had placed in her home. Soon after, bad things began to happen. It was later discovered that the antique collection formerly belonged to someone who regularly held seances in their basement. This practice resulted in a kind of curse being transferred upon various objects in the home, which, of course, included the antique collection. When it was inherited and moved into another home, evil spirits traveled to the new location along with it. The solution was to destroy the collection, dispose of it properly, and bless the home to rid it of demonic infestation.
Another example is Yoga, a practice highly popularized and widespread in America as a form of physical exercise. Few American Christians understand that it is a physical-spiritual system that seeks to integrate body, mind and spirit with internal, mystical forces in order to achieve a type of enlightened state of oneness with the universe. It is based on eastern polytheistic religions such as Hinduism, Buddhism, and Jainism, with postures signifying worship given to various false gods (such as Shiva, pictured above) or material beings (such as the sun or moon). I've written elsewhere about the potential dangers of Yoga.
Fr. Bramlage stressed that all Christians have the power to drive evil spirits from their homes and lives. This power is constituted in Christ himself, who shares his divine life and power over evil with those who have given themselves over to him in faith. In other words, a Christian's power over evil spirits is Christ himself. It's not a power we have of ourselves; it's a power we receive through Christ and in participation with him. An important part of the evening included Fr. Bramlage's teaching on how to renounce evil spirits in Jesus' name and free one's life from their demonic influences.
And these signs will accompany those who believe: In my name they will drive out demons… (Mk 16:17)
All of this means that in order to keep the door of our life firmly closed to evil spirits and their nefarious intent, we must be joined to Christ and remain in contact with him by virtue of faith. We must be a person of prayer whose life is governed and elevated by reception of the sacraments of the Church and who participates regularly in the Sunday Eucharist. We must strive to be a person of virtue who lives the gospel life of holiness. In a word, we must authentically Catholic and Christian!
It is Jesus who is our protection and power. It is in a personal relationship of intimate communion with Jesus that we are are saved. It is Christ who has defeated our greatest enemy: the devil.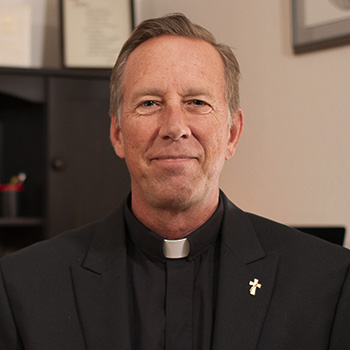 Deacon Frederick Bartels is a member of the Catholic clergy who serves the Church in the diocese of Pueblo. He holds an MA in Theology and Educational Ministry and is a Catholic educator, public speaker, and evangelist who strives to infuse culture with the saving principles of the gospel. For more, visit YouTube, iTunes and Google Play.