In our second reading for today, St. Paul speaks about how the Church is founded by Christ himself. Through apostolic succession, men who have received the sacrament of Orders continue to build on the foundation of the Church as it grows to full stature as the New Temple, which is Christ's body and God's building.
By Deacon Frederick Bartels
9 November 2018
The second reading at Mass today in which we celebrate the Feast of the Dedication of the Lateran Basilica in Rome is taken from 1 Corinthians 3:9 ff.
Brothers and sisters: You are God's building. According to the grace of God given to me, like a wise master builder I laid a foundation, and another is building upon it. But each one must be careful how he builds upon it, for no one can lay a foundation other than the one that is there, namely, Jesus Christ.
In this reading, St. Paul teaches that the Church is built upon the foundation of Christ. The Church, then, is divinely instituted by Christ himself, as we find in Matthew 16:17-19, when he placed the leadership of his one Church on the shoulders of St. Peter.
Learn more about the Church here and here, and here.
We are made members of the Church by the communication of the Holy Spirit, through whom we are configured to Christ and made members of his body, as living stones built into a New Temple.
St. Paul speaks about how, "like a wise builder," he laid a foundation, and "another is building upon it." This speaks to apostolic succession, one of the four unique marks of the Catholic Church. Apostolic succession—a laying on of hands and a passing on of the authority of the apostles by virtue of the sacrament of Holy Orders—guarantees that the ministry of Christ and his saving gospel is communicated to all generations in its completeness, with full purity, absent from corruption, compromise, and false accommodations.
Let us all be reminded today of the necessity and importance of remaining within God's building—the one, holy, catholic and apostolic Church—and encourage those outside her boundaries to enter into her fold that they may gain eternal life as members of Christ's physical body, for as the Savior clearly stated, "No one can come to the Father except through me" (Jn 14:6).
*****
Sharing is caring. Please support Joy In Truth by sharing on social media.
Photo Credit: By Tango7174 [GFDL (http://www.gnu.org/copyleft/fdl.html) or CC BY-SA 4.0 (https://creativecommons.org/licenses/by-sa/4.0)], from Wikimedia Commons.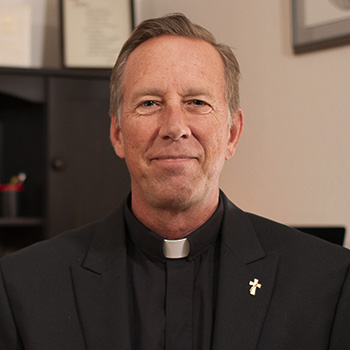 Deacon Frederick Bartels is a member of the Catholic clergy who serves the Church in the diocese of Pueblo. He holds an MA in Theology and Educational Ministry and is a Catholic educator, public speaker, and evangelist who strives to infuse culture with the saving principles of the gospel. For more, visit YouTube, iTunes and Google Play.