Flowing from the human person, work has transcendent value.
By Deacon Frederick Bartels
4 September, 2017
Today we celebrate Labor Day in the U.S, a day on which we recognize the value of work and the dignity of the worker who produces it.
Man is created in the Imago Dei, in the image and likeness of God, whose eternal and divine call unceasingly reaches into man's heart in the present, into the circumstances of his daily life, urging him to faithfully respond to this sublime call and thereby attain his destiny of assumption into eternal communion with the Tripersonal God. Redeemed and restored by the sacred blood of Christ, man is gifted with the task of participating in the creating, redeeming and sanctifying activities of the Creator. One essential way in which man freely engages in this wondrous enterprise is through his work, whereby he thoughtfully shapes created realities in accord with God's plan of goodness, promoting the common good of all.
God has given man dominion over the earth. According to the Creator's plan, "the created realities, which are good in themselves, exist for man's use" (Compendium of the Social Doctrine of the Church, 115). Man was given the vocation to work at the very dawn of creation in his charge from God to subdue the earth; therefore, man's activity of just and honest work "represents a fundamental dimension of human existence" (Ibid. 117). When man unites his labor to Christ in faith, it becomes a "participation not only in the act of creation but also in that of redemption" (Ibid). Work, then, has a transcendent value. We see its full value only by the light of divinely revealed faith.
Pope St. John Paul II writes in Laborem Exercens (Through Work) on the dignity, value and nature of human work:
THROUGH WORK man must earn his daily bread and contribute to the continual advance of science and technology and, above all, to elevating unceasingly the cultural and moral level of the society within which he lives in community with those who belong to the same family. And work means any activity by man, whether manual or intellectual, whatever its nature or circumstances; it means any human activity that can and must be recognized as work, in the midst of all the many activities of which man is capable and to which he is predisposed by his very nature, by virtue of humanity itself. Man is made to be in the visible universe an image and likeness of God himself, and he is placed in it in order to subdue the earth. From the beginning therefore he is called to work. Work is one of the characteristics that distinguish man from the rest of creatures, whose activity for sustaining their lives cannot be called work. Only man is capable of work, and only man works, at the same time by work occupying his existence on earth. Thus work bears a particular mark of man and of humanity, the mark of a person operating within a community of persons. And this mark decides its interior characteristics; in a sense it constitutes its very nature. (LE introduction)
Man is placed in the universe to be a living sign of God's presence. Since he is a moral agent, man's labor is of a moral nature: it can be completed in harmony with God and his loving plan, or, on the other hand, it can be used as a source of contradiction to divine goodness. When man unites his labor in faith to Christ, it takes on redemptive qualities. Any honest work offered to God and completed with the right intentions can be sanctified in union with the Holy Spirit. This means that, ultimately, man's work attains its full value when it is freely joined in union with God's providential plan and wise governance over the created order. In this way, work takes on a sacred character and becomes a means of authentic human development, builds up the common good, and leads others to embrace the loving goodness of the Creator.
The light of faith reveals that work is a participation in God's plan; as such, even ordinary, daily activities of work take on a new dimension which far surpasses any simply material and/or worldly valuation:
For, while providing the substance of life for themselves and their families, men and women are performing their activities in a way which appropriately benefits society. They can justly consider that by their labour they are unfolding the Creator's work, consulting the advantages of their brothers and sisters, and contributing by their personal industry to the realization in history of the divine plan. (Gaudium et Spes 34)
Given the tendency for work to be idolized, it is important to note that work is made for man; man is not made for work. In today's society, employers are tempted to look on employees in a materialistic way, as drones to be moved about in order to produce ever greater profits. This disordered intention places the work produced above the human person who is its subject; it degrades the worker and fails to uphold human dignity. John Paul II noted that the subject of all work, whether of a manual or intellectual nature, is man; therefore, work flowing forth from the hands of the human person possesses dignity and has a transcendent dimension. Work, then, has priority over capital, because capital is first produced by the worker and would not exist in his absence (Laborem Exercens 11 ff.).
In her social teaching, the Church constantly stresses and seeks to uphold the dignity of the worker and his work, noting the transcendent dimension of man as destined to eternal communion with the Tripersonal God, and the transcendent value of the work produced by him as a participation in the creative activities of God.
St. Joseph, Patron Saint of Workers, pray for us!
*****
Please help spread the gospel with a donation.
Photo Credit: Guido Reni [Public domain or Public domain], via Wikimedia Commons.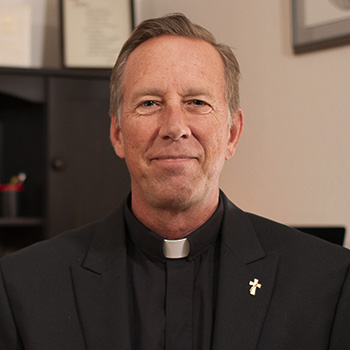 Deacon Frederick Bartels is a member of the Catholic clergy who serves the Church in the diocese of Pueblo. He holds an MA in Theology and Educational Ministry and is a Catholic educator, public speaker, and evangelist who strives to infuse culture with the saving principles of the gospel. For more, visit YouTube, iTunes and Google Play.