My daughter, . . . I desire that the Feast of Mercy be a refuge and shelter for all souls, and especially for poor sinners. On that day the very depths of My tender mercy are open.
By Deacon Frederick Bartels
27 April 2014
It was on the Second Sunday of Easter of the Jubilee Year 2000, at the Mass for the canonization of St. Faustina Kowalska, the Polish mystic and nun, that then Pope John Paul II made this proclamation to all the world: "from now on throughout the Church" this Sunday will be called "Divine Mercy Sunday."
Providentially, on the eve (Saturday, April 2) of that same Sunday in 2005, Pope John Paul II passed through the veil of death and the world mourned, not for the loss of a great man, for no Christian united to Christ is ever lost, but rather because it would be some time before we would once again see John Paul II's face and listen to his wise, cherished voice.
Divine Mercy is not an idea or concept, nor is it merely a gift. Divine Mercy is a Person: The Person of Jesus Christ
But joy always returns for those who love God. On this Divine Mercy Sunday, Popes John XXIII and John Paul II were canonized. St. John Paul II, a truly magnificent man, whose life so thoroughly displayed heroic virtue, will always be remembered by me as the "Pope of Mercy."
Divine Mercy
The Feast of Divine Mercy finds its origin, in part, with St. Faustina and her visions and conversations with Jesus. Consequently, we sometimes hear the question, "Is it scriptural?" from other Christian brethren. That question is answered if we but briefly explore what—or better yet who—Divine Mercy is. The fact is, the Church's doctrine concerning Divine Mercy is not based on St. Faustina's revelations but on Tradition and Scripture.
We find the Easter Season is permeated with the theme of Divine Mercy. The great Sunday Easter feast of the Church draws its light and energy from the Paschal Mystery of Christ, with an emphasis on the resurrection of our Lord and Savior from the dead. It is through the resurrection of Christ that we are given the promise of new life in the resurrection to come. The Paschal Mystery (the passion, death, and resurrection of Jesus), which is found all throughout the New Testament, is itself an act of Divine Mercy.
In the reception of the Eucharist, the faithful receive the very life of Christ as they consume the glorified body of the Risen Lord, whose gift of himself mercifully grants us the longing of our hearts: supernatural life in and through and with Christ. The Eucharist, then, makes us a resurrected people in that Christ shares his resurrected life with us, giving himself as transformative food. Our Lord promised whoever eats his flesh and drinks his blood has eternal life, and he will raise them on the last day (Jn 6:54).
On Divine Mercy Sunday the Collect begins with these words, recalling the grace bestowed on the faithful through the Paschal Mystery, the re-creative gift of the Spirit, and the redemptive Blood of Christ:
God of everlasting mercy, who in the very recurrence of the paschal feast kindle the faith of the people you have made your own, increase, we pray, the grace you have bestowed, that all may grasp and rightly understand in what font they have been washed, by whose Spirit they have been reborn, by whose Blood they have been redeemed. (Roman Missal).
All of these things speak wonderfully of Divine Mercy. It is important, therefore, to understand that Divine Mercy is a doctrine of the Church that is founded on the very purpose of Christ's mission; for St. John testifies that God sent his Son into the world that "whoever believes in him should not perish but have eternal life (Jn 3:16). It was the Son of God himself who said, "I have come that they may have life, and have it abundantly" (Jn 10:10). That is Divine Mercy!
The Old Testament also speaks of God's abundant, compassionate and overflowing mercy: "For you, Lord, are good, and ready to forgive; and plenteous in mercy to all them that call on you" (Psalm 86:5). Nevertheless, the totality of God's plan of mercy culminated not in the time of the Old, but in the time of the New, when, in the fullness of time, the Son of God assumed human nature and became man that men might become like God (CCC 460).
Divine Mercy, then, is not simply an idea or concept but ultimately a Person: the Person of Jesus Christ who gave his life as a ransom for many (Mt 20:28; Mk 10:45). It was this Divine and Human Person, whose life gives us eternal life, who appeared to St. Faustina and spoke these words:
My daughter, . . . I desire that the Feast of Mercy be a refuge and shelter for all souls, and especially for poor sinners. On that day the very depths of My tender mercy are open. I pour out a whole ocean of graces upon those souls who approach the fount of My mercy. The soul that will go to Confession and receive Holy Communion shall obtain complete forgiveness of sins and punishment. On that day all the divine floodgates through which graces flow are opened. Let no soul fear to draw near to Me, even though its sins be as scarlet. My mercy is so great that no mind, be it of man or of angel, will be able to fathom it throughout all eternity. (Diary of St. Faustina, 699).
The Thirst for Divine Mercy
No one can deny the inner craving every human person feels. While some attempt to suppress it for a time with created objects such as electronic devices or hobbies or any of the other thousands of fleeting distractions available in our modern age, it unfailingly returns, urging us to seek satisfaction elsewhere, calling us toward God who alone fulfills every human longing.
The world, too, is often a painfully empty place, filled with suffering, as also our hearts can be. Although many who look through colored eyes see only a world of financial and/or pleasurable opportunity, those who look beyond the materialistic veil see the reality of the human condition: people who live in terribly harsh circumstances, wounded, trampled upon, abused, hungry, cold, marginalized and exposed. People who are beaten and tired, the young who feel old and the elderly who have given up, hidden away behind closed doors.
But these things do not overwhelm those who belong to Christ. That is, the human person can endure all these things and change in a positive way if he is but loved by Divine Love. That is what (Who) each person unceasingly craves and seeks. Yet what is often the source of misunderstanding is that some seek Divine Love through human love without recognizing the difference. It is profitable to know and understand that we are created for the reception of Divine Love and eternal communion with God. Again, it is God alone who fulfills every human longing.
Because of our sinfulness, we know in the depths of our hearts that to truly be loved by God is to be granted mercy—forgiven, completely, definitively. As God is love, God is Mercy. The two cannot be separated neatly out, categorized as we so often like to do with things. The fiery embrace of God is powerfully transformative.
An encounter with God is, then, a healing encounter. It cannot be any other way for those who love God. After years of toil and anxiety, once touched by God none of it will bear any real weight, for your heart will be as light as a feather, the worries swept away, happiness and joy and light will prevail. You will delight in fragrant meadows unseen by others; you will truly know what it means to love.
Heaven Reaches Out
When our Lord Jesus Christ appeared to St. Faustina and spoke of the feast of Divine Mercy, he opened his own divine and human heart to suffering humanity, offering himself as a refuge for poor sinners. In doing so, he gave to us what is perhaps one of the most wondrous promises ever: "The soul that will go to Confession and receive Holy Communion shall obtain complete forgiveness of sins and punishment" (Diary 699). The complete forgiveness of sins and punishment is equated with a renewal of baptismal grace. That is why the Feast of Divine Mercy is of such great importance in the liturgical year.
What a promise indeed! Recall that, although our sins are forgiven through the sacrament of Confession, there is a double consequence to sin. The Catechism reminds us: "Grave sin deprives us of communion with God and therefore makes us incapable of eternal life, the privation of which is called the 'eternal punishment' of sin.
[E]very sin, even venial, entails an unhealthy attachment to creatures, which must be purified either here on earth, or after death in the state called Purgatory. This purification frees one from what is called the "temporal punishment" of sin. These two punishments must not be conceived of as a kind of vengeance inflicted by God from without, but as following from the very nature of sin. (1472)
The Catechism explains that temporal punishment is not remitted by the sacrament of Penance, but only the guilt of sin and its eternal punishment:
The forgiveness of sin and restoration of communion with God entail the remission of the eternal punishment of sin, but temporal punishment of sin remains. While patiently bearing sufferings and trials of all kinds and, when the day comes, serenely facing death, the Christian must strive to accept this temporal punishment of sin as a grace. He should strive by works of mercy and charity, as well as by prayer and the various practices of penance, to put off completely the 'old man' and to put on the 'new man.' (CCC 1473; Eph 4:22, 24)
The sacrament of Confession does not sweep away the temporal punishment due for sin but rather the guilt of sin. Stated another way, the sacrament of Reconciliation restores our relationship with God through the gift of sanctifying grace, and reconciles us to the Church, but the damage of sin must nevertheless be rectified. Temporal punishment remains, which is not inflicted by God but follows from the nature and consequences of sin itself.
However, our Lord is offering a means of wiping away temporal punishment as well. That is why the promises Jesus made in association with the Feast of Divine Mercy are so wondrous.
Fr. Rozycki wrote the most in-depth analysis ever written on the graces of Divine Mercy Sunday, which he provided to the Vatican in 1970. This is what he said about the above promise of our Lord to St. Faustina:
The grace of the total remission of sins and punishment is theologically possible because neither this grace nor the conditions for obtaining it contradict revealed doctrine. If God wants to bestow this grace by the sacrament of baptism, why would He not be able to bestow it – if He wants to – by the Eucharist which is the greatest sacrament?
The obvious conclusion here is that since the Eucharist is the Real Presence of Christ, it is Jesus himself who is working this wondrous gift of mercy through the sacrament of his body and blood. Jesus is effectively saying to Catholics (and all humanity since the Church is the home of humankind) that in receiving him worthily on Divine Mercy Sunday (having gone to Confession) he himself will totally remit their sins and punishment. That is an encounter with Divine Mercy! Jesus, then, restores us in his love to the same degree as the grace of forgiveness received in the sacrament of baptism.
Above I spoke of the longing of the human heart. We long for Divine Mercy. Our Lord and Savior Jesus Christ became man to show us his love, to mercifully forgive our sins, to be for us a model of holiness, and that we might become like God. Now, today on the Feast of Divine Mercy, he offers us a simple path to the total remission of sins and punishment. There can be no greater mercy than we find in the Person of Jesus Christ, who is himself Divine Mercy.
Christ's peace.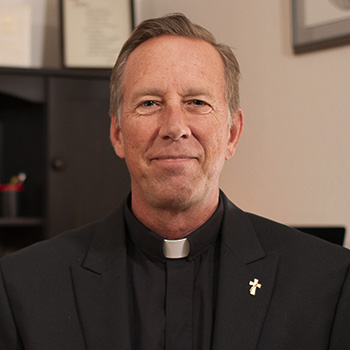 Deacon Frederick Bartels is a member of the Catholic clergy who serves the Church in the diocese of Pueblo. He holds an MA in Theology and Educational Ministry and is a Catholic educator, public speaker, and evangelist who strives to infuse culture with the saving principles of the gospel. For more, visit YouTube, iTunes and Google Play.