Loving God and loving neighbor are inseparable because God is himself Love.
By Deacon Frederick Bartels
7 June 2018
In today's gospel, a scribe asks Jesus "Which is the first of all the commandments?" Jesus replies:
"The first is this: Hear, O Israel! The Lord our God is Lord alone! You shall love the Lord your God with all your heart, with all your soul, with all your mind, and with all your strength. The second is this: You shall love your neighbor as yourself. There is no other commandment greater than these." The scribe said to him, "Well said, teacher. You are right in saying, He is One and there is no other than he. And to love him with all your heart, with all your understanding, with all your strength, and to love your neighbor as yourself is worth more than all burnt offerings and sacrifices." And when Jesus saw that he answered with understanding, he said to him, "You are not far from the Kingdom of God." And no one dared to ask him any more questions. (Mk 12:28-34)
In his reply to the scribe, Jesus joins the commandments to love God and neighbor by stating that there is "no other commandment greater than these." In Matthew's gospel (22:40), Jesus states that the Law and the teaching of the prophets hinge on this twofold commandment of divine and human love, and St. Paul teaches that the entire law is fulfilled in loving neighbor as you love yourself (Gal 5:14).
Loving God and loving neighbor are inseparable for a number of reasons. In John's gospel (15:12-13), Jesus requires us to love others because he has first loved us, even to the point of giving himself up to death on the cross for our sake. Christian disciples must model their lives after Christ and so must love as Christ himself loves with a self-denying love. 1st John (4:16) reminds us that God is himself love; thus if we desire to live in union with God we must live a life of love. Further, if we fail to love our brothers and sisters whom we can see, then we cannot claim to love God, the creator and sustainer of all, whom cannot be seen:
Those who say, "I love God," and hate their brothers or sisters, are liars; for those who do not love a brother or sister whom they have seen, cannot love God whom they have not seen. The commandment we have from him is this: those who love God must love their brothers and sisters also. (1 Jn 4:20-21)
It seems one of the Christian errors of the day is to either love God and neglect love of neighbor or vice-versa. For instance, it's easy to fall into a "me-and-Jesus" mentality. If I attend Mass each Sunday, pray frequently, and engage in various pious devotions without exercising love of neighbor, then I have failed in my duty to the greatest commandment. On the other hand, if I engage in many works of service to my neighbor but neglect participation at Holy Mass and let my prayer life wane, then, again, I have failed to keep the greatest commandment. One danger is in allowing social ministry to those in need to become a kind of worship of humanity.
There's a reason why Jesus, when he gave the great twofold commandment, listed love of God first. Authentic Christian discipleship is predicated upon ordering our lives first to the love of the Tripersonal God and then to love of neighbor. In loving Christ primarily, then directing that love outward toward others as Christ both asks me to do and enables me to do by the many gifts of his grace, the greatest commandment becomes deeply integrated into my way of living and relating to others—it becomes part of my psyche. When Christ is the object of my heart, the life of true love is thus made possible and the way is opened to the fullness of loving as God intends me to love.
We draw not only our strength to love from our love of God but the fullness of human life is made possible only by loving God above all else for his sake. From its divine source of origin, love then flows outward, as an abundant well-spring, to others. So powerful becomes this force of love that the Christian can even love those who hate him. His love of Christ empowers him to love and pray even for his enemies.
God calls us not to an incomplete, distorted, worldly love that is ordered only toward one's own self-interest, but rather to the fullness of love found in self-gift. He desires for us not only to know his love but enter into it and radiate it outward to others through his gift in which he grants us a share in his divine life. By virtue of this divine and unsurpassable gift, our true happiness and human flourishing is realized.
It is Love begetting love for the sake of love.
It cannot be any other way for those whose desire is the life of heaven because the Beatific Vision is constituted in eternal communion with the Triune God. It consists in a life lived in and through and with the Holy Trinity, whose interior, communal life is itself an infinite and unending exchange of divine love.
*****
Please support Joy In Truth by sharing on social media.
Photo Credit: Deacon Frederick Bartels. All rights reserved.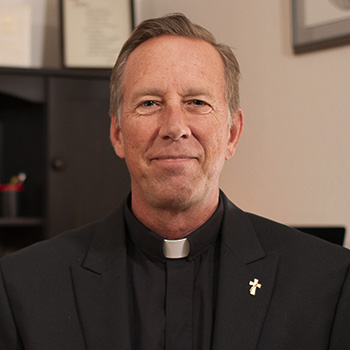 Deacon Frederick Bartels is a member of the Catholic clergy who serves the Church in the diocese of Pueblo. He holds an MA in Theology and Educational Ministry and is a Catholic educator, public speaker, and evangelist who strives to infuse culture with the saving principles of the gospel. For more, visit YouTube, iTunes and Google Play.