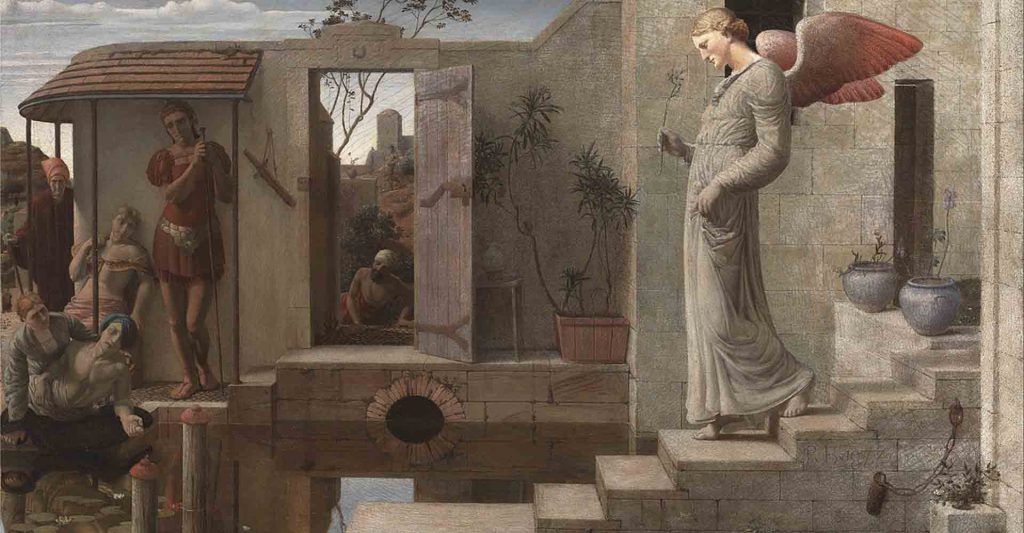 In today's gospel, we hear about how Jesus healed the ill man at the pool of Bethesda, known for its mysterious legend which includes healing powers and the stirring of its waters.
By Deacon Frederick Bartels
2 April 2019
In today's gospel (Jn 5:1-16), we hear the story about how Jesus healed a man on the Sabbath who was ill for thirty-eight years. The healing took place at the pool of Bethesda, a name meaning "House of Mercy," located near the Sheep Gate, an entry point at the northeastern wall of Jerusalem where sheep were brought in for sacrifice in the Temple.
John tells us that Jesus noticed the ill man and knew he had been "lying there a long time." So, he said to him, "Do you want to be well?" The sick man answered, "Sir, I have no man to put me into the pool when the water is stirred up; while I am on my way, someone else gets down there before me."
What is the ill man speaking about? It seems there was a legend stating that an angel would periodically come down to the pool and stir up the waters. When people got into the pool at that time, it was thought that they would be healed of whatever particular illness they suffered. That is why the man spoke about how he couldn't get into the water while it is stirred up.
Jesus says to the man, "Rise, take up your mat, and walk," and thus heals him on the Sabbath. The Ignatius RSVCE Study Bible notes that Jewish tradition allowed for giving medical attention on the Sabbath only if a person's life was in danger. Jesus disregards the tradition, which "reflects his own theological stance that giving rest to suffering souls, whether or not they are on the brink of death, fulfills the true intent of the Sabbath" (RSVCE 171; CCC 2173). Also, Jesus shows that serving others in need on the Sabbath is a participation in the merciful work of the Father. We know this because, when the Jews began to persecute Jesus for doing such things on the Sabbath, he tells them, "My Father is still working, and I also am working" (Jn 5:17).
The Pharisees often accused Jesus of violating the Sabbath. What was that all about? The Pharisees developed a lengthy and complex body of laws, some of which governed observance of the Sabbath and what one could or could not do on that day of worship down to the minutest detail. Everything from whether or not you could collect a chicken egg to how much weight you could carry to what clothes you were allowed to rescue from a burning house were included in these laws. It's important to note that these traditions were pharisaic conventions, not moral laws connected to Divine Law. When Jesus disregarded these laws and chose to heal on the Sabbath, he was not rejecting any moral commandment but rather setting aside a complex and rigid body of regulations the Pharisees themselves had developed that actually hindered conformity with the great twofold commandment: love God with "all your heart, and with all your soul, and with all your mind, and with all your strength" and "love your neighbor as yourself" (Mk 12:29-31).
Another interesting point in today's gospel is the fact that Jesus, as he usually does when he encounters people he has healed, warns the man to stop sinning. Jesus finds the man later and says to him, "Look, you are well; do not sin any more, so that nothing worse may happen to you." Sin, which is an intentional evil act, is far more dangerous than any physical ailment, even death of the body, since it can result in eternal damnation of the soul.
Many Christians today seem to think that sin no longer poses a danger to one's soul, provided you believe in Jesus and have accepted him as your "personal savior." The idea is that once you believe in Jesus, all sin is forgiven, even sin you might be involved in in the present and those sins you might commit in the future. Of course, such teaching is not found in the bible and is based on an exaggerated, misunderstood concept of mercy and a failure to take into account how God respects our free-will choices. Belief in Christ does not automatically equate to forgiveness. We must never overlook the necessity of repentance. When Jesus began his public ministry, he did so by saying, "The time is fulfilled, and the kingdom of God has come near; repent, and believe in the good news" (Mk 1:15).
The next question is, what does it mean to repent? The Catechism teaches:
Interior repentance is a radical reorientation of our whole life, a return, a conversion to God with all our heart, an end of sin, a turning away from evil, with repugnance toward the evil actions we have committed. At the same time it entails the desire and resolution to change one's life, with hope in God's mercy and trust in the help of his grace.

CCC 1431
That repentance (which means at least the firm intention to not sin again and to avoid near occasion of sin) can be dismissed by belief in Jesus is connected to the sin of presumption. The Catechism teaches that presumption is a sin against the first commandment (see 2091).
There are two kinds of presumption. Either man presumes upon his own capacities, (hoping to be able to save himself without help from on high), or he presumes upon God's almighty power or his mercy (hoping to obtain his forgiveness without conversion and glory without merit)

CCC 2092
We must never fall into the trap of thinking Jesus Christ is permissive of sin. For doing so would be to treat the just and unjust in the same way, which would make Jesus himself unjust—something which is contrary to his divinity. It is the devil who leads people into thinking they need not deal with their sin because "Jesus saves." Yes, Jesus is infinitely merciful and good. He came to save us from sin and eternal death; however, that does not mean we have nothing to do for our part and there is no requirement to live a life of holiness, assisted by God's grace. Mercy is obtained through repentance and the sacrament of Confession, not simply by saying, "I believe" intellectually in absence of a firm intention to not sin again.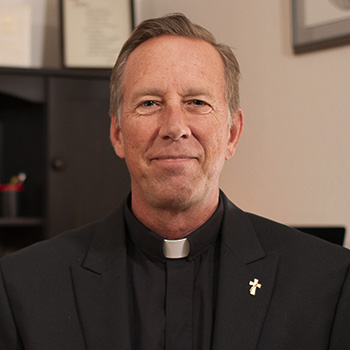 Deacon Frederick Bartels is a member of the Catholic clergy who serves the Church in the diocese of Pueblo. He holds an MA in Theology and Educational Ministry and is a Catholic educator, public speaker, and evangelist who strives to infuse culture with the saving principles of the gospel. For more, visit YouTube, iTunes and Google Play.