The Protest Against Evil and the Rise of Atheism: Is Evil Really the Problem?
By Deacon Frederick Bartels
12 April 2014
It sounds very nice, a world devoid of suffering and every type of evil. However, there are some problems with such an idea, at least for now, given the present situation. What would it mean for us if there were no potential for evil? Atheists often reject God in protest against the reality of evil in the world. But is the reality of evil a reasonable objection against the existence of a personal, loving God? Perhaps it is helpful to reflect on some of the good that, with God's help, can be brought from evil.
While estimating the number of atheists in the U.S. is complex, several studies show that those who in some way reject belief in God is on the rise. Often, studies seeking clarity about the actual numbers of atheists base their questions on the contemporary definition of the term, namely, that an atheist is someone who does not believe in God, which does not give due consideration to the full scope of atheism.
The Council Fathers of Vatican II noted that the "word atheism is applied to phenomena which are quite distinct from one another" (Gaudium et Spes 19 § 2). This is the case because there are a number of distinct deficiencies in belief in God that are associated with atheism.
For example, Vatican II observed that while God is "expressly denied by some, others believe that man can assert absolutely nothing about him" (Ibid.). Here, agnosticism is identified as a subcategory of atheism. This view is better understood when we define atheism as a rejection of a personal God who transcends the natural universe. Agnosticism rejects a personal God because it holds that nothing can be known with certainty about God; therefore, God does not relate to anyone personally because he does not make himself or his will known to humankind. Agnosticism views God as nothing but an unknowable albeit powerful deity.
Vatican II identified other types of atheism that include unbelief (in God), relativism, religious indifferentism, nominalism, rationalism, and empiricism. The point is, atheism can take many forms, which means that when these phenomena are taken as a whole atheism is a bigger problem than we might realize. Gaudium et Spes correctly warns that atheism is one of the more serous problems of our age. It is especially entrenched among people under age thirty.
In any case, the question that must be asked is, why the rise in atheism? Vatican II gives a few causes. First among those listed is that "atheism results not rarely from a violent protest against the evil in this world" (19 § 2). The problem of evil and suffering has long been a major obstacle to belief in God. The question posed is often similar to this: "If there is a good and loving God, then why does he allow people to suffer, especially innocent people?"
Next, that question often evolves into a statement of protest: "A good and loving God would not allow innocent people to suffer; therefore, there is no (personal) God." We can understand how the problem of evil can tempt people to reject a personal, loving God who transcends the natural universe yet is also present everywhere by his power and essence (God's immanence) because it is so repulsive, dark, horrifying.
Evil seems unfair, something totally contradicting God's power and goodness that is offensive to beauty and truth. It seems God would surely eradicate it if he truly loved his people. When the suffering of innocent children is considered, the reality of evil seems all the more deplorable. It is terrifying. Further, when we reflect on the morally evil atrocities committed in history, even the use of "terrifying" becomes an entirely inadequate adjective.
FROM WHERE DOES EVIL COME?
The Catechism of the Catholic Church teaches that the problem of evil has a point of origin in human history. Man was originally "not only created good, but was also established in friendship with his Creator and in harmony with himself" and with the created universe (CCC 374; see also Genesis 1-2). However, at the dawn of time, humankind fell from God's grace through the commission of original sin by our first parents. Adam and Eve denied their creatureliness and dependence on God. Situated in the Edenic Paradise, they desired to be as gods without God.
"Genesis 3 uses figurative language" that "affirms a primeval event" (CCC 390). Our first parents were tempted by the devil and, in giving in to that temptation, let trust in their Creator die in their heart (CCC 397). This profound abuse of freedom caused profound consequences for humanity's future. The harmony our first parents originally enjoyed was broken. Human relationships were damaged and harmony with creation was disrupted as it "became alien and hostile to man" (CCC 400). After the first, original sin the "world is virtually inundated by sin" (CCC 401; see also Genesis 3). As St. Paul affirms, all men are implicated in Adam's sin (Rom 5:12, 19).
We see, then, that God is not directly responsible for the reality of sin and evil in the world. It is humankind who has brought this upon itself. It is humankind, influenced by a wounded nature and the tendency to sin (concupiscence), who perpetuates moral evil day by day.
It is accurate to say, however, that God allows evil. It is, of course, not outside of his plan for humanity because he has made allowances for it. First of all, he has definitively answered the problem of evil with the sending of his only-begotten Son into the world as Savior of humankind. Through and in and with Christ, evil has no ultimate power over us. Yet, for now, due to our human condition, we are subject to potential suffering and the effects of sin and evil. But why does God allow evil to continue? Would it not be better if he eradicated it from the face of the earth in order to bring about unending peace, security and happiness?
It sounds very nice, a world devoid of suffering and evil. However, there are some problems with such an idea, at least for now. If God were to wipe out evil right now, before the end of time, the return of Jesus Christ and the general judgment, it would mean that he would have to do it himself, without our participation. Given the present state of humanity's wounded nature, in order to bring such an eradication of evil about God would have to subdue our freedom, overpower it. He would have to destroy the power to choose. In observing how God interacts with humanity, it is clear that he respects human freedom. It is a part of God's plan from the beginning. In his limitless wisdom, God created humankind as rational creatures with free will, made in his image and likeness. He will not annihilate human freedom.
Because God created us as free people, freedom is, then, important. It is important not as something to be used without limits for our personal pleasure, which brings about suffering and destruction, but rather as something to be used in order to direct us to our final end in God. An authentic freedom used wisely is always ordered toward the authentic good, our own good and the good of others. A properly exercised freedom is inseparable from love of God and love of neighbor.
But back to our original problem. Evil and suffering can be an obstacle for people with respect to belief in a good and loving, personal God. Now, we know that God is good and loving; we know that humanity itself is ultimately responsible for sin and evil in the world; and we also know that God allows for the reality of evil. That means God must have some purpose for allowing it. What is that purpose?
GOD BRINGS GOOD FROM EVIL
While I do not pretend to totally understand or be able to offer a complete explanation for the reality of evil in the world, it is true to say that God brings good from evil. The sacrificial death of Christ on the cross, the greatest evil, brought about the greatest good. There are many other examples. It is also true that God, in his infinite wisdom, allows his children to participate in his plan of loving goodness. That is, he uses secondary causes or instruments (people) to help bring about his plan. This means he invites us to participate in the war against evil and in bringing to bear the fruit of goodness in the world.
Another way to think about this is to reflect on some of the good things that become possible due to the reality of suffering and evil (I am not suggesting evil is good; it is not, but with the help of God good is brought out of evil). What might some of them be?
Courage cannot exist in a world where there is no possibility of suffering or injury. If injustice, sin, evil, treachery and so forth is nonexistent, so too is courage. Devoid of a battlefield, there can be no courageous soldiers. Further, in the absence of suffering, one person cannot show compassion toward another. If nobody is wounded, can anyone offer healing?
Is it possible to rescue a person who is in no peril? A child who is not lost cannot be led safely home. If no one is in need of shelter, no one is needed to provide it. Could we truly be a human family if nobody ever needed any help from anyone?
We can even find good things in the reality of bodily death. Apart from it, would anyone be moved to magnificent accomplishments? If that moment of death when we must give up everything into the hands of God were not on our horizon, would we turn toward God at all? And who would want to continue on in this present fallen state of life, filled with emptiness as it often is, forever anyway?
And what about love? Can the real and true choice to love exist in a world where there is no possibility of its opposite? Can we know what it means to love if we cannot understand at least something of what it means not to love? To choose to love is to possess the ability to choose not to love.
What about loving God? The choice to love God is dependent on freedom. So long as we possess real freedom, we also possess the ability to commit evil, which is a deprivation of the good, and turn away from God. Love of God hinges on true, real freedom. So long as it exists, here and now, there is the potential for it to be abused.
The primary reason the problem of evil becomes an obstacle for people is that they either forget or fail to recognize the crucial importance of freedom in its relationship to love of God and love of neighbor. Devoid of freedom, we cannot choose to love God nor anything nor anyone. A freedom-less humanity is a race of puppets, robots covered with flesh who motor meaninglessly about in their daily tasks, slaves to feigned love.
I began by noting that atheism is a much bigger problem in the world than many of us realize, and that Vatican II cited the violent protest against evil in the world as a major cause of a rejection of God. That is because the human spirit revolts against suffering and evil. It finds it repulsive. Yet it is important to understand that God brings good from evil—always—and allows it in order to afford us the opportunity to enter into his war against it. It is in the trail of life found on the battlefield against evil that we are perfected spiritually as we unite our will to the will of God.
Last, suffering and evil is temporary. Evil has no permanent hold on us. Therefore, ultimately, it is not the real problem some imagine. It is passing, for Christ is risen and will come again. Therefore, as the Catechism reminds us, we must "approach the question of the origin of evil by fixing the eyes of our faith on him who alone is its conqueror" (CCC 385; cf. Lk 11:21-22; Jn 16:11; 1 Jn 3:8).
Faith in Christ. It really is the answer to the problem of evil. For Christ gives to the victor in the war against evil, fought in freedom governed by love, eternal life and peace and happiness. Yet we fight, not merely for reward, but for love of him who loved us to the end.
*****
For a related article, see also Is God Real?
Please help maintain this site with a donation.
Photo Credit: Francesco Furini, wikimedia commons.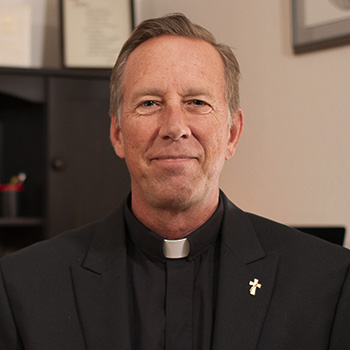 Deacon Frederick Bartels is a member of the Catholic clergy who serves the Church in the diocese of Pueblo. He holds an MA in Theology and Educational Ministry and is a Catholic educator, public speaker, and evangelist who strives to infuse culture with the saving principles of the gospel. For more, visit YouTube, iTunes and Google Play.