Marriage is the lifelong union of one man and one woman. It cannot be redefined. There's no possibility of reshaping it into something new and essentially different, since marriage is authored by God and woven into the fabric of human life.
By Deacon Frederick Bartels
7 January 2015
The reality of marriage is the permanent union of one man and one woman, whose love, joined together as husband and wife, is ordered toward the good of the spouses, and the procreation and education of children. Husband and wife, by the fruits of their love, build families, transform cultures and society, and contribute positively to a truly human way of living.
In modern society, it seems nearly everything is open to redefinition. Technology has redefined the cellular phone to the "smartphone": it's no longer something we simply make phone calls with, it's now a device used for everything from checking the weather to getting driving directions to recording digital videos. The Internet has redefined the meaning of mail; social media has redefined the meaning of interpersonal communication; online dating services have redefined how men and women meet each other.
Often, redefinition equals progress, and that can be a good thing. But there are some things that cannot be redefined because to attempt to do so is not progress but destruction. Of late, there have been various attempts to redefine human freedom to mean a freedom without limits. The idea is, people should be able to do what they subjectively deem to be "good" for themselves or for others. The way in which "good" is defined is malleable according to a person's culture, upbringing, opinion, needs and desires. It's the rule of human behavior over Divine Law, subjective desires over objective morality and the natural moral law, truth subject to opinion. It's ruled by relativism. It's the rule of moral anarchy.
However, there are limits to human freedom; crossing over those boundaries is destructive individually and collectively. Always. One example of an attempt to exceed the limits of human freedom is found in the marriage equivalency movement.
The Marriage Redefinition Agenda
For those who are unfamiliar with this movement, it's a push to redefine marriage and thereby create a new social order. It seeks to deem homosexual unions and marriage as equivalent to each other. Same-sex "marriage" advocates insist that marriage be altered to mean nothing more than a committed (both length and parameters of this commitment are disputable) human relationship. The idea is that marriage can be changed, given a new meaning, shaped into something essentially different.
The problem is, marriage cannot be redefined because it is a unique, unchangeable reality, willed into existence by the Creator and woven into the fabric of creation itself. Marriage can be damaged, a particular marriage can even be destroyed, but it cannot be redefined anymore than the reality of the human person can be manipulated simply by manufacturing a clever new definition of that unity of body and rational, immaterial soul we call a human being. Stated another way, people might say all manner of things about what they think marriage should be, but opinions cannot alter nor create reality. Nor do ill-conceived ideas change the truth.
Marriage equivalency adherents are of the mind that Christians can establish what marriage is only by reference to God or the Bible. That is simply nonsense. Yes, it is better, always, to bring God and Scripture into our discussions of human questions, for it is an arrogant creature whose contemplation of itself ignores its Creator and God's inspired word, but it is not absolutely necessary in every case to do so. We can accurately discern the nature of marriage by use of human reason and its access to the natural moral law. Stated another way, by taking into consideration human nature, the sexual faculties of man and woman, the complementarity of the sexes, the twofold effect of the marital union with respect to the unity of the spouses and the procreation of children, the stabilizing effects of marriage on society, the way in which marriage is foundational to family, integral to community and the common good of all, and so forth, we can discern what marriage is through the light of human reason.
The Catechism of the Catholic Church explains:
[T]he matrimonial covenant, by which a man and a woman establish between themselves a partnership of the whole of life, is by its nature ordered toward the good of the spouses and the procreation and education of offspring; … (Article 1601).
The nature of marriage is specific and definite: marriage is a lifelong union of a man and a woman that is ordered toward promoting their good as well as the generation and education of new human life. From this, we see that marital love is ordered for a twofold purpose: the unity of the spouses, and the procreation and education of children.
Marriage Is A Unique Reality
Marriage, then, is a unique reality. There is no possibility of redefining it, shaping it in a new and essentially different way, or altering its nature. The reality of marriage is the permanent union of one man and one woman, whose love, joined together as husband and wife, is ordered toward their good as well as toward the generation and education of new human life. Husband and wife, by the fruits of their love, build families, transform cultures and society, and contribute positively to a truly human way of living.
When divine revelation is brought into the discussion about marriage, the light of God enhances clarity of vision, and the beauty of this sacred and God-authored vocation begins to unfold. The Catechism teaches:
The intimate community of life and love which constitutes the married state has been established by the Creator and endowed by him with its own proper laws. . . . God himself is the author of marriage. The vocation to marriage is written in the very nature of man and woman as they came from the hand of the Creator. . . . The well-being of the individual person and of both human and Christian society is closely bound up with the healthy state of conjugal and family life. (Article 1603).
It was God who created man and woman for each other, for he had said, "It is not good that the man should be alone" (Gen 2:18). God forms woman from man as "flesh of his flesh" (Gen 2:23), and gives to him "his equal, his nearest in all things" (CCC 1605) as a suitable helper (see Gen 2:18). Woman, as the beautiful and unique God-made partner for man, "represents God from whom comes our help" (CCC 1605). That man is fascinated by woman should not be a surprise! In joining together in the conjugal, marital embrace, man and woman become "one flesh" (Gen 2:24). Our Lord Jesus Christ confirmed and defended this reality of new oneness between the spouses as an unbreakable bond when he said, "So they are no longer two, but one flesh" (Mt 19:6).
Christian Marriage Images Christ and His Bride: The Church
St. Paul notes that the marital union is an image of the union of Christ and his Bride, the Church. He refers to the oneness of husband and wife joined in matrimony as a "great mystery . . . in reference to Christ and the Church" (Eph 5:32). When we reflect on the relationship of Christ and his Church we think of a permanent bond of reciprocal love: the Bridegroom loves even to the point of self-giving death on a cross; the Bride opens herself to this astonishing love and a divine and human nuptial embrace is born. Christ and his Church become one body, the body of Christ.
Marriage, then, is not merely about "coupling" or relationships or mutual pleasure or financial or social convenience. In the first place, marriage is more than just a relationship because the marital covenant between baptized persons has been raised to the dignity of a sacrament, which opens this union of a man and a woman to the indescribable gift of God's grace, drawing benefit and power from the Paschal Mystery of Christ (cf. CCC 1601).
Children: The Crowning Glory of Marriage
When we look to the fruits of marriage, we look to the generation of children, who are the "supreme gift of marriage and contribute to the good of the parents themselves" (Gaudium et Spes, 50 § 1). The Catechism teaches us that by "its very nature the institution of marriage and married love is ordered to the procreation and education of the offspring and it is in them that it finds its crowning glory" (Article 1652). One of the reasons marriages are failing in the U.S. is because of a lack of openness to children and complete self-giving among the spouses, as is evident with the contraceptive mentality and its battle against human fertility.
Through the gift of children, spouses "cooperate valiantly with the love of the Creator and Savior, who through them will increase and enrich his family from day to day" (GS, 50 §1). Marriage is a God-authored institution in which the divine plan of populating the kingdom of heaven is carried out. Children are no burden! On the contrary, they are indescribable gifts founded on divine and human love whose lives will stand forever as living testaments to the love of husband and wife, to the self-gift of parents, to the sacrificial and abiding joy of fatherhood and motherhood.
The new life of a child is of infinite value because the human person, created in God's image and likeness and redeemed by Christ, is destined to eternal communion with the Father. The nature of marriage and the bond of unity it brings about, one of self-giving and life-creating love, breaks the constraints of time itself and reaches into the heavens and eternity!
Given that this great and mysterious gift of matrimony is founded on the divine wisdom and love of God, that its reality is God-authored and unchangeable, built into the fabric of creation and human life itself, we have to wonder why anyone would seek to tamper with it.
Peace in Christ.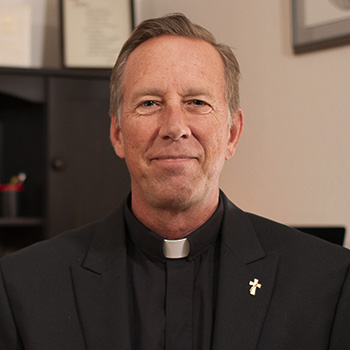 Deacon Frederick Bartels is a member of the Catholic clergy who serves the Church in the diocese of Pueblo. He holds an MA in Theology and Educational Ministry and is a Catholic educator, public speaker, and evangelist who strives to infuse culture with the saving principles of the gospel. For more, visit YouTube, iTunes and Google Play.