To Find Peace and Happiness Is To Seek, Find, Embrace and Fall In Love With The Truth.
By Deacon Frederick Bartels
2 October 2014
The experience of the peace and happiness of "God that surpasses all understanding" (Phil 4:7), attained in freedom and loving obedience, is inseparable from love for the Truth, for Jesus Christ is the "way and the truth and the life" (Jn 14:6), whose gift of himself to humanity opens the way to the Father and the everlasting kingdom of God.
Each day, whether we consciously think about it or not, we rise from sleep and engage in the pursuit of happiness. Our hearts unceasingly thirst for peace and joy, we crave what the world cannot provide, we yearn not for the materially finite but the invisibly infinite, and, relentlessly, at the arrival of each new dawn we set out in search of it.
You may labor for decades in order to attain financial independence, power, comfort and wealth, filling your barns to the brim with an abundant harvest; yet it soon turns up empty as the stores are swept away by the winds of time. The "golden years" inevitably tarnish, and what you before thought to be the prize is found a sad burden; yet you refuse to turn your eyes away from the horizon of promise, whatever or wherever you perceive it to be, for you are convinced it is real.
But do you understand why your thirst is unquenchable? Do you know why this life, in the here and now, regardless of how "filled" it may be with material, created objects, remains frustratingly unsatisfying? The importance and weight of these questions cannot be overemphasized. Think about how your pursuit of happiness governs each day's actions: people plan their lives around it, often in the wrong way and toward the wrong ends, walking for years directionless, lured by a false horizon. If you cannot answer the "why" question, your life will remain unfocused, confused in purpose, even painful as you experience, again and again, the perceived impossibility in the attainment of true and lasting peace.
It might surprise you to learn that the goal of your life is indeed perfect happiness, an indescribable peace and joy that is found in God alone. It is in understanding this goal of human nature that gives your life direction and purpose. That is why the very first article of the Catechism of the Catholic Church explains:
God, infinitely perfect and blessed in himself, in a plan of sheer goodness freely created man to make him share in his own blessed life. For this reason, at every time and in every place, God draws close to man. He calls man to seek him, to know him, to love him with all his strength. He calls together all men, scattered and divided by sin, into the unity of his family, the Church. To accomplish this, when the fullness of time had come, God sent his Son as Redeemer and Savior. In his Son and through him, he invites men to become, in the Holy Spirit, his adopted children and thus heirs of his blessed life. (CCC, 1)
That paragraph from the Catechism falls under the heading: "The Life Of Man—To Know And Love God." That really says it all. The purpose of your life is to know and love God that you may live forever in his astonishing, infinite love, not simply from afar, as you might experience the dim heat of a distant flame, but in eternal communion with him, forever sharing his own blessed and glorious divine life, which is a life of burning love far beyond the ability of the human intellect to grasp.
That God freely and out of superabundant goodness created you for such a lofty, sublime and indescribable goal should fill you with joy. That goal, provided you give yourself over to God the Father through faith in his Son, Jesus Christ, is your destiny this moment. Toward that end, God unceasingly calls you and invites you to truly know and love him with all your strength.
However, it is precisely in knowing and loving God with all our strength that people take the wrong turn. It is this point at which the false horizon appears, and, dazzled by its subdued and deceptive light, people board the wrong ship and sail off toward the wrong shore. Here we arrive at the danger posed by a lack of love for the truth, for we cannot know and love the God who is Truth if we take a careless or heedless approach to the truth. If we are indifferent or of a relativistic bent, we are not moving toward God who is himself Truth. A careless approach to the truth is a careless approach to God.
It is worth noting that a person who grows up in secular American society will not be raised up with an awareness of the dangers of relativism and indifference to the truth. On the contrary, relativistic thinking often becomes a normal lens through which subjects such as God, morality, religion and spirituality are viewed.
Relativism often goes unnoticed because of the deep level of its intrusion into secular culture. Pope Emeritus Benedict XVI noted that relativism is highly pervasive, and, consequently, people are affected by it on a subliminal level—unconsciously pulled along by its current. So widespread is the problem of relativism, which is not only a denial of absolute truth but also a tendency of indifference toward it, that people unknowingly make important life-determining choices based on relativistic ideologies and points of view. This is especially the case among the youth as well as college-age Americans.
In about five minutes time it can be discovered that college discussion boards, Facebook, and other social media outlets are rife with the pervasive influence of relativism. For example, college students, when posting about religion, often write about being "spiritual but not religious." Apparently, it is considered the norm to easily discard thousands of years of faith experience for the sake of a subjective, individualistic and uncertain journey into that self-induced false horizon mentioned above.
This new "spirituality" is presented as the "reasonable" way to think about connecting with the supernatural, whatever that is deemed to be. Why would the "spiritual but not religious" phenomenon appear so attractive? There are a number of reasons. First, it takes the pressure off, so to speak. A self-manufactured spirituality is often devoid of doctrine, precepts, morality and commandments, which means it promotes a type of "freethinking and easy living," a freedom with few limits. Spirituality devoid of religion places no moral demands on a person's life. There's no absolute truth claims to ruffle one's feathers or set up that irritatingly persistent inner conflict psychologists label as cognitive dissonance.
Second, taking religious indifferentism to the extreme, many young Americans are convinced that there is no truth in religion and that no religion is true. Truth and religion cannot coexist, they say. Religion is thought to be inherently false. To suggest there is a true religion is sheer madness. The rule of the day is that it doesn't matter what anyone believes, so long as each person believes whatever they "feel is right." If it is felt to be true, then it must be so. Subjective, individualistic feeling and emotion become the religion, the spirituality, the god. The truth about God is carelessly discarded in favor of "the god of me," of "my own way," as opposed to "the Way" (see Acts 9:2; 19:23; 24:22).
Third, religious freedom is thought to mean all religion is equal. Freedom of religion is both a right and a gift—albeit under unprecedented attack by the Administration and perhaps soon to be denied to a greater degree—to be used to choose wisely. Freedom of religion does not mean all religions are created equal, for they clearly are not.
Spirituality and religion are inseparably connected. To claim to know, adore and worship God in spirit and truth while rejecting religion is a lie. One cannot claim to be spiritual if devoid of religion because it is through religion, namely the Christian religion transmitted in its fullness by the Church, that one comes to know and love God in the fullest possible way.
When we examine the pedagogy of God, that is, his principle or method of teaching his children, we find that he has revealed himself by his deeds and words in history. Therefore no one arrives at the knowledge of God in a vacuum, in isolation, apart from the divine revelation God has communicated to his people over the ages, and entrusted to his Church as the deposit of faith. Religion and spirituality, then, are steeped in history and cannot simply be plucked from it. To claim to be spiritual without religion is to claim to be a surgeon not only without medical training but in total ignorance of the entire history of medicine.
Relativism is not only the cause of trouble with respect to religious indifferentism and the way young Americans view religion, it also contributes significantly to the tragic and destructive moral disintegration witnessed in society. For instance, on these same discussion boards and social media outlets is found talk in favor of "gay marriage," cohabitation, and "the right to choose," as if these subjects are of little more consequence morally than whether to have pizza or cereal for breakfast. If anything, to accept and adhere to them is deemed normal and to oppose them is deemed radical. Further, each of these is typically categorized by young Americans as falling strictly within the realm of religion, by which is implied they are "man-made and man-imposed doctrines constructed by antiquated and unreflective religious bigots."
As I began, everyone is seeking happiness. Whether we are consciously aware of it or not, God has designed us in such a way so as to crave to be filled with nothing other than himself, for in him alone lies our complete happiness. As St. Teresa of Avila noted, God alone suffices. Further, this is not some cruel project of a selfish God, constructed in order to torment us in this life. No, it is not. God has created us in order that we may choose to know him and freely love him. Our loving Creator has made us for himself, in order that we may truly enter into complete fulfillment, peace, security and happiness by sharing in his own divine life.
If you peer deeply into the recesses of your heart, you will find that this fulfillment you seek cannot be found internally, as if it should stem from your own being, but must come from something outside of yourself, something greater than yourself, therefore Someone who is Infinite Love and infinitely fulfilling.
Relativism and religious indifference are directly opposed to the goal and destiny of your life, for the simple reason that God is Truth. It is God the Father who sent his Son into the world to establish the Church he willed should exist, founded on St. Peter as a holy dwelling place and the city of truth, through which, under the guidance of the Holy Spirit, all nations hear Christ's voice.
St. Ambrose is known for pointing out that the truth is not a concept or a state of mind, it is not an idea, it is a Person, the Person of Jesus Christ, who is himself "the way and the truth and the life" (Jn 14:6). The happiness for which we thirst is acquired in seeking, finding, embracing and falling in love with the Truth. We possess this happiness in and through and with Christ by giving ourselves over to the wondrous and salvific plan of God:
[God] calls together all men, scattered and divided by sin, into the unity of his family, the Church. To accomplish this, when the fullness of time had come, God sent his Son as Redeemer and Savior. In his Son and through him, he invites men to become, in the Holy Spirit, his adopted children and thus heirs of his blessed life. (CCC, 1)
Christ's peace.
*****
Please support Joy In Truth by sharing on social media.
Photo credit: public domain photo, wikimedia commons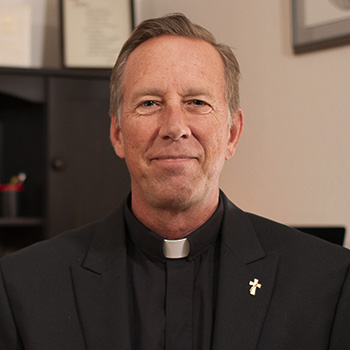 Deacon Frederick Bartels is a member of the Catholic clergy who serves the Church in the diocese of Pueblo. He holds an MA in Theology and Educational Ministry and is a Catholic educator, public speaker, and evangelist who strives to infuse culture with the saving principles of the gospel. For more, visit YouTube, iTunes and Google Play.