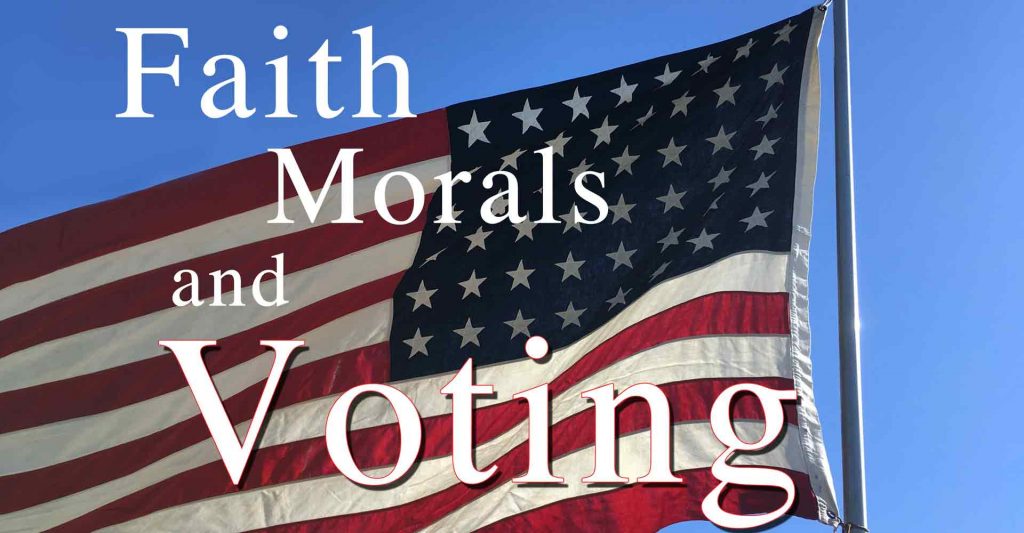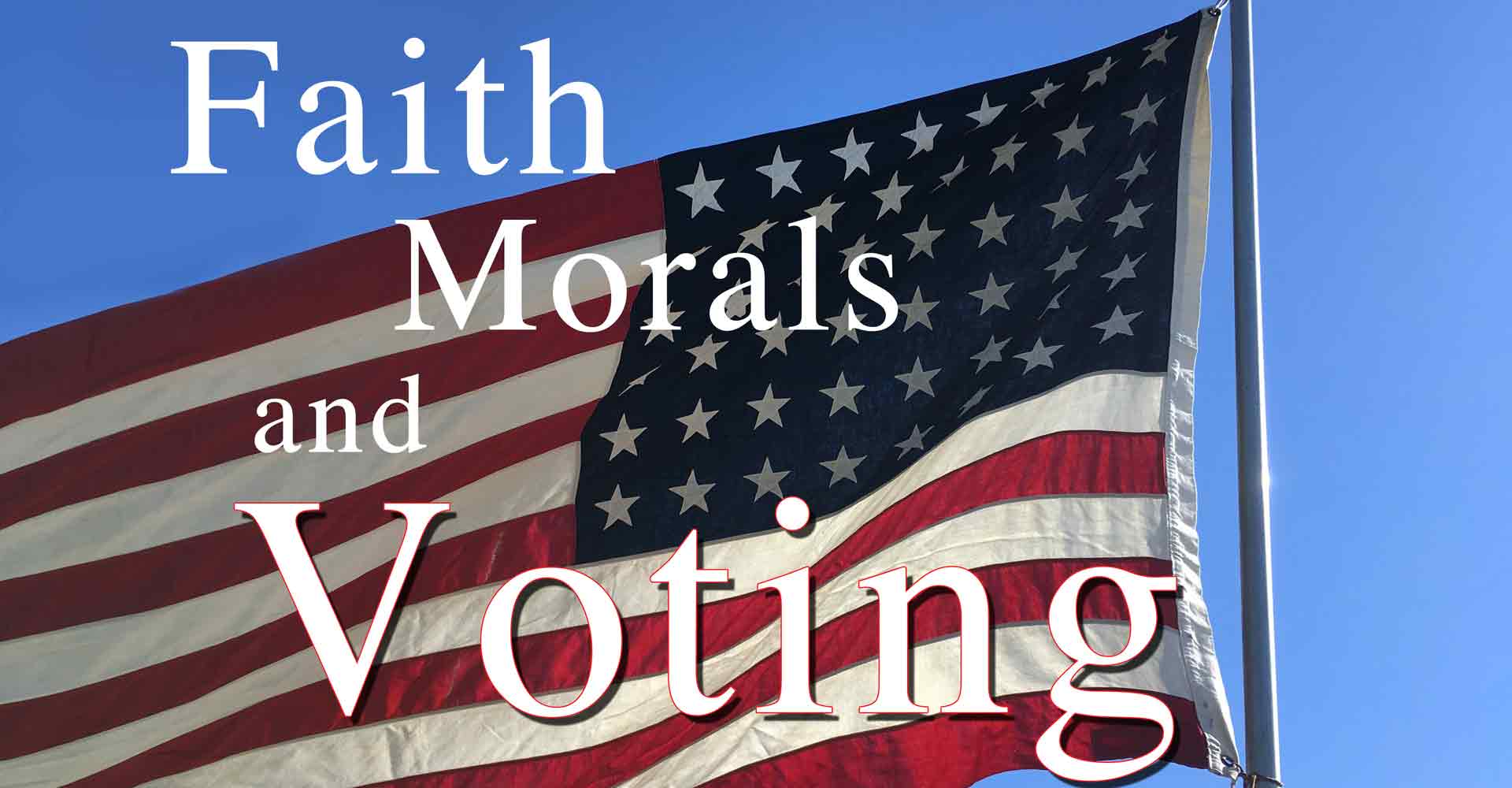 Voting as a Catholic means supporting political candidates who best harmonize with the teaching of the Church on faith and morals. That means voting consistently pro-life in opposition to the intrinsic evil of abortion. Candidates who support abortion cannot normally receive our support. As an intrinsic evil, abortion is a non-negotiable. As Pope St. John Paul II noted, the right to life must be "defended with maximum determination."
By Deacon Frederick Bartels
26 November 2019
This Sunday we celebrated the Solemnity of Our Lord Jesus Christ, King of the Universe. As we learn from St. Paul's Letter to the Colossians, all things in heaven and on earth were created in and through Christ. In him all things are held together, sustained in being. Christ truly is the King of the universe. He is the Lord of life, having dominion over all.
As Christians, it's imperative that we live in intimate, personal communion with Christ and the Church, which is his body. We are to give Jesus Christ primacy in every aspect of our lives, especially those hidden and secret areas. Jesus Christ must be the Lord of our lives. We must make our lives subject to his divine rule.
What does it mean to bring our lives under the rule of Christ? There are lots of examples we could talk about. In the first place, we must bring our own lives under his rule. Then, as baptized members of the Church and members of his body who share in his kingship, we are to bring our families, neighborhoods, communities and society itself under his rule.
There are lots of concrete things we could discuss in terms of bringing ourselves and others under the rule of Christ. So, I'm going to pick just one. But it's an issue of major importance. It's a crucial issue.
In less than a year, Americans will be voting on a presidential candidate and other political candidates. Because of the confusion surrounding the moral nature of voting, it's important to address the topic early. The Catechism teaches that as Christians we have a responsibility to support, promote, and protect the common good by the power of our vote. This means our vote has moral consequences.
The US Bishops state in their document, "Faithful Citizenship":
"It is important to be clear that the political choices faced by citizens not only have an impact on general peace and prosperity but also may affect the individual's salvation" (No. 38).
We can be sure that in this election, as in all those in recent past, abortion will be a major factor among the candidates. Abortion is an intrinsic evil. It is always and everywhere wrong because it involves the direct and intentional killing of pre-born children. The bishops have made it clear that it is of preeminent concern.
When voting, we can vote in accord with Christ's kingdom or against it, because voting involves moral principles just as politics involve moral principles. This means there are some political agendas which we can never support as Catholics and Christians. The most obvious example is found in political candidates who support the intrinsic evil of abortion.
Unfortunately, many Catholics are under the impression that it is morally permissible to vote for candidates who support abortion so long as they don't agree with the candidate's anti-life position and vote for him or her for other reasons. Unaware of what would qualify morally as "another reason," they might vote for an abortion-supporting candidate because they like what this person has to say about the economy, or foreign trade, or immigration, or nationalized healthcare, for example.
However, questions about the economy or foreign trade or immigration or nationalized health care are matters of prudential judgment. We are free to agree or disagree about those things. We can debate them. They are not intrinsic evils. We can vote for candidates who hold differing views about these issues according to what we believe is best.
That's not the case with abortion. As an intrinsic evil, abortion is in another order all together. It's not a matter of prudential judgment, like the economy or social security benefits. We must not support it with the power of our vote. Abortion must always be opposed.
The Church does NOT teach that it is morally permissible to vote for candidates who support abortion, so long as we simply disagree with their stance on the matter. It's more complex than that. It's far more serious than that. If you've heard that you can vote for these kinds of candidates so long as you don't agree with abortion, you've been misinformed.
Let's face the basic facts: if Catholics and other Christians continue to elect politicians who support abortion, even if they don't agree with their stance, the government will continue to be populated by vicious, morally corrupted individuals who support the intrinsic evil of intentionally killing preborn children. Are those the kinds of people we want installed in positions of power?
And then there's the question of how serious voters are about their opposition to abortion. If we find abortion abhorrent, as we should, we will not give the nod to politicians who support it.
As I said, the Church does not teach that it is morally permissible to vote for candidates who support the intrinsic evil of abortion on the basis of simply disagreeing with their position and voting for the candidate for any other reason. When the Church's teaching is taken as a whole, there's a lot more to the story.
Let's look at some of that teaching, starting with what the US Bishops say in "Faithful Citizenship":
"The direct and intentional destruction of innocent human life from the moment of conception until natural death is always wrong and is not just one issue among many. It must always be opposed" (no 28).
That makes sense. Abortion is a preeminently grave moral issue. It's not one issue among many. It's not in the same category as matters of prudential judgment.
The bishops go on to say that in making moral decisions while voting, "it is essential for Catholics to be guided by a well-formed conscience that recognizes that all issues do not carry the same moral weight and that the moral obligation to oppose intrinsically evil acts has a special claim on our consciences and our actions" (no 37).
Abortion is the most serious crime in America in the present. Between 1 and 1.5 million children are intentionally killed each year. Abortion carries more moral weight than any other intrinsic evil going on in the present that I can think of. Furthermore, it definitely carries far more moral weight than issues like entitlement programs or taxation or nationalized healthcare, etc., which are matters of prudential judgment.
The bishops point out that an error in voting "is a moral equivalence that makes no ethical distinctions between different kinds of issues involving human life and dignity. The direct and intentional destruction of innocent human life from the moment of conception until natural death is always wrong and is not just one issue among many. It must always be opposed" (No 28).
Again, the bishops are making the distinction between intrinsic evils and matters of prudential judgement. Voters must avoid a moral equivalency which fails to make these distinctions.
Formal Cooperation with Evil
While the bishops acknowledge that voting decisions are complex and emphasize the necessity of forming one's conscience, they insist:
"[The] exercise of conscience begins with outright opposition to laws and other policies that violate human life or weaken its protection. Those who knowingly, willingly, and directly support public policies or legislation that undermine fundamental moral principles cooperate with evil" (no 31).
So, those who knowingly, willingly and directly support abortion with their vote cooperate with evil. What does this mean?
In the first place, politicians who knowingly, deliberately and directly support abortion would be guilty of formal cooperation in evil. But what about people who vote for these politicians?
When Cardinal Ratzinger (prior to his election as Pope Benedict XVI) was prefect for the Congregation for the Doctrine of the Faith, he wrote that "A Catholic would be guilty of formal cooperation in evil, … if he were to deliberately vote for a candidate precisely because of the candidate's permissive stand on abortion and/or euthanasia." This means that if a Catholic intentionally votes for an abortion-supporting candidate because of his support for abortion, he is guilty of formal cooperation in evil, which is objectively a mortal sin.
Proportionate Moral Reasons
But what if a Catholic votes for a candidate who is permissive of abortion yet does not agree with his stand on the matter, and votes for this candidate for other reasons? Is that morally permissible? Only under certain, limited and rare conditions can we find the moral footing to vote in that way. That's why I said earlier that it is incorrect to think it is morally permissible to vote for pro-abortion politicians simply because you disagree with them and vote for them for any other reasons outside of abortion. It's more complicated than that.
Here's what Ratzinger wrote: "When a Catholic does not share a candidate's stand in favour of abortion and/or euthanasia, but votes for that candidate for other reasons, it is considered remote material cooperation, which can be permitted in the presence of proportionate reasons."
Note the phrase "proportionate reasons." What is Ratzinger saying here? He is applying standard moral theology to the question. He's considering the weight and gravity of moral evil. He is saying that if proportionate moral reasons are present, it can be morally permissible to vote for candidates who support abortion so long as we don't favor that position ourselves. The question is, what qualifies as proportionate moral reasons?
Picture a scale or a balance. A proportionate moral reason would have to at least weigh equally against the intrinsic evil of abortion. Which means that matters of prudential judgment such as the economy or nationalized healthcare cannot apply. Why? Because they're not intrinsic evils. They don't carry the same moral weight as abortion. Remember, these are matters on which there can be a legitimate diversity of opinion.
The only way to balance the scale, so to speak, is by comparing intrinsic evils. Let's look at an example. Suppose candidate A supports abortion, and candidate B does not. But candidate B promises to wage nuclear war on every nation and country that has ever harbored any kind of terrorist activity, killing perhaps 100s of millions of non-combatants. Starting a nuclear war unprovoked and indiscriminately targeting civilians is an intrinsic evil. It's always wrong. In this situation, the scale is tipped, provided we think candidate B can carry out his plan. Candidate B poses the far greater moral danger in terms of intrinsic evils. In this case, one could vote for candidate A, even though he supports abortion because a proportionate moral reason is present.
The US bishops seem to confirm the necessity to have proportionate moral reasons when voting for a candidate who supports intrinsic evils. They write:
"There may be times when a Catholic who rejects a candidate's unacceptable position may decide to vote for that candidate for other morally grave reasons. Voting in this way would be permissible only for truly grave moral reasons, not to advance narrow interests or partisan preferences or to ignore a fundamental moral evil" (no. 35).
Again, matters of prudential judgment can't be said to qualify for proportionate reasons because they're not intrinsic evils. If one votes for a pro-abortion candidate based on his concerns for matters of prudential judgment, such as nationalized health care, he would likely be guilty of ignoring the fundamental moral evil of abortion. That's unacceptable. Using the language of the US bishops, a particular candidate's proposal for economic policy is not a "fundamental moral evil" as is abortion. Catholic voters must avoid moral equivalency, something which is all too often the culprit, given people's tendencies to be indifferent toward the problem of abortion, giving favor to things like promises of economic growth or lower taxes.
Affirming a pro-abortion candidate with your vote might mean placing your soul at risk
So, what happens when a Catholic knows he should always oppose abortion, but votes for abortion supporting candidates anyway? Assuming the Catholic disagrees with abortion, if he lacks a proportionate reason for his vote, his moral responsibility would increase beyond that of remote material cooperation. Which means he could be placing his soul at risk.
There's a reason why Ratzinger does not say that this kind of voting action is morally permissible. Depending on a voter's intentions, his level of knowledge, and whether he is at fault for his ignorance, if there is any, his moral culpability could be significant. At the very least, we should understand that it is spiritually dangerous to knowingly and intentionally vote for politicians who support intrinsic evils in the absence of a proportionate moral reason for doing so. That attitude toward voting is incompatible with voting as a Catholic.
There's also the issue of scandal. When Catholics rather carelessly give the nod to pro-abortion politicians, they teach others that it is acceptable to do the same. That's a serious cause of grave scandal:
"Temptations to sin are sure to come; but woe to him by whom they come! It would be better for him if a millstone were hung round his neck and he were cast into the sea, than that he should cause one of these little ones to sin" (Lk 17:1-2).
What is abundantly clear is that we must always oppose abortion with maximum determination, which means opposing it in the voting booth because pro-abortion politicians not only support abortion but perpetuate it through the policies they enact.
Pope St. John Paul II wrote in Christifideles Laici:
"Above all, the common outcry, which is justly made on behalf of human rights—for example, the right to health, to home, to work, to family, to culture—is false and illusory if the right to life, the most basic and fundamental right and the condition for all other personal rights, is not defended with maximum determination" (38).
Is it possible to say that the Lord of Life, Jesus Christ, who creates and sustains pre-born children, is okay with members of his own body, the Church, voting for political candidates who promote and perpetuate the legalized killing of these same children?
As Archbishop Chaput noted, at death we will be judged by Christ for the votes we have made. He said that he believed the unborn would be there. Their voices would be a factor in our judgment.
Will they defend us or condemn us? Can we justify our vote before the King of the Universe and the 50 million children aborted in the wake of Roe v. Wade? These are the questions we will face.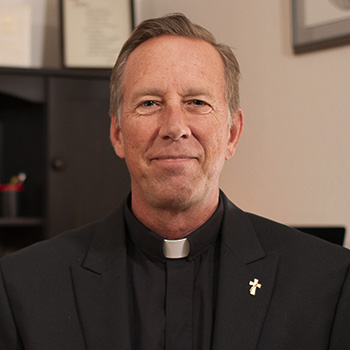 Deacon Frederick Bartels is a member of the Catholic clergy who serves the Church in the diocese of Pueblo. He holds an MA in Theology and Educational Ministry and is a Catholic educator, public speaker, and evangelist who strives to infuse culture with the saving principles of the gospel. For more, visit YouTube, iTunes and Google Play.