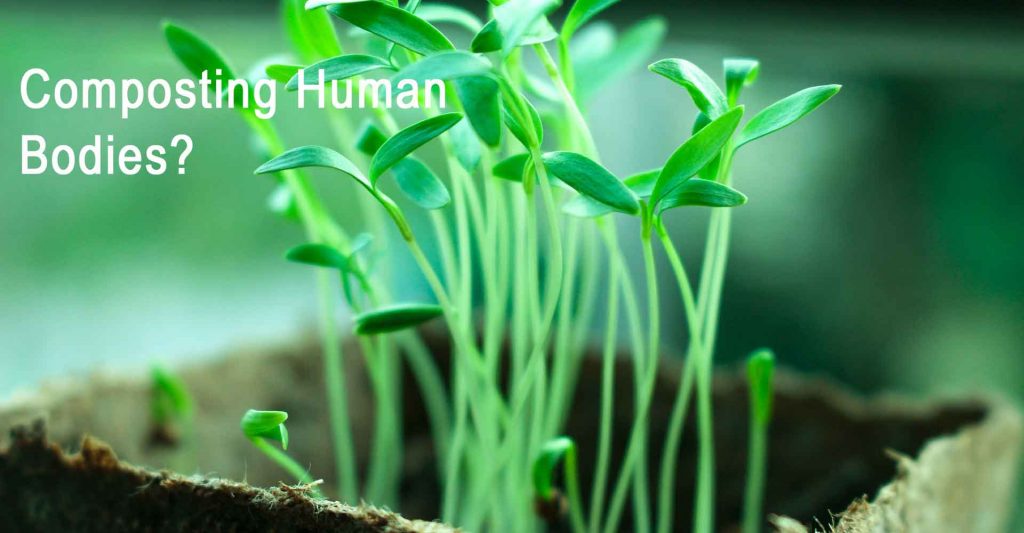 Washington state has passed bill 5001, allowing its residents to participate in the "natural organic reduction" of human remains. Stated plainly, Washington intends to allow people to compost human bodies, something which may soon evolve into legislation forcing people to submit their deceased loved ones to a process through which the matter of their material body is broken down to be used for fertilizer.
By Deacon Frederick Bartels
23 April 2019
Just when you think things could not get weirder, something like composting human bodies crops up. What is offensive is not the composting itself, but the way some people are suggesting deceased human bodies can be disposed and used. It's the stuff of sci-fi films like Soylent Green, where—in an admittedly worse scenario—dead human remains are manufactured into edible wafers and fed to an overcrowded, starving world ignorant of what they're actually consuming as food. Granted, composting human bodies is a far cry from processing them for human consumption, but it nevertheless could pose a number of problems in terms of respecting and protecting human dignity.
I can imagine a day when farmers will scoop up human compost with a loader, dump it into a fertilizer spreader, and fling it on fields and in orchards to promote the growth of trees and plants. Perhaps when people go to their local gardening store to buy fertilizer, the bag will list one of its ingredients as "human compost remains."
Presumably, families would be allowed to choose how their composted loved ones would be distributed and used. For example, a family may choose to retain all the composted remains for their own personal use—whether as fertilizer for a tree or for partial interment or for a keepsake—or perhaps they may allow it to be sold at market and used for commercial purposes.
Read about how people get creative with dead bodies.
You might wonder when human composting will begin. Well, it already has. Recompose is a company involved with human composting that has worked with Washington State University to test the process. Six people donated their bodies for the study and underwent recomposition. The time to process a human body into organic, soil-like material takes from two to seven weeks. It's reported that the composed remains have the look, feel, and smell of soil and other composted materials.
Human composting: good or bad?
Proponents of recomposition of human bodies point to a number of advantages: it's eco-friendly, offering a lower carbon footprint than traditional cremation or burial; it's a good way to "give back" to "mother earth"; it offers a meaningful way for families to remember their loved ones through planting a tree in their name, for example. Katrina Spade, CEO and founder of Recompose, stated that recomposed human remains provide an alternative "that is as aligned with the natural cycle as possible."
Cremation involves the burning of fossil fuels in the heating process. Burial also requires the use of fuels for excavation and the manufacturing of caskets. Composting bodies, say proponents, is less fuel intensive, although energy of some type (electrical or fossil fuel) is required to turn composting drums and for other related processes.
There are objections as well. In terms of human dignity, is composting human bodies appropriate? Additionally, Catholics and other Christians believe in the general resurrection at the end of time. When Christ returns, all the dead will be raised. The righteous will be raised to the resurrection of eternal life, whereas the unrighteous will be raised to the resurrection of eternal damnation (see Mt 25:31 ff.). A pro-compost attitude may well reflect an anti-resurrection of the dead ideology or a loss of faith in this certain future for humankind.
Of course, God's power is unlimited, which means it is without restriction. God can do whatever is logically possible to do. That means God can raise the bodies of persons who have undergone the process of composting just as he can raise the dead whose bodies have long ago decomposed or undergone cremation. In a manner of speaking, composting simply speeds up the natural decomposition process as does cremation.
But that doesn't mean there aren't potential problems with it. There are some serious moral questions involved. Does composting human remains harmonize with the dignity of the human person? Will it lead to an increasing denigration of the human person and a loss of the sense of the sacredness of the human person's body? Will it tend to promote an increase in secular, profane, anti-religious attitudes? Will families all the more often turn away from the funeral and burial rites of the Church toward composting and privatized, subjective practices in terms of the dead? These are real concerns because composting is oriented toward producing material for agricultural purposes.
Proponents of recomposed human bodies point to the fact that cultures across the world have buried their dead in numerous ways over time. Traditions include such things as burning, burial at sea, burial in the ground or under stones, and entombment inside massive Egyptian pyramids. What is true, is that all past cultures have generally respected the dead and favored some type of burial or sending off tradition.
But that doesn't mean there aren't moral questions about and requirements for how we treat deceased human persons today. We are in New Testament times. We have been given the new law of grace in Christ. We have received the fullness of divine revelation in the Person of Christ whose body suffered death on a cross, was carefully buried with dignity according to Jewish tradition, and rose again on the third day. The Church of Jesus Christ communicates the voice of Christ to the world. She teaches that deceased Christians are to be treated in a specific manner in accordance with the divine Catholic Faith.
Catholics celebrate a Funeral Mass for the dead that emphasizes faith in Christ, the resurrection of the dead, and new life in eternal communion with God. During a funeral rite, the Church prays for the repose of the soul of the deceased and that their sins be forgiven. On the other hand, Catholics may celebrate a funeral outside of Mass that either a priest or deacon presides over. In either case, the deceased body of the human person is respected and treated with sacredness because the human person is created in the image and likeness of God, redeemed by the precious blood of the Savior, and intended by God to become a temple of the Holy Spirit.
The human person retains his or her dignity, whether dead or alive.
From a Christian point of view, a deceased person's body is not viewed as something insignificant or unwanted to be discarded as anyone sees fit. Whatever is subjectively convenient or whatever might be deemed to align with the natural cycle of things does not govern Christian burial tradition. Consequently, people who respect the beliefs of the Catholic deceased will ensure they receive a proper Catholic funeral and burial.
Catholics are required to bury their dead, whether in a casket or cremains placed in a grave (or columbarium in the case of cremains). They are not permitted to store cremains on a mantle, manufacture them into jewelry, inject them under the skin as tattoos, scatter them over water, or cast them from an airplane or mountaintop.
A proper burial shows a proper respect for the dignity of the deceased human person, a dignity which can never be erased and which must always be promoted and protected. If society begins to compost deceased human bodies and treat them as mere soil products, where will this lead in terms of respect for the dignity of the human person? Is this not one more step away from faith and the sacred toward the secularized and the profane? Would it not lend to the idea that a deceased human body is no different than an irrational animal's?
The fact is, composting human bodies and using them willy-nilly is a symptom of a culture gone awry. It's one more sign of a society that has been thoroughly poisoned by secular humanism.
The Catechism articulates the dignity of the human body in this way:
The human body shares in the dignity of "the image of God": it is a human body precisely because it is animated by a spiritual soul, and it is the whole human person that is intended to become, in the body of Christ, a temple of the Spirit:

Man, though made of body and soul, is a unity. Through his very bodily condition he sums up in himself the elements of the material world. Through him they are thus brought to their highest perfection and can raise their voice in praise freely given to the Creator. For this reason man may not despise his bodily life. Rather he is obliged to regard his body as good and to hold it in honor since God has created it and will raise it up on the last day. (CCC 364; GS 14 § 1; cf. Dan 3:57-80.)
The Byzantine kiss of farewell to the deceased:
By this final greeting "we sing for his departure from this life and separation from us, but also because there is a communion and a reunion. For even dead, we are not at all separated from one another, because we all run the same course and we will find one another again in the same place. We shall never be separated, for we live for Christ, and now we are united with Christ as we go toward him . . . we shall all be together in Christ." (qtd CCC 1690; St. Simeon of Thessalonica, De ordine sepulturæ. 336:PG 155,684)
The Catholic view in terms of the sacredness of the human person, including of course the human body, is based on faith in Christ, who is the way and the truth and the life (Jn 14:6). In fact, Catholics have honored and venerated the bodies of deceased saints from time immemorial precisely because they have been set apart for Christ. For these reasons and others, deceased Catholics should be buried in accord with the tradition of the Church.
Having said that, the Church does not govern the specific processes of cremation, for example. It could well be that new ways of speeding up the processes of decomposition may be used in the future. However, regardless of whether the body of a Christian is cremated or undergoes some other process of decomposition prior to its burial, it is to be buried or placed in some location specifically for the dead (as in a columbarium for cremains). It is inappropriate for Christians to take these matters entirely into their own hands, forgo the funeral rites of the Church, ignore her teaching on Christian burial, and use composted remains as fertilizer for planting a tree in their backyard or for commercial agricultural purposes.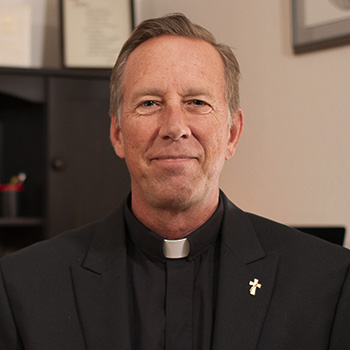 Deacon Frederick Bartels is a member of the Catholic clergy who serves the Church in the diocese of Pueblo. He holds an MA in Theology and Educational Ministry and is a Catholic educator, public speaker, and evangelist who strives to infuse culture with the saving principles of the gospel. For more, visit YouTube, iTunes and Google Play.