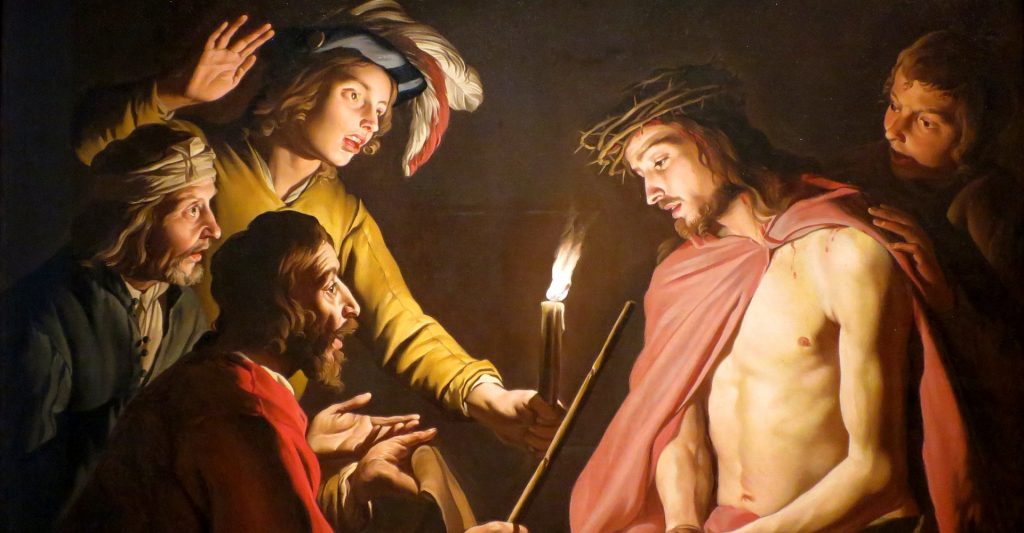 As Christians, we truly can rejoice in our sufferings in these times, whatever they may be. It's important to understand that God will bring benefit from our suffering, provided we unite ourselves to Christ.
By Deacon Frederick Bartels
1 April 2020
For the most part, everyone is suffering on some level from the effects of COVID-19. There are those who are stricken ill and the dying. There are those who are unemployed, with finances running dry; people who've lost their businesses; people who are fearful; people who are alone. We pray for God's healing and consolation in these times. We pray for the souls of the dying and the dead. We pray for children who've lost parents, adults who've lost loved ones, and all those effected around the world.
As of writing this post, there are about 163k people known to be infected in the US. The total number of people actually infected (and often recovered) is unknown since it's usually the case that only those with severe symptoms show up at a medical facility and get tested. Then there's the issue of a reported shortage of test kits. All of this means that many more people have had (or have) COVID-19 than is officially known.
In the US, Mass can only be celebrated by a bishop or priest and assisting deacon, along with perhaps a cantor and a reader or two, and a tech person to live stream, due to group-size limits implemented by government officials. The faithful are feeling spiritually starved for lack of participation at the sacrifice of the Holy Mass and reception of the Eucharist: the body, blood, soul and divinity of the Lord Jesus.
In these times, I'm reminded of St. Paul's words in Romans: "We rejoice in our sufferings" (Rom 5:3). I'm sure there are lots of people who think those words are ridiculous. How could a person possibly rejoice in suffering? Isn't it something to be despised, avoided at all costs? How is it possible for suffering to bring gratitude or thanksgiving or rejoicing?
When we as Catholics and Christians rejoice in suffering, we're not talking about being thankful for the good things we continue to possess, such as food in the fridge or a roof over our heads, as if we rejoice in spite of suffering. No. We're talking about something different.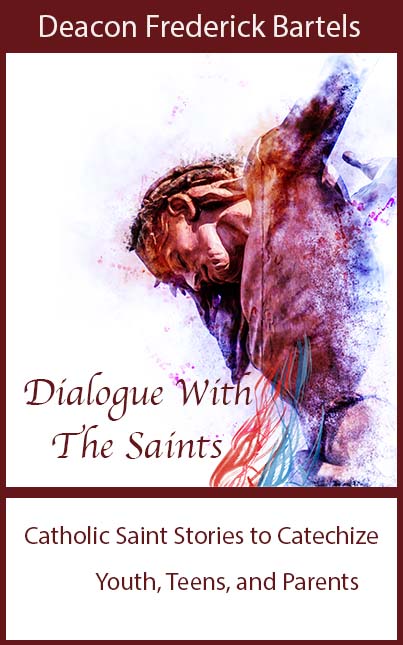 We're talking about truly rejoicing in suffering. How is that possible? Because in all things God works for the good of those who love him (Rom 8:28). In entrusting ourselves to God in love, God brings good from our suffering. When our suffering is united to Christ, it tends to purify, bringing spiritual clarity. When we offer our suffering up as penance for ourselves and others, it brings needed atonement for sin and healing grace. In and through the Holy Spirit, suffering is a means of sanctification, strengthening us in holiness, focusing the mind, heart and spirit upon the Tripersonal God. Accepting suffering as a Christian, seeing it as flowing from the hand of God for some good purpose, builds spiritual character and frees us from unfounded fears and worries.
All things come from the hand of God, whether they are directly willed by him or permitted by him. Nothing can happen that God does not either will or allow. I cannot fall ill unless God permits it. No affliction can assail me, no persecution arise, no trial or calamity or difficulty fall upon me unless God permits it in his divine wisdom. All things fall under God's providential rule and governance. With this knowledge and in faith, I am comforted by the fact that God intervenes in my life. I confidently commend my body and spirit unto him.
COVID-19 poses a trial. Bishop Athanasius Schneider wrote, "We have to accept this situation from the hands of Divine Providence as a trial, which will bring us a greater spiritual benefit than if we had not experienced such a situation." Faithless pagans and secular humanists hear those kinds of words as folly. All their focus is on the natural to the exclusion of the supernatural. They're spiritually blind. But people of faith see differently, with enlightened eyes and divine vision.
St. Paul writes in 2 Corinthians:
For this slight momentary affliction is preparing for us an eternal weight of glory beyond all comparison, because we look not to the things that are seen but to the things that are unseen; for the things that are seen are transient, but the things that are unseen are eternal.

2 Cor 4:17-18
Consider what St. James wrote about trials:
Count it all joy, my brethren, when you meet various trials, for you know that the testing of your faith produces steadfastness. And let steadfastness have its full effect, that you may be perfect and complete, lacking in nothing…. Blessed is the man who endures trial, for when he has stood the test he will receive the crown of life which God has promised to those who love him.

James 1:2-4, 12
I lot of Catholics are feeling spiritually starved due to the inability to attend the sacrifice of the Mass and receive the Eucharist: the body and blood of the risen Lord. Here are few things you can do for spiritual benefit in these times:
Continue to rid your life of the unnecessary
Take advantage of the situation by embracing the necessity (even if perhaps forced) to prune away the unnecessary in life. The spiritual masters point out again and again the essentialness of holy detachment and living an ascetic life. Set aside distractions. Embrace, cultivate, and learn to love silence, that you may hear the voice of God. Know that what God removes from you in these times is either for your good or the good of others.
Meditate on scripture using Lectio Divina
Lectio Divina is a key touchstone in the spiritual life. As St. Jerome noted, when you pray you speak to God, when you meditate on the scriptures, he speaks to you. It's not possible to unite oneself to Christ in a relationship of intimate communion if a prayerful study of the gospels is neglected.
Continue to keep holy the Lord's day
Watch the sacrifice of the Mass, engaging in all the bodily movements as you normally would as if present there. When Christ is present on the sacred altar and the bishop or priest and deacon receives communion, make an act of spiritual communion. If you're not able to watch the Mass, make a holy hour in your home by praying the Collect, meditating on the readings, saying an Our Father, one of the Creeds, and praying some type of prayers of intercession. Then end by praying the closing prayer for the Mass of the day. Give thanks to God in the moment.
Pray the Rosary
The Rosary is an excellent spiritual weapon against evil. In entrusting yourself to the Mother of God, she will take you under the mantle of her maternal protection. You will soon find many new graces flowing into your life.
Pray the Stations of the Cross on Fridays with the intention to receive an indulgence
Pray the stations of the cross. Once we return to full public participation in the Mass, you'll be able to receive the Eucharist and attend the sacrament of confession to complete the requirements for obtaining an indulgence.
Continue to engage in penitential works
All Christians are required to do penance for their sins. Not simply during Lent, but penance should be done throughout the liturgical year. Fridays are most appropriate since that is the day on which Christ suffered and died. It seems it is often the case that Catholics and other Christians neglect the requirement to do penance. It's worth noting, people often fall ill or suffer in other ways because they refuse to do penance. Lack of a desire to do penance betrays a lack of repentance, contrition, and humility before the Lord. In other words, repentance manifests in works of penance.
Receiving divine protection and God's favor
If we want to receive divine protection and the Lord's favor, repentance and the penance that flows from it is key. Consider what the Word of God says on the essential nature of repentance:
If my people who are called by my name humble themselves, and pray and seek my face, and turn from their wicked ways, then I will hear from heaven, and will forgive their sin and heal their land. (2 Chronicles 7:14)
If we confess our sins, he is faithful and just, and will forgive our sins and cleanse us from all unrighteousness. If we say we have not sinned, we make him a liar, and his word is not in us. (1 John 1:9-10)
Repent therefore, and turn again, that your sins may be blotted out, that times of refreshing may come from the presence of the Lord. (Acts 3:19)
He who conceals his transgressions will not prosper, but he who confesses and forsakes them will obtain mercy. (Proverbs 28:13)
The Lord is not slow about his promise as some count slowness, but is forbearing toward you, not wishing that any should perish, but that all should reach repentance. (2 Peter 3:9)
Rejoice in our sufferings
As Christians, can we rejoice in our sufferings? Yes. We rejoice in our sufferings, for God will use them for our benefit and the benefit of the other members of Christ's one body, as St. Paul teaches in his letter to the Colossians:
Now I rejoice in my sufferings for your sake, and in my flesh I complete what is lacking in Christ's afflictions for the sake of his body, that is, the church, (Col 1:24)
Photo credit: widimedia commons, https://commons.wikimedia.org/wiki/File:Stom,Matthias–Christ_Crowned_with_Thorns-_c._1633-1639.jpg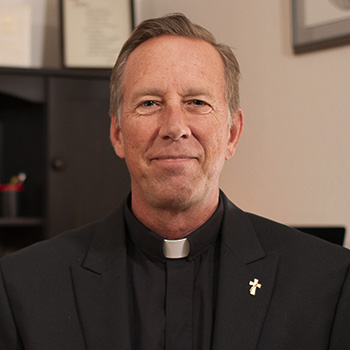 Deacon Frederick Bartels is a member of the Catholic clergy who serves the Church in the diocese of Pueblo. He holds an MA in Theology and Educational Ministry and is a Catholic educator, public speaker, and evangelist who strives to infuse culture with the saving principles of the gospel. For more, visit YouTube, iTunes and Google Play.