It's not uncommon to find people who worry that they've blasphemed against the Holy Spirit and committed the "unforgivable sin," making God's mercy inaccessible and hell a certainty. What did Jesus mean by saying in Mark's gospel that whoever blasphemes against the Holy Spirit will never be forgiven?
By Deacon Frederick Bartels
10 June 2018
In this 10th Sunday in ordinary time's gospel (Mk 3:20-35), we hear these words from Christ:
Amen, I say to you, all sins and all blasphemies that people utter will be forgiven them. But whoever blasphemes against the Holy Spirit will never have forgiveness but is guilty of an everlasting sin.
What did Jesus mean by saying that whoever blasphemes against the Holy Spirit will never be forgiven?
It's not uncommon to find people who worry that they've somehow committed this blasphemy, making forgiveness impossible and hell a certainty. If you're worried that you've blasphemed against the Holy Spirit, then you've not committed this sin because worry is indicative that you are concerned with and open to the necessity of receiving God's mercy, grace, and forgiveness in order to be saved. It would indicate that you are turning to God in repentance. The contrite of heart who, in repentance, turn to God and implore his mercy will not be lost. The Catechism explains it this way:
There are no limits to the mercy of God, but anyone who deliberately refuses to accept his mercy by repenting, rejects the forgiveness of his sins and the salvation offered by the Holy Spirit. Such hardness of heart can lead to final impenitence and eternal loss. (No. 1864)
A life of prolonged mortal sin can lead to a hardening of the heart in which a sinner refuses to turn to God in humility and with the sorrow for sin which is normally a requisite for seeking God's forgiveness. It's characterized by a prideful, intentional rejection of God all the way through the point of death, which is termed in the Catechism as "final impenitence." Those who intentionally and knowingly reject the mercy God offers will not be granted mercy because God never imposes salvation on anyone. God invites people to experience the salvation offered through his incarnate Son, Jesus Christ; he does not drag rebels into heaven.
In the gospel referenced above, the scribes are guilty of blaspheming against the Holy Spirit because they accuse Christ of having an "unclean spirit," which of course is not the case because Jesus is God-made-man and is of the same divine substance (and/or essence) as the Father and the Holy Spirit. Saying that Jesus has an "unclean spirit" is like saying that the Holy Spirit is himself "unclean."
One question people often ask is, can the scribes be forgiven for blaspheming against the Holy Spirit? As the Catechism teaches, there's no sin that is beyond the healing mercy of God. Anyone who repents of any sin can be forgiven. The key is repentance, turning to Christ, and imploring his mercy. For Catholics in regard to the commission of mortal sin, the sacrament of Confession is normally required.
Related to this, is the question of repentance. What is repentance? Again, the Catechism offers an excellent answer:
Interior repentance is a radical reorientation of our whole life, a return, a conversion to God with all our heart, an end of sin, a turning away from evil, with repugnance toward the evil actions we have committed. At the same time it entails the desire and resolution to change one's life, with hope in God's mercy and trust in the help of his grace. This conversion of heart is accompanied by a salutary pain and sadness which the Fathers called animi cruciatus (affliction of spirit) and compunctio cordis (repentance of heart). (CCC 1431)
Learn more about repentance here, here and here.
Obviously, a simple "I'm sorry about that, God," said in prayer, without a firm intention to amend one's life and avoid occasions of sin in the future is not an authentic form of repentance. It's presuming on God's mercy and indicative of a cheap understanding of the love and justice of God. That is one reason why the sacrament of Confession is important. One effect of the sacrament is that it makes the adult sinner acknowledge and take responsibility for his sin—something which is integral to authentic repentance.
*****
Please support Joy In Truth by sharing on social media.
Photo: Deacon Frederick Bartels. All rights reserved.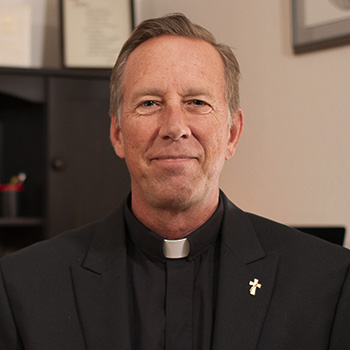 Deacon Frederick Bartels is a member of the Catholic clergy who serves the Church in the diocese of Pueblo. He holds an MA in Theology and Educational Ministry and is a Catholic educator, public speaker, and evangelist who strives to infuse culture with the saving principles of the gospel. For more, visit YouTube, iTunes and Google Play.