How do you share your Christian faith with others? Is it even something you desire to do? Do you feel called by Love to share the gift of Life and Love?
By Lauren Heaton
30 May 2017
Picture this: you're at your local grocery store shopping for dinner and someone asks you point blank: "What is Christianity?" Do you have an answer? You have less than 30 seconds to share God's love with this complete stranger, are you ready?
The first letter of St. Peter tells us "Beloved: Always be ready to give an explanation to anyone who asks you for a reason for your hope" (1 Peter 3:15).
The gospel according to St. John provides us a perfect, short and complete answer to give in response: "Love one another as I have loved you" (John 15:12).
Now, typically as I reflect and dissect this verse in my own prayer I get caught up thinking: this means I need to sacrifice everything for those I love. While this is true, it comes across as far too difficult for lil ol' me, and instead of hearing God's message of love, I get lost in the fear of failing.
But what if we look at it from a different perspective? What if instead we take a moment to reflect on what it looks like when God loves us individually and then in turn what it looks like for us to love others in this same way? He cherishes us. He looks at us like a father looks at his newborn baby with tenderness, love, affection, and joy! He created each and every one of us to be His beloved, His most loved children and friends.
With this new mindset we can focus more on loving others because they are precious and beloved by a God who treasures us in the same way. Loving one another as God loves us will of course still involve sacrifice, but it will come more naturally when we focus on the worthiness of love of the people around us.
So, dear friends what is Christianity? It is our very hope and salvation, because our God loves us so much He enables us to love others with His same powerful love.
*****
Please help us spread the gospel with a donation.
Photo Credit: Lauren Heaton, all rights reserved, used with permission.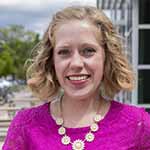 Lauren is a young Catholic professional working in the marketing industry. She loves working with high schoolers and leads a high school youth group. She is also passionate about leading a young women's bible study, is on the leadership team for West Denver 2:42 a young adult ministry and sings at her church. Lauren is a modest fashion enthusiast, pancake connoisseur, promoter of faith and fitness, and lover of all things family oriented.