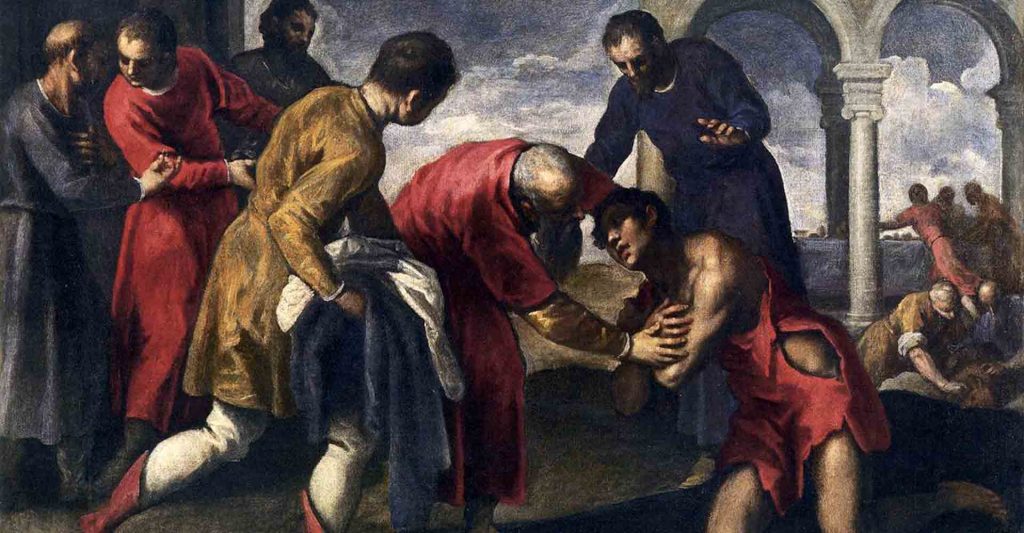 The story of the prodigal son reminds us of to Whom we belong, to Whom we must go, and the path in life of repentance we must take toward union with God.
By Deacon Frederick Bartels
31 March 2019
The Parable of the Prodigal Son found in Luke's gospel is the most famous parable of all time. Why? Because it's one of the greatest love stories of all time. But it's not all roses. It's also a story about broken hearts and rebellious, broken sons. It's a story that teaches we must never think God to be a permissive, unjust Father. It's a story that reminds us we must never presume on salvation and glory without merit and a full return to the arms of the Father.
It's a story about the terrifying reality of sin and the necessity of repentance and confession. It's a story about the road home for the lost, the path those who have destroyed their relationship with God through mortal sin must take. It's about the essential nature of the sacrament of Confession and the healing, saving absolution from sin it brings. Above all, it's a story about God the Father's infinite love, compassion and mercy.
I have another story to tell you. It's titled, "I'm the Prodigal Son, and This is My Story."
Because the story turns out well in the end, people fail to grasp the hell I experienced. That day I made that demand, I died inside. My spiritual heart was shattered.
Why did I do it? Why did I demand my father's inheritance? I had been thinking for some time about how I wanted to do something different, be someone new. About how I wanted to be really free. To shed the shackles. Be my own man. My own boss. Make my choices. I began to see my relationship with my father as controlling, burdensome and restrictive. This led, over time, into a downward spiral of darkness and anger.
One afternoon, blinded with arrogant stubbornness, I demanded my inheritance. The thing is, it wasn't yet mine to have. I had no right to it. It was my father's property, not mine. It was a gift, actually, that he'd graciously agreed to give me one day. That's what God does. He's the Gift-Giver. And that's my father. But I acted as if the inheritance was mine alone. In that moment, I rejected my father's love. I treated him not as my loving father but as an unwanted rival.
Being the loving father he is, he simply divided the property without protest—even though what I'd done was severely offensive and deserved punishment. He respected my freedom. He let me go. You see, my father is not the kind of man who would force me to do anything. What he really wanted, as I now know so well, was my love freely given.
The very instant I made that terrible, ungrateful demand, there was to be found no hint of anger in my father. The only thing on his mind was love.
To seal the rejection, I went off to a distant land to live alone, isolated from him. It was my final act of rebellion. I had sinned mortally against him. I chose to offend him gravely—I knew it was serious, and I consented to it. At that moment, I destroyed my relationship with him. That's what mortal sin does. That's what it is.
Thankfully, you have the teaching of the Church. It informs you about how mortal sin extinguishes sanctifying grace in the soul; about how it destroys one's relationship with God the Father. You have recourse to the sacrament of Confession—such a beautiful and immense gift it is! And so unfortunate that it is rarely attended. Christ waits there, in your confessionals. God the Father is watching. Hoping. Yet so many choose to remain in a foreign, distant land.
But I, the prodigal son, did not have the immeasurable gift of the Church and the sacraments as do you.
As I said, my father let me go. Some people ask if he tried to stop me. Yes, he did. But not with words. He tried to stop me with a look. That's right. He locked his penetrating eyes on me. And what did I see there? Tears. Disappointment. Incredulity. But, of course, I shut my heart and left anyway. When I think back, I imagine my father watched me as I walked off into the distance, never taking his eyes from me, hoping I would turn back. Hoping that I would come to my senses before I disappeared over the horizon.
That's how God is, you see. God lets us experience the consequences of sin so that, in the suffering it brings, we will come to our senses and turn back to him. So that we will repent. I believe God works for our repentance the very moment it becomes necessary, before we walk over the horizon, before we travel too far in the distance. More wondrously, God gives us the grace to avoid sin in the first place, if only we would open our hearts.
Well, you know this part of the story. I squandered away my inheritance and found myself in a dire situation. I was too ashamed to go running back to my father. So I decided to seek employment. But the only work I could find was feeding a Gentile's swine. Bear in mind, swine is considered unclean food to us Jews. We don't touch it. We don't eat it. We certainly don't raise it. Feeding the swine was a filthy profession that grated on my very heritage. It made me realize I'd become a traitor. And in that knowledge, I could no longer find rest.
I became so desperately hungry that I longed to eat the swine's food. And that's when I began to come to my senses. I began to realize what I'd done. How I'd not merely offended my loving father but how I'd chosen to destroy our relationship. I began to realize how blinded I'd been.
Living with my father, being his son, it was the very best thing in life. Why had I thrown it away? Why had I so easily, coldly, ungratefully turned inward on myself and away from him? That's what sin does to a person. Little by little it destroys, it rots away at you.
That's when I knew what I had to do. I had to go back. That was the only possible way I could ever be happy again. I had to right the wrong I had done. But there was a problem. I had treated my father, the one who gave me life and cared for me all my days, as an unwanted adversary. How would it ever be possible to recover from that? How could he possibly forgive me?
And then it hit me. I couldn't restore the relationship. I couldn't re-instate the trust I had broken. Only my father could do those things.
I realized the solution was repentance and confession. I had to repent, return to him, place myself at his feet. I had to confess my sins. It was the only road home. The road of repentance and confession—yes, that was the way back into his household.
I decided I would go back to my father and speak plainly and honestly. I would say to him: "Father, I have sinned against heaven and against you. I no longer deserve to be called your son; treat me as you would treat one of your hired workers."'
You see, I didn't deserve to be his son. I had thrown that away.
And so I set off for home. As I walked, I felt my father would accept me back, but I didn't see how things could ever be the same.
As I neared my father's house, I could see him standing in the distance, looking at me, with his hand shielding his eyes from the rays of the sun. I stopped. Suddenly uncertain.
But my father was already running toward me. I began to walk slowly toward him, feeling deeply ashamed. As we came face to face, he unhesitatingly took me in his arms and embraced me, as if I'd never done anything wrong. It was as if I'd been a lost and dead son who suddenly reappeared, not the rebellious son I so obviously was.
As I had decided to do, I began to say, "Father, I have sinned against heaven and against you. I no longer deserve to be called your son…" But before I could finish my words, before I could convict myself and express my shame by saying, "treat me as you would treat one of your hired workers," my father interrupted me.
While still embracing me, he pulled my head tightly to his chest, and said these words to his waiting servants, as if I was his only son, as if I were all that mattered in the entire universe: "Quickly bring the finest robe and put it on him; put a ring on his finger and sandals on his feet. Take the fattened calf and slaughter it. Then let us celebrate with a feast, because this son of mine was dead, and has come to life again; he was lost, and has been found."
I'll never forget that moment. I realized that the sin I had committed had caused me to die. And, as my father said, I was dead but had come to life again.
What I most want to impress upon you, is that I began the journey back to life when I decided to set out on the road of repentance. When I confessed my sin to my father, I began to breathe again. When my father forgave me and, in his immense compassion, welcomed me fully back into the family with an embrace and a kiss, that's when I was once again truly alive.
In that moment, I am not merely happy. I am joyous. I am saved. I am restored. Then, it was I who had tears in my eyes.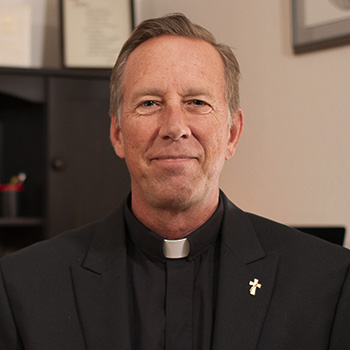 Deacon Frederick Bartels is a member of the Catholic clergy who serves the Church in the diocese of Pueblo. He holds an MA in Theology and Educational Ministry and is a Catholic educator, public speaker, and evangelist who strives to infuse culture with the saving principles of the gospel. For more, visit YouTube, iTunes and Google Play.