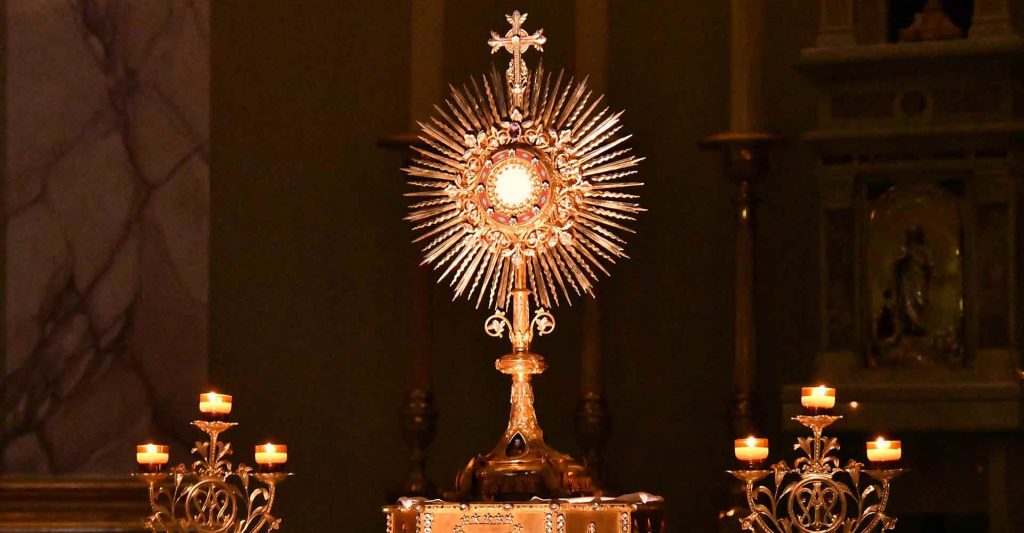 Jesus Works Miracle Healings at St. Jospeh Church in Grand Junction Colorado. It was a truly amazing, spiritually enriching and faith-filled night. After the presentation, adoration, praise and prayer services, over a dozen people raised their hands to give witness to the experience of physical healing.
By Deacon Frederick Bartels
7 May 2019
Last night, the Missionaries of the New Evangelization began their three-evening prayer and healing service at St. Joseph Church in Grand Junction CO. To begin, the Blessed Sacrament—Jesus Christ wholly and truly present under the sign of bread—was placed in the monstrance and exposed for adoration, praise and worship.
We heard moving, spiritual hymns. People raised their hands in adoration and praise of so great a Savior who would stoop to be present to his creatures, his people, under the humble appearance of bread.
Next, Fr. Greg Bramlage gave a brief but highly informative presentation on the history of man, including the Fall of humankind (see Gen 3), the effects of original sin and how, through the first sin of Adam and Eve in disobedience to God the Father, the devil was given a kind of license over the world.
Fr. Bramlage reminded the faithful of the fact that, due to the consent Adam and Eve gave to the temptation of the devil in the Edenic Paradise, Satan had become the "prince" or "ruler of this world," as Jesus himself testifies (Jn 12:31; 14:30). Humankind had become a rebellious people, bound by sin, under the powerful influence of Satan and his underlings: the demons. The glory of God and the state of original holiness and justice that Adam and Eve initially enjoyed in the garden was lost.
Death entered the world.
Sin, the devil and eternal death had become humankind's worst enemies. The ability to live in heaven was closed-off due to the rupture of original sin, which all people have contracted as a result of Adam and Eve's gravely serious choice to attempt to become like God without God (a position that was not only unavailable but impossible to acquire). Consequently, Adam and Eve's posterity—all of humankind—is in need of rescue, restoration, and healing. In other words, we had become a lost people in desperate need of a Redeemer and Savior.
Humankind could not restore what was lost. We could not heal the rupture. God had to act. And, indeed, he did.
God, in his superabundant divine love, responded to the needs of his people. Immediately following the Fall, we were given the promise of redemption in what Church Fathers refer to as the protoevangelium, the first "good news." God revealed that the tempter would be crushed. The devil would be defeated. We would be loosed from the constraints of sin and the terrifying reality of eternal death. The heavens would be opened. A new day would dawn. There would indeed be a new creation.
I will put enmity between you and the woman [Mary], and between your seed and her seed [Jesus Christ]; he shall bruise your head, and you shall bruise his heel. (Gen 3:15)
As we sing in the great Easter Exsultet: "O happy fault, O necessary sin of Adam, which gained for us so great a Redeemer!" Even from timeless eternity, God planned a temporal mission of redemption and salvation in order to restore suffering humankind. And even more than that, God planned to elevate us into heaven itself!
God's plan of restoration, healing and redemption.
The Son of God would become incarnate in the sweet womb of the Virgin Mary, born as Jesus of Nazareth, the Christ, born as a servant of all in order to bring us new life in abundance (Jn 10:10). Jesus Christ would give himself up to death voluntarily on a Roman cross in perfect love and obedience to the will of his heavenly Father. Out of love, Jesus would die for you and for me, that we may have life.
As Fr. Bramlage noted that Jesus' mission was primarily to defeat sin, death, and the devil. These were humankind's greatest enemies. These were the Great Threat. By his saving passion, death and resurrection, Jesus defeated what was most harmful to us all. Jesus broke the powers of darkness; he tore apart the chains of sin; he released us from the constraints and power of Satan. He shattered the bonds of eternal death. He brought redemption. He won our salvation.
Jesus came to heal—Not partially. Not temporarily. But completely and permanently.
And what was the cost of this act of love? The death of the innocent Jesus, crucified as a common criminal. There can be no greater sign of love than that.
There is, of course, much more that could be said. I'm providing only some of the main highlights of the evening's prayer and healing service.
Read more about miracle healings at St. Joseph Church.
After the presentation of the Fall and the coming of Christ the Redeemer, we engaged in more worship and praise. Then, everyone lined up in the center isle and placed their hands on the person's shoulder in front of them. We prayed in Jesus' name, the only name under heaven by which we are saved (Acts 4:12). We prayed in Jesus name, the name which means "God saves." We prayed in Jesus name, the name with real power over illness, sin, disease and death.
We renounced sin and unforgiveness and bitterness. We renounced the devil. We entrusted ourselves to Jesus. We poured our hearts out to him: present, there on the altar, living and loving and real.
We prayed for healing. We asked Jesus to come. To heal. To immerse us in his love.
He did not disappoint.
After these prayers, Fr. Bramlage asked anyone present who experienced some type of healing to raise their hands. It may have been healing from back or knee or shoulder pain. It may have been healing from carpal tunnel or neck pain or stiffness or lack of movement, or any number of other ailments or injuries or diseases.
Well over a dozen hands came up—and this from a small gathering of people!
Praise Jesus!
Jesus heals. He lives. He loves. He calls us to new life in himself.
Tonight I will return for session two. Do doubt, I will witness more miracles because wherever Jesus is, great things—divine things—happen.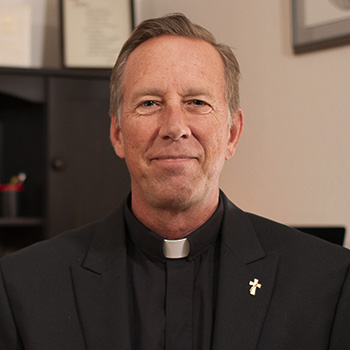 Deacon Frederick Bartels is a member of the Catholic clergy who serves the Church in the diocese of Pueblo. He holds an MA in Theology and Educational Ministry and is a Catholic educator, public speaker, and evangelist who strives to infuse culture with the saving principles of the gospel. For more, visit YouTube, iTunes and Google Play.