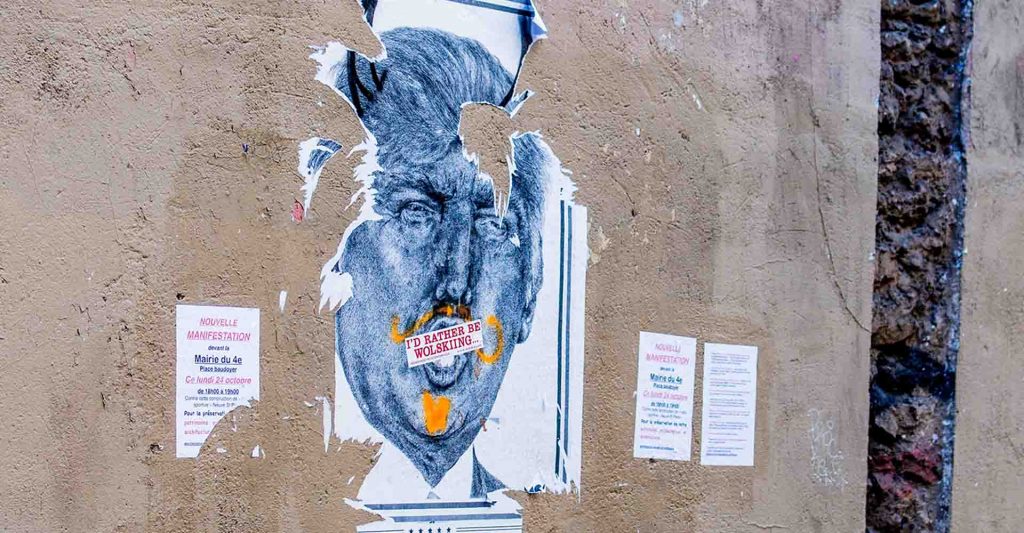 There's lots of confusion about immigration and voting among Catholics and other Christians. How big of a factor is immigration among our voting concerns? Does it equate morally to abortion? And, is President Trump's wall building project something we can or cannot support? Is it a negotiable policy for Catholics or not?
By Deacon Frederick Bartels
25 October 2020
In today's first reading (Ex 22:20-26), the Lord commands us to treat aliens, foreigners, orphans, and widows with justice. In other words, we must not wrong them. We must provide them their proper due and treat them mercifully. God calls us to live in right relationships with these groups of people, that's what the virtue of justice entails. If we wrong them, the Lord will hear their cry. And so he warns the people Israel: "My wrath will flare up, and I will kill you with the sword; then your own wives will be widows, and your children orphans."
The Lord reminds the people Israel that they were once aliens, enslaved in the Land of Egypt. The moral of the story is, remember how you felt. Remember how you were treated. Do not treat others as the Egyptians treated you.
You will remember also that, due to Herod's murderous intent to kill the child Jesus, the Holy Family had to flee to Egypt for safety (Matt 2:13 ff). Therefore the members of the Holy Family itself had to immigrate. They became aliens in a foreign land.
In our gospel (Matt 22:34-40), the Lord Jesus gives us the first and greatest commandment: "You shall love the Lord, your God, with all your heart, with all your soul, and with all your mind. This is the greatest and the first commandment."
We must love God above all things. Above the material world, above our possessions, our wealth, our careers, our hobbies, our vacations, and even above other people. God must be the primary object of our love, which means God's commandments must also be loved.
Then Jesus gives us the second commandment, which, he tells us, is like the first: "You shall love your neighbor as yourself. The whole law and the prophets depend on these two commandments."
The whole law and the prophets depend on these two commandments
In other words, without love of God there can be no love of neighbor. And without love of neighbor, there is no love of God. 1st John 4:20 teaches, the one "who does not love his brother whom he has seen, cannot love God whom he has not seen."
Without love of God and neighbor, everything breaks down, including society itself.
In giving us these greatest commandments, which are interconnected, the Lord Jesus extends and increases the requirement to love others. We must go beyond treating them merely with justice.
We must love our neighbor as another self.
Which means not only are we to treat aliens and foreigners, orphans and widows with justice, but we must love them as another self.
Immigration and Voting
When we speak about aliens and foreigners, we think of immigration. If God commands us to love immigrants as another self, what does that say about immigration policies?
Watch this homily on Facebook: https://www.facebook.com/watch/?v=784887832060371
It's a complex question. It's too big to sufficiently address in a homily. Having said that, I will say a few things about it.
A proper and just regulation of immigration is essential. If immigration is allowed willy-nilly, as with a total open-border policy, without any kind of supervision or restrictions, the common good will soon be damaged to the extent that people will have to flee from America to find a better place to live. To allow that to happen would be imprudent. It would end up harming everyone, including those who migrated here previously.
On the other hand, it would not be Catholic to insist on closing off our nation to every immigrant, which is to raise our own self-interests above everyone else. That would clearly be contrary to the love of God and neighbor. That means the way we regulate immigration is a serious concern.
In preparing for this homily, I looked at some statistics from the Department of Homeland Security. Since WWII, legal immigration into the U.S. has been steadily climbing. In 1950, 250 thousand immigrants were admitted to lawful resident status. By the mid 1980s, it was 600 thousand per year. In 2000 it was nearly 900,000. In 2016, 17, and 18, it was about 1.2 million per year.
Building Walls
When we think of immigration, we also think about President Trump's project of building a wall on our southern border. People have different opinions about the wall. Some oppose it. Others insist it is necessary. I know people who live along the southern border in Texas who say, in some cases, they're being overrun by gangs, drug lords and criminals. They are very much in favor of a wall. They claim their families and children are at risk.
Whatever you might think about the wall, I want to point out that Catholics can have a legitimate diversity of opinions about it. Building a wall is not in itself opposed to the faith and moral teaching of the Church. Building a wall is certainly not an intrinsically evil act. Nations do have a right to protect their borders. What does this mean? It means you're free to have different opinions about the wall.
We must never shame anyone for having an opinion about building the wall that differs from our own. One can be a good Catholic and approve of the wall. One can be a good Catholic and disapprove of it.
The Church on Immigration
When we study the social doctrine of the Church, we find that the Church's teaching on immigration and governing it can be expressed by three main principles.
People have a right to migrate to sustain their lives and the lives of their families. This is based on their human dignity as persons created in the image and likeness of God.
A country has a right to regulate its borders and control immigration in accord with the requirements of the common good so as to maintain justice, order, and peace.
A country must regulate its borders with justice and mercy. This regulation of borders must be understood in light of the dignity of the human person. A nation must not look after only its own self interests.
How these principles are put into practice is, as I said, complex. And Catholics can have different opinions about how to do that. This means the question of immigration is negotiable. It's negotiable because we can agree or disagree about diverse policies and proposals.
As for ourselves, we will be held personally accountable by God for whether we have loved our neighbor as another self. In other words, it's not entirely up to the government to take care of this for us through legislating immigration policies. We have a personal role to fulfill. We can fulfill the Lord's command by helping those we meet who are in need. We can sponsor families and children in other countries and help provide for their housing, food, and water. We can provide a simple snack for a homeless person right here in our own community. These are but a few examples.
Without love of God there can be no love of neighbor. And without love of neighbor, there is no love of God. Without love of God and neighbor, everything breaks down, including society itself.
My brothers and sisters, this is what we see happening in our nation today. Because people have lost sight of love of God and love of neighbor, because people are living as if God does not exist, hate and division are increasing. We are teetering on the brink. I have never, in my lifetime, seen our nation in such a precarious position internally.
Voting On November 3rd
Which brings us to the election on November 3rd. We have a moral responsibility before God to vote for the candidate who best aligns with our Catholic and Christian beliefs, with love of God and love of neighbor. As the bishops have stated time and again, we must prioritize our vote according to a hierarchy of values. We might ask, how does immigration factor in?
Our first concern is protecting and supporting the right to life. Abortion is the preeminent threat to human life in America today. Over 60 million preborn children have been killed since Roe v. Wade.
Let's put the evil of abortion into perspective. The total number of American soldiers killed in all the wars in our nation's history is a little over 1.1 million. In the past two years, nearly two million American babies were killed. As my pastor pointed out, in two years abortion will have killed more children than people who immigrate into the U.S. each year.
Abortion is an intrinsic evil. As the bishops teach, it is not merely one issue among others. It is the preeminent concern when voting. It must always be opposed. Candidates who support abortion or are permissive of it must be opposed.
To return to immigration for a moment, remember immigration policies are negotiable, abortion is not. This doesn't mean immigration policies are unimportant. They are important. But they are secondary in importance to the preeminent concern of abortion. Immigration policies are matters of prudential judgment, abortion is not. Abortion is always and everywhere wrong. It can never be permitted under any circumstances. If someone's right to life is attacked, they have no ability to migrate anywhere. If a child is killed in its mother's womb through abortion, it can never become an immigrant or alien or foreigner.
Other voting concerns like health care or the economy or entitlement programs are also negotiable. They're matters of prudential judgment. Although they are important, they are secondary in importance to abortion. They're negotiable. Abortion is not.
Next, we must protect and support marriage and family, which means we must oppose intrinsic evils like same-sex unions which have deleterious effects on marriage and family. Same sex-unions are intrinsically disordered, they are always wrong. They are a non-negotiable. They must be opposed. Candidates who support them must also be opposed.
Finally, we must protect and support religious liberty, which is an integral component of human dignity. If a candidate seeks to squelch our right to freely worship God publicly and suppress our ability to bring our faith into the public square, he stands in opposition to religious liberty and to human dignity.
Religious liberty is a non-negotiable. Candidates who seek to attack religious liberty must be opposed.
Again, our hierarchy of values, listed in their correct order, is the sanctity of life, marriage and family, and religious liberty. These are our top voting concerns. They're the gravest. They're the most morally significant issues in America today.
If a candidate is opposed to these values, such as a candidate who supports the intrinsic evils of abortion, euthanasia, and same-sex unions, we must not vote for such a candidate without a proportionate reason for doing so. Even if we do not share a particular candidate's permissive stance on these issues and want to vote for him for some other reason, we must not do so without a proportionate reason. And I can tell you, my brothers and sisters, in this presidential election, a proportionate reason does not exist.
The US bishops teach the obvious: it is possible to place our souls in jeopardy if we deliberately vote in a morally blameworthy way.
Read: voting as a Catholic in November
Without love of God there can be no love of neighbor. And without love of neighbor, there is no love of God. Without love of God and neighbor, everything breaks down, including society itself. A society that kills its own children is a self-terminating society.
Finally, I'll leave you with this quote from St. John Paul II:
Above all, the common outcry, which is justly made on behalf of human rights—for example, the right to health, to home, to work, to family, to culture—is false and illusory if the right to life, the most basic and fundamental right and the condition for all other personal rights, is not defended with maximum determination."

Christifideles Laici, no. 38
It's my hope and prayer that all of us vote like true disciples of the Lord in this election by prioritizing correctly in a morally praiseworthy way. Let us uphold our first principles: the sanctity of life, marriage and family, and religious liberty. If we fail in these areas, so too will our society fail.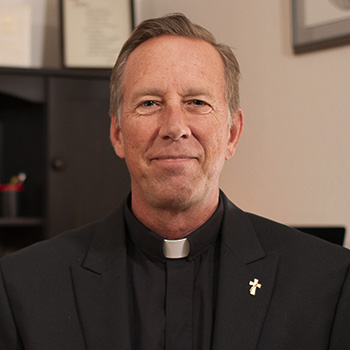 Deacon Frederick Bartels is a member of the Catholic clergy who serves the Church in the diocese of Pueblo. He holds an MA in Theology and Educational Ministry and is a Catholic educator, public speaker, and evangelist who strives to infuse culture with the saving principles of the gospel. For more, visit YouTube, iTunes and Google Play.